From Friday night's Campus Dance, through the forums and Baccalaureate of Saturday, to the première of a new setting of the Alma Mater, Brown celebrated its students with traditions and more than a few firsts.
PROVIDENCE, R.I. [Brown University] — Brown University's 247th Commencement Weekend, the first of its next 250 years, began with a bang as fireworks soared above the hanging lanterns at the Campus Dance, bursting the midnight divide between Friday and Saturday. From then, through the euphoric debut of a new version of the University's alma mater that closed the Commencement ceremony Sunday afternoon, the unbridled joy and earnest hope that came with 2,530 newly awarded degrees reverberated across the campus.
There could even have been wedding bells, in fact, as just outside the Van Wickle Gates new graduate Parielle Lacy accepted the proposal of Colby Davis who had graduated the year before.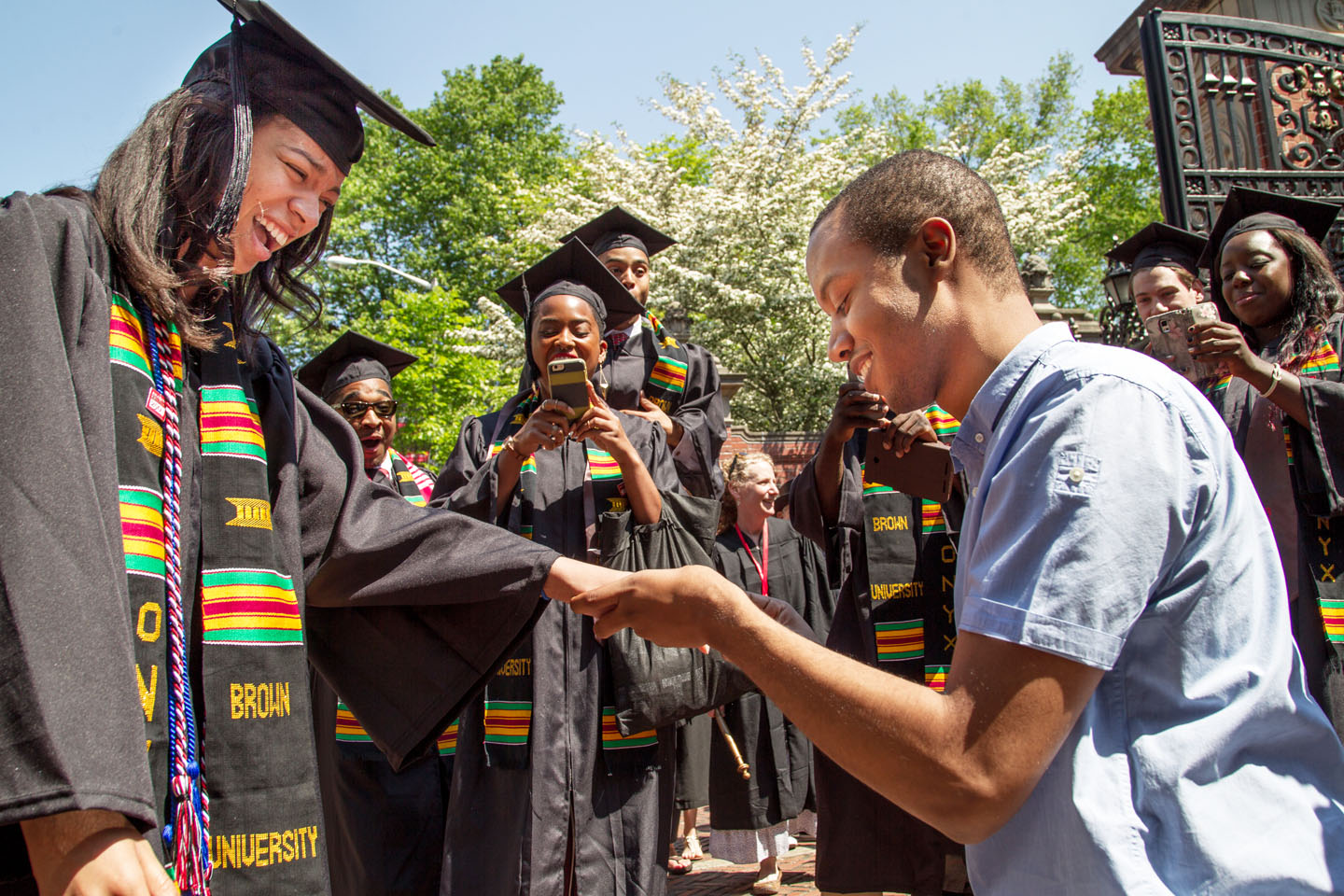 John Perilli of Cumberland, R.I., who had witnessed the fireworks that launched Brown's 250th anniversary in March 2014, was on hand for the fireworks Friday night that concluded the 15-month celebration. He was having fun but the new economics and political science graduate said he also felt the seriousness of the moment as he awaited Saturday's Baccalaureate ceremony at the First Baptist Church, erected in 1775 "for holding commencement in."
"It gives you a sense of history and gravity and it all settles on you at once," he said. "It's here. You can be as analytical as you want but when it comes down to it, this is a big change and you can't quite wrap your head around it yet."
Wearing a mortarboard she had skillfully painted with the crest of Brown's seal (but in pink), Yorktown, Va., psychology graduate Kathryn Graves similarly expressed the mixed feelings that come with pride, promise and goodbyes.
"It's been emotional and also really enjoyable," she said. "I've been trying to spend as much time with all of my friends as possible, between my housemates, my rugby teammates, my sorority sisters, and also my peers in my lab."
Emma Strother, an international relations graduate from Maryland, had nearly lost her voice by Saturday afternoon after singing songs (from the comic musical Spamalot) long into Friday with her close friend Cait Mylchreest, a new literature arts graduate from Philadelphia. They, too, reveled in the weekend.
"We're thrilled to be here, and our families are here visiting," Strother said. "It's been a wonderful four years."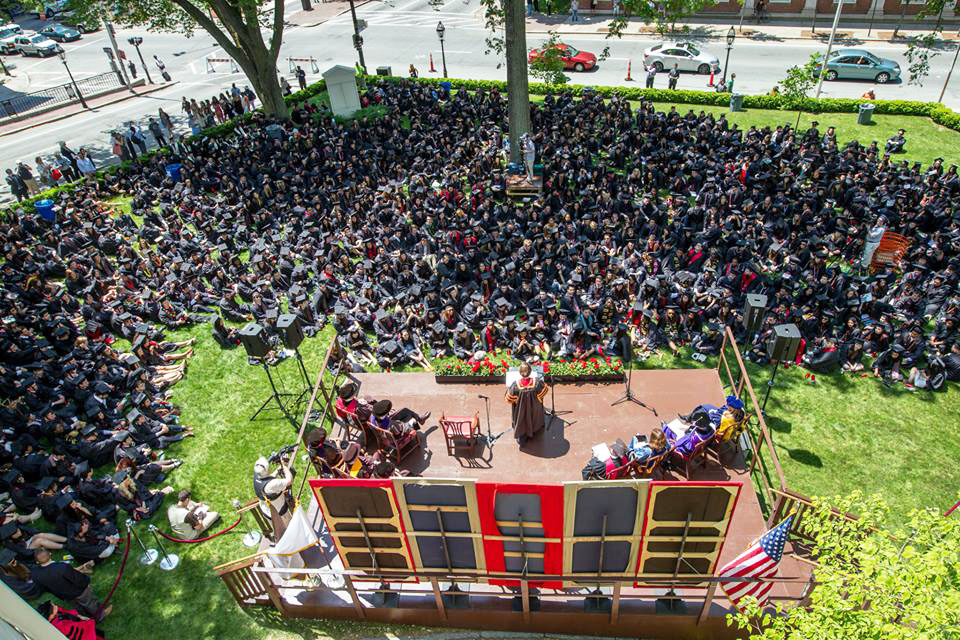 Brown President Christina Paxson embraced both the meaning and the merriment of Commencement as she addressed the undergraduate class at the College Ceremony just after noon on Sunday. She evoked joyous applause in formally bestowing degrees upon the undergraduates on the lawn of the First Baptist Church, but she also called upon students to consider the freedom and responsibility that will come from making the important and ethical choices that will define their lives.
"So members of the Class of 2015, I hope that the knowledge and experience you've gained here, in and out of the classrooms, has helped you develop the informed convictions, the compassion and the courage that will guide you as you move forward in your lives of usefulness and reputation," she said.
Then they finished a reversal of the procession that had brought them out through the Van Wickle gates. Back up the hill, they joined the graduate and medical students and thousands of guests for the University Ceremony. There they all shared the culmination of years of striving and scholarship.
Milestones along a painted path
Every Commencement is a time for marking milestones and traditions, not only for the students but also for the loved ones who have supported them, the alumni who reunite, honored guests, and beloved faculty members. This year included many such memorable moments and marked many firsts as well.
Novel splashes of color came not only from the Friday night lights of those Campus Dance fireworks, but also from stripes of brown, white, and red painted this year along College and Benefit streets to mark the path of the Commencement procession beyond the gates. Marching along that path was Michael Sawyer, the University's first recipient of a Ph.D. in Africana studies as well as the first cohort of students, 27 in all, from the Executive Master of Healthcare Leadership program.
At no time was the weekend's pairing of traditions and firsts more exuberant than when Alma Mater 250, a new setting composed by Joseph (Butch) Rovan, professor and chair of the Department of Music, followed the singing of the traditional melody. Vocalists who had just received their degrees joined the Roomful of Blues, an American blues and swing revival big band based in Rhode Island, for the world première.
Alma Mater! we hail thee with loyal devotion,
And bring to thine altar our off'ring of praise;
There was praise and thunderous applause as Professor James Morone bestowed the University faculty's highest honor, the Susan Colver Rosenberger Medal of Honor, upon engineering Professor Barrett Hazeltine, a champion of student entrepreneurship — and therefore their hopes and dreams — for decades.
"You arrived on the campus in 1959 to take a temporary teaching position. For the next 55 years and counting you have demonstrated an extraordinary commitment to your students," Morone said. "You have inspired young scientists, engineers, entrepreneurs and students from every corner of the campus to bold pursuits that have had far-reaching impact."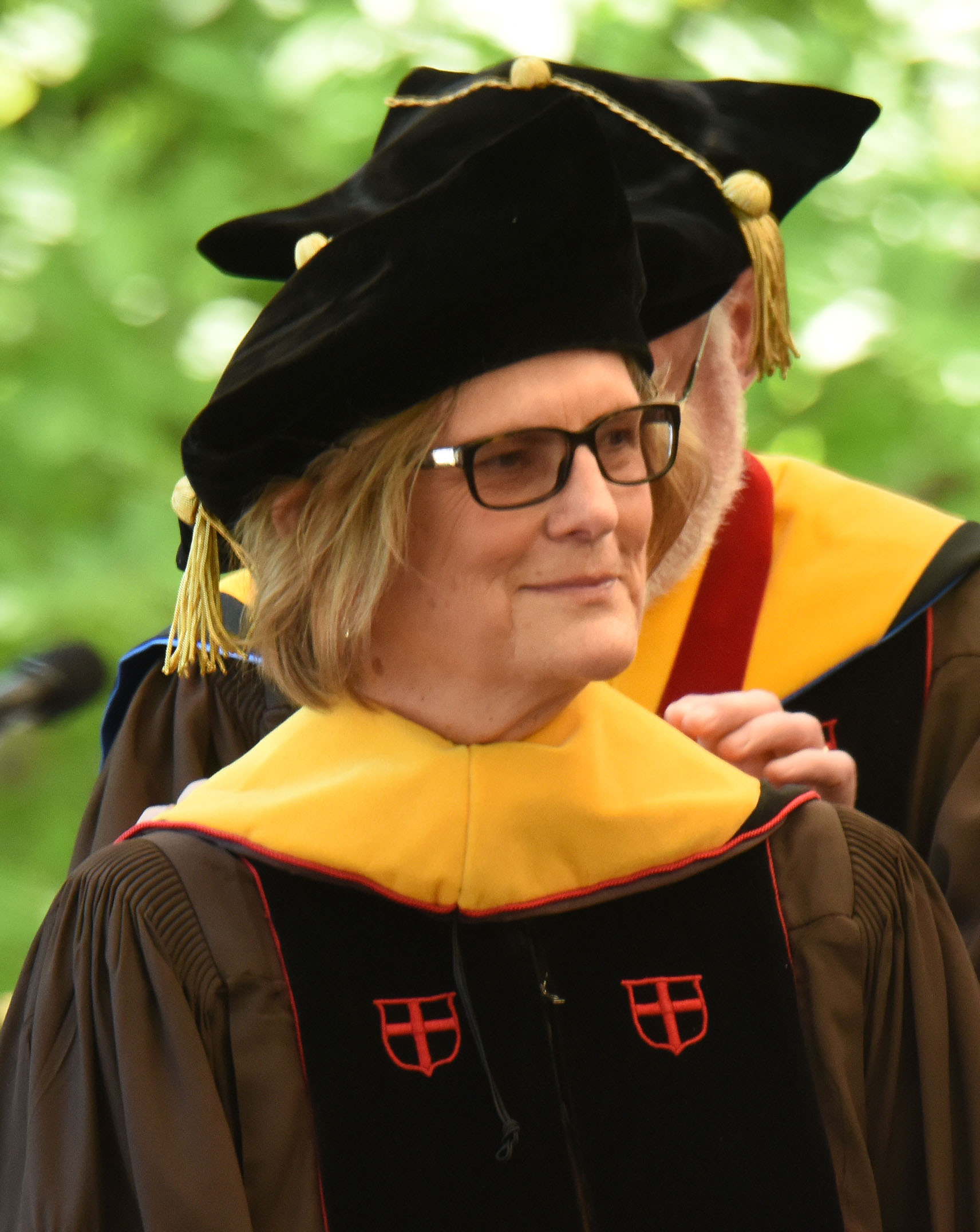 Also on the high altar of its Commencement stage, the University honored a select group of societal and scientific leaders with honorary degrees: American studies scholar Robert A. Corrigan, anthropologist Louise Lamphere, business executive and civic leader David E. McKinney, actress and performance artist Tracee Ellis Ross, and atmospheric chemist Susan Solomon. Astronaut and geoscientist Kathryn D. Sullivan addressed the ceremony after receiving her degree.
Sullivan, Ross, and Lamphere also shared their wisdom with audiences the day before at three of the many Commencement Forums that bring alumni, parents, students, and others together to share compelling moments in the intellectual life of the University.
In conversation with Professor Tricia Rose, who directs the Center for the Study of Race and Ethnicity in America, Ross mixed humor about her new doctoral degree ("What are my new privileges? Can I treat people?") with commentary on race, womanhood and the tension between fame and shame at a time where body image is airbrushed to a sometimes joyless perfectionist glamour. She said she wants to "bring human back."
Raised to dream big, Ross said, she credited hard work and Brown for helping her get to where she is.
"Brown is a huge part of planting those seeds for me in being a courageous thinker and a courageus feeler and having the desire to sort of be a full woman," said the star of the TV shows Black-ish and Girlfriends.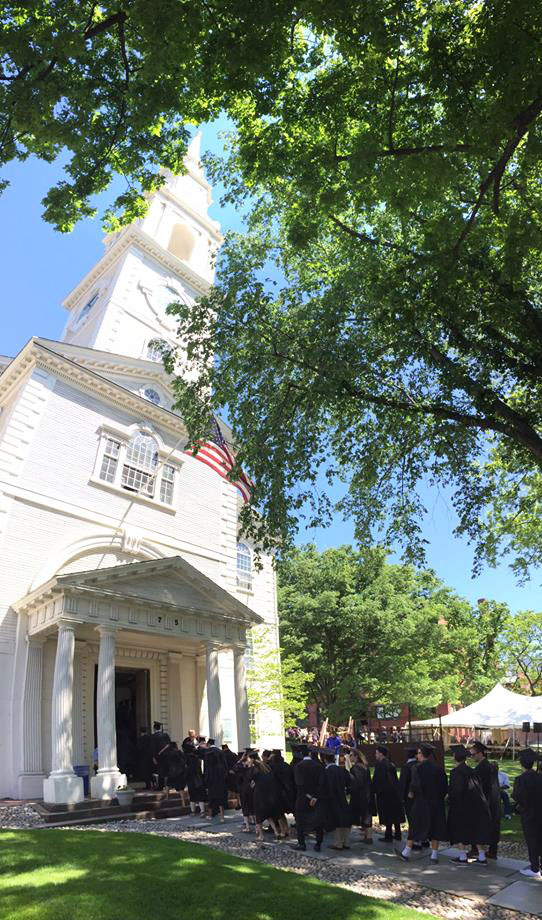 Corrigan, former president of San Francisco State University, also struck themes of courage in his address to the Baccalaurate ceremony on Saturday afternoon. Capping off proceedings that were deeply enriched with a diversity of spiritual traditions, he challenged the graduating to work to improve a world still plagued with injustice. He cited as one historical inspiration a December 1953 speech by former Brown President Henry Wriston, who spoke out against the repressive anti-communist zealotry of Sen. Joseph McCarthy.
Individual schools and departments, too, honored vital figures in the University's history in special ceremonies during the weekend. During an alumni reunion event on Friday, computer scientists feted graphics pioneer Andy van Dam, and others gathered at an art exhibit in the Cohen Gallery to honor Richard Fishman. Both professors marked 50 years of University service this year. And on Saturday morning the medical and public health communities gathered to remember inaugural medical dean Dr. Stanley Aronson.
At the Alpert Medical School graduation in the First Unitarian Church, students honored Dr. Paul George with the medical senior citation. At the contemporaneous Graduate School ceremony in the Ruth J. Simmons Quadrangle, NASA astrobiologist Lynn Rothschild accepted the Horace Mann Medal.
Kevin McLaughlin, dean of the faculty, noted the winners of faculty teaching awards: Derek Stein (physics and engineering), Nidia Schumacher (Hispanic studies), Mark Cladis (religious studies), Sharon Swartz (biology and engineering), and Seth Rockman (history).
Students shine
For all the events and honors of the weekend, Commencement's spotlight never wavers from the students for long.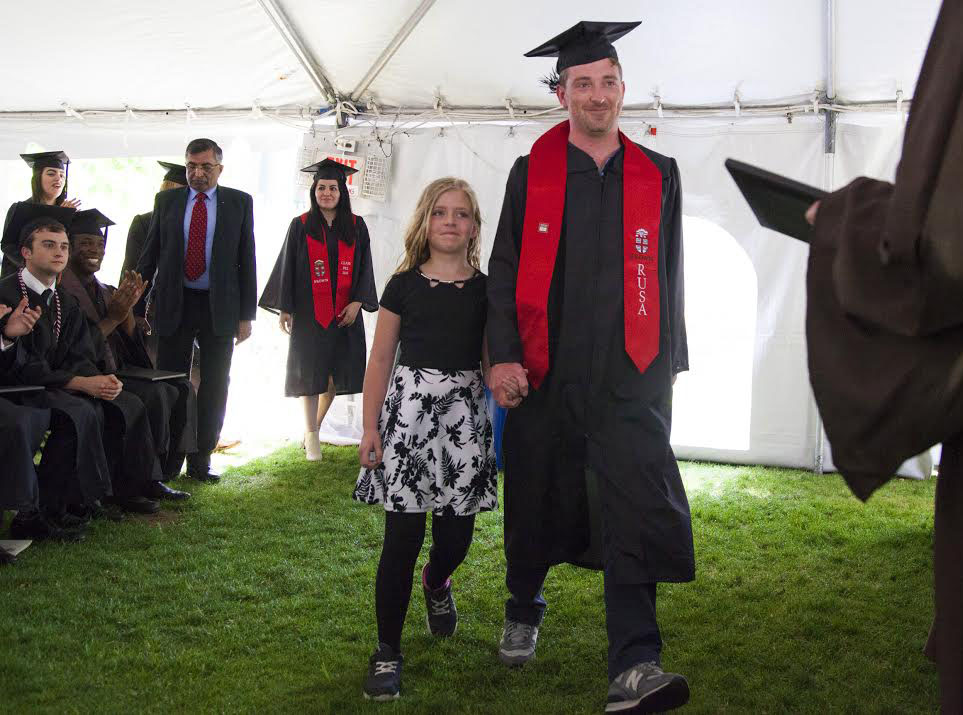 On Saturday afternoon, three members of the graduating class became commissioned officers in the U.S. armed forces: Phil Smith (Army) Walker Mills (Marine Corps), and Dr. Kelly MacDonald (Army), who will begin a residency at Walter Reed National Military Medical Center. A reception afterward also honored six U.S. military veterans who received Brown degrees this year: Logan Barnes, Carl Bergeson, Gilbert Cisneros, Christine Keating, Matthew Ricci, and Tyrone Smith.
Ricci, who attended with his proud 9-year-old daughter Gretchen, started his Brown undergraduate career at age 27 after six years in the Navy, serving aboard the nuclear submarine Augusta. At Brown while studying political science, he served in the University's Office of Student Veterans and Commissioning Programs and in the Resumed Undergradute Education program. He said it was important to him to pursue a degree, even though he started almost a decade later in life than most.
"I felt getting an education would be an opportunity to really develop some of the skills I felt I had into something that I could share with the world and to make an impact to improve other people's lives," he said. Now he'll start his new career with a job as a consultant working on ways to improve health care while simultaneously reducing costs.
Brown's focus on students is especially clear in its proud tradition of honoring two bachelor's degree recipients — rather than an outside celebrity — as the featured orators at Commencement. This year human biology concentrator Michelle Bailhe and education studies concentrator Lucas Johnson struck themes of inquiry and activism, voicing a powerful combination of idealism and critical thinking that many of the weekend's speakers suggested were hallmarks of a Brown education. That experience is one the senior orators recalled with wisdom and fondness.
"This is how we've grown," Bailhe said in an oration titled "I Don't Know." "Every day, we've challenged each other to take no observation, no dominant narrative, no established truth at face value. Brown has shown us that the very engine of discovery and insight, of progress and justice, of our future and the world's, is our fearless, relentless questioning."
Johnson then gave his talk, titled "School Spirit," describing how he transformed from "an unbearably eager first-year" into "an insufferable skeptic."
He praised the historical activism of Brown students who, upon confronting the sometimes frustrating divisions that emerge in the life of the University, have persevered to overcome them. As a tour guide a visitor once asked him, "How do Brown students show their school spirit," he said. He replied, "Brown students love Brown enough to make it better."
Graduate and medical students, too, spoke of how much Brown meant to them. Mateus Baptista, who received a master's degree in urban education policy, urged his fellow graduates to take the "culture of critique" fostered at Brown beyond the Van Wickle Gates.
"We cannot forget that it's always been those that question the normative, that challenge assumptions, that have truly made a life of meaning and purpose," Baptista said. "Brown has equipped us to do just that, to insist in a world that does not simply reproduce the status quo, but in a world of hopeful endeavor."
By Sunday afternoon, the booms of the fireworks and the blasts of the horns in Alma Mater 250 had inevitably attenuated in the spring air. But the waves made by the class of 2015 have just begun to spread.