Dr. Stanley Aronson, whose legacy includes co-founding the Alpert Medical School of Brown University and Home & Hospice Care of Rhode Island, died in hospice care in Providence Wednesday morning, Jan. 28, 2015. Colleagues remember him as a man who was great in many different ways, but who practiced and preached humility and humanity in everything he did.
PROVIDENCE, R.I. [Brown University] — Dr. Stanley Maynard Aronson, founding dean of the Warren Alpert Medical School of Brown University who exemplified and taught both excellence and humility in medical practice, died this morning, Wednesday, Jan. 28, 2015, at the age of 92.
"In conversations with Stan during the last several years, I came to understand how pleased he was with the growth and development of the medical school he did so much to create," said Brown President Christina Paxson. "His natural humility prevented him from taking credit, but Brown's medical school and many of the statewide improvements in medical care delivery that grew along with it began with Stan's arrival in Providence."
"I will always remember Stan as the embodiment of a polymath, a person who knows everything about everything, yet he was caring, humble, and anxious to help others," said Dr. Joseph Friedman, professor of neurology and the Stanley Aronson Chair in Neurodegenerative Disorders at Butler Hospital.
Dr. Richard Besdine, a gerontologist who served as interim dean of medicine from 2002 to 2005, agreed that for all of Aronson's accomplishments and intellect, he lived for the good of those around him. "He was attentive to and caring about virtually every person he ever met," Besdine said. "Helping people improve was a huge satisfaction for him. In all his roles — scientist, physician, academic leader, and mentor to many — he always cared about the people. He also knew more about more things than any person I have ever met, but personally was modest to a fault."
Establishing a medical school
Aronson was born, educated, trained as a physician, and employed as a doctor and medical professor in New York City, but in 1969 he and his first wife Betty decided to raise their children outside the city. An accomplished neuropathologist who published more than 400 research papers and made important contributions — to the development of laboratory tests for Tay Sachs disease and muscular dystrophy, among others — he accepted a job as chief of pathology at Brown University and The Miriam Hospital.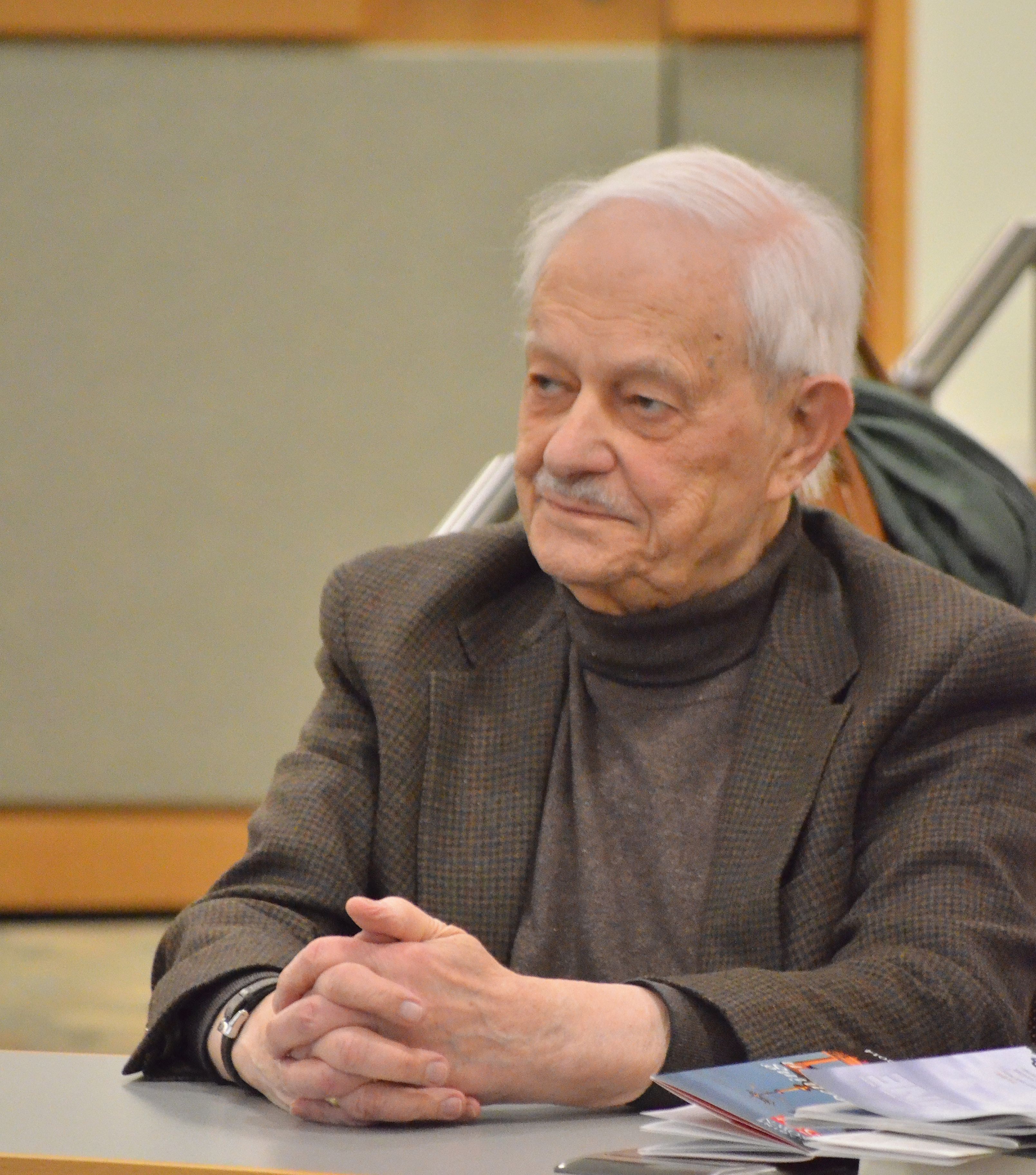 "Dean Aronson's relocation to Providence was contingent upon one thing: that Brown would develop a medical school," Dr. Jack A. Elias, dean of medicine and biological sciences, recently wrote. "We have to commend his leap of faith. With his experience, Dean Aronson could likely have entertained positions at any academic medical center in the country, and seriously considered an appointment at Johns Hopkins School of Medicine in Baltimore. Instead, he chose the far more challenging, and frankly uncertain, task of building a medical school from the ground up at Brown."
Aronson worked tirelessly with then Provost Merton Stoltz and others to achieve that goal, advocating for the idea within Brown and around the state to build support. The school launched in 1972 with modest means — 43 faculty members, 16 students, and little research infrastructure — but during his years as dean, 1973-81, Aronson guided it through its crucial first accreditation and blazed the trail of its growth.
The University honored Aronson with a Doctor of Medical Science degree, honoris causa, conferred at Commencement May 27, 2007.
As dean, Aronson created of one of the nation's first departments of family medicine in 1978. He also inaugurated the Early Identification Program, a special route of admission for college students from Rhode Island as well as from Tougaloo College, the historically black college in Mississippi with which Brown has had a 50-year partnership.
He said he did not expect the growth the school has achieved.
"It has grown more aggressively than we envisaged and I'm not displeased," he said. "I am pleasantly surprised that we have come this rapidly."
Aronson gave the credit for the school's early success to the first "charter" 16 students, whom he noted had the courage to prosper at a fledgling institution with no reputation and an uncertain future.
"We had a group of graduate students at Brown," he recalled. "We asked them, 'Your records are excellent, you could probably get into Harvard or Boston University immediately. Would you gamble on a school that does not even have a building, has a faculty so small in number that we could fit the entire faculty in one class room. We don't have permission from the federal government to go ahead. Are you willing to gamble?'"
Aronson was a devoted teacher. "He remained deeply committed to education and mentoring into the last week of his life, hosting groups of students to discuss medicine, politics, history and how to be an ethical and effective provider of care," said Terrie Fox Wetle, dean of the School of Public Health.
Humility in medicine
Aronson saw medicine change drastically in a career of practice, research, and education that spanned more than seven decades. Although he celebrated advances in medical technology and knowledge, among the changes he sought to effect through education was to supplant the detachment emphasized in his own midcentury medical education with one of modesty and compassion.
"The medical schools of that era trained students for a life of solo practice and therefore an immersion in a profession of unilateral decision-making, impassivity in the face of calamity, aloofness, and fatherly rather than brotherly demeanor," he wrote in a blog post for Rhode Island Public Radio last year.
In a recent interview he recalled telling state legislators in the early 1970s that Brown's medical school would be different.
"I tried to explain that we're going to train men and women to be individual physicians, to learn both responsibility and humility, and a long-term commitment in a profession that is intensely imperfect," he said.
Dr. Jonathan Gell, a member of the first graduating class in 1975, described Aronson's approach to Rhode Island Medical Journal managing editor Mary Korr, who quoted him in Medical Odysseys, a book of essays she co-wrote with Friedman and Aronson: "Dr. Aronson taught us that medicine is the most scientific of the humanities, the most human of the sciences."
Community pillar
At the time of his death, Aronson was receiving palliative care from Home and Hospice Care of Rhode Island. An important sign of his desire to bring greater compassion to medicine, he helped to found that organization in the early 1970s.
"His dominant professional passion for the last three decades has been hospice care and palliative medicine," Besdine said.
Aronson contributed to the local and medical communities in many other ways as well. He served as editor of the Rhode Island Medical Journal from 1989 to 1998. In the 1980s he also served on the Liaison Committee for Medical Education, the official body that accredits medical schools.
His career has inspired local organizations and donors to establish a scholarship, the endowed chair held by Friedman, and a prize for the best graduating medical student in the neurosciences. These honors help to continue academic and medical progress in his name.
Beyond medical circles in Rhode Island, however, Aronson may be best known for his weekly columns in the Providence Journal, which he has written for more than 20 years. In a column January 19, 2015, he delved into the topic of death, musing that in the distant past, the end of a life likely seemed unremarkable.
"Except for exalted leaders, death was a happening rather than an event, a part of the tapestry of surviving in an unforgiving world; and death was the end of an uncelebrated, brutal existence," he wrote.
Aronson's work to preserve the lives and health of patients, and to provide dignified care and comfort those finally, inevitably dying, made him an exalted leader. His existence is celebrated by patients, students, colleagues and readers alike.
"It is precisely because he was so accomplished, and humble about all that he had done that he was such an icon to those who knew him," said Dr. Fred J. Schiffman, the Sigal Family Professor of Humanistic Medicine.
Funeral arrangements are pending.