Students, colleagues, patients — so many people have so many comments, so many anecdotes about Dr. Stanley Aronson, founding dean of the Alpert Medical School. A sampling:
Levi C. Adams
Stan was an outstanding dean of medicine, whose first priority was quality of education and counseling for our students. He was an accomplished scholar and a first-rate pathologist. He made notable innovations in medical education, including Brown's Program in Liberal Medical Education and Early Identification Program efforts to enhance premedical education and to make medical school more available to a broad range of students. He also enriched the Brown community experience by initiating a program of classical music concerts by accomplished medical and premedical students. Finally, his writings for the Providence Journal and the Rhode Island Medical Journal were memorable contributions to lay readers and physicians alike.
Stan cared and showed that he cared. We will all miss him, but always cherish his memory.
Dr. Joseph Friedman
My first interaction with Stan Aronson occurred a few months after I arrived in Providence in 1982. I had never heard of him. I was paged while making rounds in the hospital, and this quite distinguished voice introduced himself as a part-time physician who was acting as a neurology consultant at the Brown student health service — who wanted to give up the position, asking if I'd be willing to take over.
I later learned that Stan, an eminent neuropathologist, who had also spent many summers as a doctor at his daughters' sleep-away camp, had been "helping out" at student health service because Rhode Island had a shortage of neurologists at the time. He hadn't told me that he had recently retired as dean of the medical school, nor did he tell me that he was travelling to Boston to get an MPH at Harvard.
I will always remember Stan as the embodiment of a polymath, a person who knows everything about everything, yet he was caring, humble, and anxious to help others. If there's one word to remember him by, he would probably be most proud to be recalled as a "mensch," a Yiddish word that simply means "man," but really conveys a lot more, encompassing terms like caring, smart, responsible, anxious to help others, leading by example — in short, "role model."
Dr. Fred Schiffman
He was extraordinarily accomplished but accessible to everybody. I have a son who is a Brown college and medical school graduate and Stan would unfailing ask, "How's Josh, how's his family, what is he doing?" but not in a casual way.
From the original class, he knew everybody in there. These are people who come back and come back. Stan would just follow these people and ask about them. He maintained an active, non-superficial interest in the lives of the people he trained. It was just a very loving, comprehensive caring about people and their families.
He is the genuine article. I have gotten to know a lot of academics over the years but Stanley really stands out. The mixture of his character, his scientific work, the people he trained, his incredible sense of humor, just mark him as a very special individual.
See also a testimonial Schiffman wrote when Butler Hospital established the Aronson Chair.
Dr. Richard Besdine
Most of all, Stan loved human beings. He was attentive to and caring about virtually every person he ever met. Helping people improve was a huge satisfaction for him. In all his roles — scientist, physician, academic leader and mentor to many — he always cared about the people. He also knew more about more things than any person I have ever met, but personally was modest to a fault. His dominant professional passion for the last three decades has been hospice care and palliative medicine. I think if we were to ask him, he would most like to be remembered for his advocacy and action in bringing hospice care to the state of Rhode Island.
There are far too many to identify a single contribution. I personally value the wisdom he brought and gave to all the environments in which he moved. Founding dean of the medical school, groundbreaking scientist, father to hospice care in the state of Rhode Island — each of these is a singular achievement, and they are only the beginning of his accomplishments.
Terrie Fox Wetle
Stan Aronson should be remembered as a man of towering intellect with an amazingly broad range of knowledge. He loved language and the etymology of words, as well as the history of medicine and public health. He should also be remembered for his warmth and sense of humor; his particular delight in crafting puns in the middle of serious discussions was notable. My conversations with Stan always began with questions about my work, the emerging School of Public Health, the medical school, and Brown. He was truly interested and provided valued observations and advice.
Dr. Aronson was engaged and making contributions to the community to the very end of his life. His activities ranged from working with his wife Gale to organize summer concerts on Blackstone Boulevard to helping with political campaigns. He remained deeply committed to education and mentoring into the last week of his life, hosting groups of students to discuss medicine, politics, history, and how to be an ethical and effective provider of care.
Stanley Aronson, Doctor of Medical Science
(Honorary degree citation conferred May 27, 2007)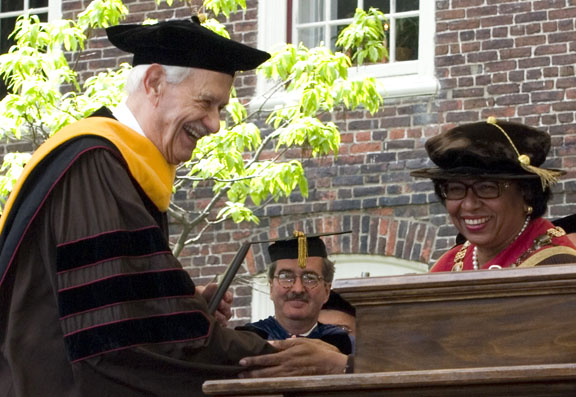 Healer, educator, author, and historian, you have shared your prodigious gifts with this University and the world. For more than six decades as a physician, you have dedicated yourself to improving the public's physical and emotional health by exploring disorders ranging from Tay-Sachs to Alzheimer's disease, and by advocating for hospice care and interfaith ministries.
As the founding dean of Brown's medical school, you facilitated the expansion of local health care systems and services to the people of Rhode Island.
As a prolific medical historian and newspaper columnist, you have brought history to life in vivid essays on smallpox, yellow fever, and the trailblazing physicians who came before you. For helping us understand the illnesses that challenge us and for your dedication to the most seriously ill among us, we proudly present you with a Doctor of Medical Science, honoris causa.
Medice, magister, scriptor, hisorice, non solum Universitati Brunensi opem salutarem tulisti, cum facultatem medicinarum scientiarum decanus factus instauraveris, sed etiam aegrogantibus totum per mundum sparsis. ut medicus praestantissimus per sexagesimos annos aegritudines mortalium curavisti imprimis ut doloribus debilibus Tay-Sachs Alzheimerique nomine curationes adhiberes. et constantissime in eodem tempore res medicas praeteritorum temporum earumque rationes imaginibus pervividis in libris atque in actis diurnorum ut historicus artis medicinae fecundissimus nobis protulisti. Propter causas has omnes necnon alia Doctoris Medicinae dignitatem tibi plena cum spiritu nostra conferimus honoris causa.