On Saturday afternoon following the Baccalaureate Service, the University honored three graduating students who were commissioned as officers in the armed forces, six military veterans who are among the 2015 graduates, and Brown alumni who were killed in action in Vietnam.
PROVIDENCE, R.I. [Brown University] — Families, faculty, University guests, and cadets assembled on the Front Green Saturday afternoon to honor three newly commissioned students and six graduating veterans. The commissioning students took oaths accepting their appointments as officers in the U.S. armed services. Maj. Christopher Klich, U.S. Army, and Maj. Michael "Andy" Bourquin, U.S. Marine Corps, were commissioning officers in the ceremony.
"The purpose of a Brown education is to prepare students for leadership and service for a future in which they will 'discharge the offices of life with usefulness and reputation,'" said Brown President Christina Paxson in her opening remarks. "We hope that wherever their military service takes them, their Brown education and the experiences and values they gained here serve them well and will allow them to fulfill their duty with great usefulness, reputation, and pride."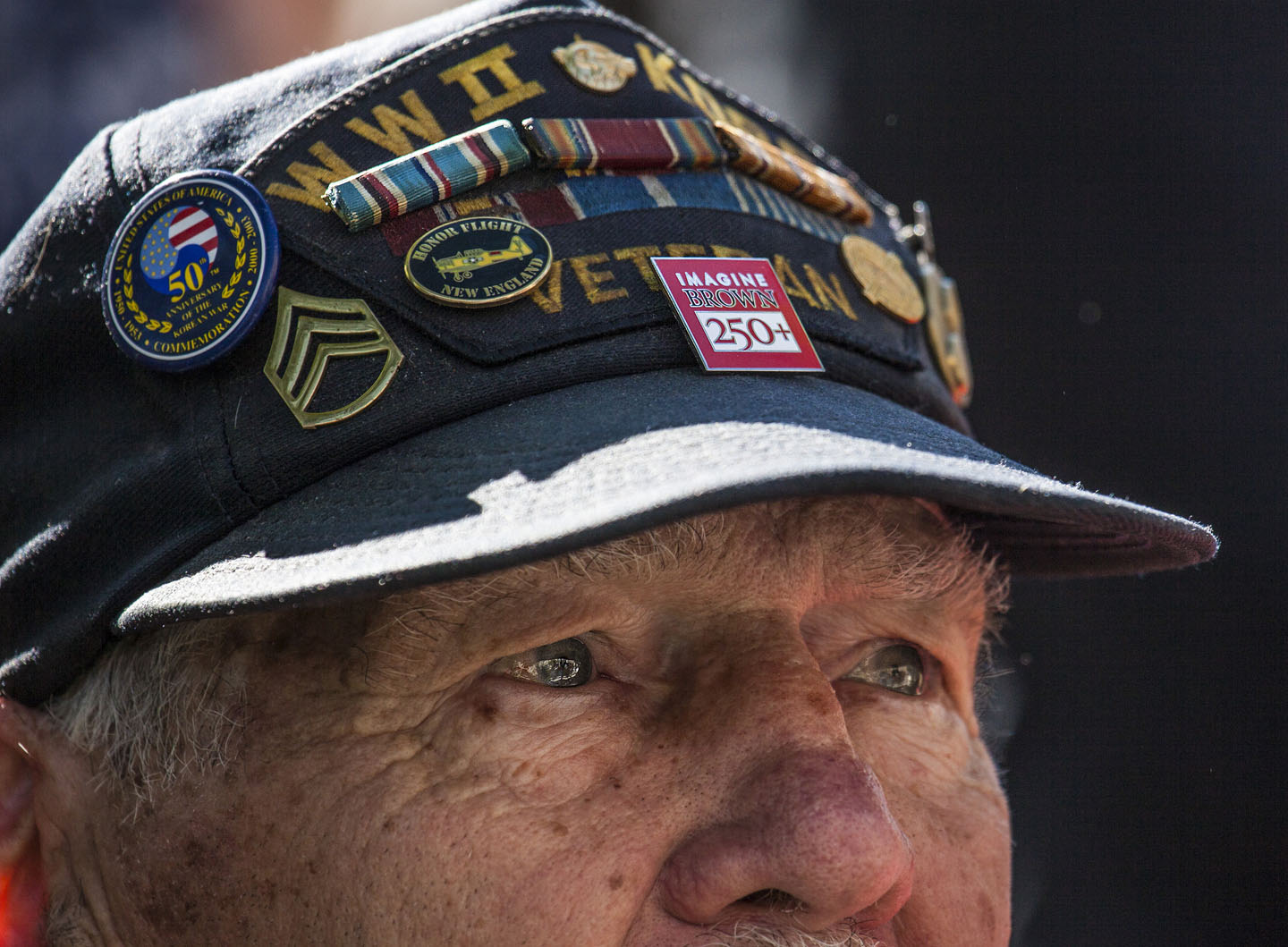 Karen McNeil, program director in the University's Office of Student Veterans and Commissioning Programs, noted the University's support for the office. "The admission office has been a wonderful partner in working to attract more veteran students, and the senior administration has greatly contributed to our efforts to expand ROTC opportunities."
Bob Hall, a 1950 graduate, WWII Navy veteran and Army veteran of the Korean War, said the gathering was "very moving and very emotional" as he remembered his time on campus. "I remember Brown when we had ROTC and at every graduation there was any number of graduates who were members of the ROTC, usually the Navy."
Commissioned graduates
Gunnery Sgt. Jarod Royal gave the customary first salute for the newly commissioned officers.
Phillip Allen Smith, of Twinsburg, Ohio, was commissioned as a second lieutenant in the U.S. Army. While earning his A.B. in business with an emphasis in technology management, Smith participated in numerous student activities including the varsity football team, the rugby club team, the Theta Delta Chi fraternity, and the Black Student Union. Of his experience at Brown, Smith said he was excited to see military veterans being recognized: "It's promising to see that the University will recognize ROTC and accept it as an academic course." Smith will begin his officer leadership course in January.
Walker Mills, of Wynnewood, Pa., was commissioned as a second lieutenant in the U.S. Marine Corps. Mills, a history and archaeology double concentrator, has been involved in many student activities including men's crew, the Undergraduate Council of Students, and the Brown Daily Herald. "I'm deeply honored and humbled to be commissioning into the Marine Corps," Mills said. "Because of Brown's long history of commissioning students into several branches of the armed services, I feel prepared to carry out that charge as a U.S. Marine."
Kelly MacDonald, M.D.'15, of Carlisle, Pa., was commissioned as a captain in the U.S. Army and will begin a residency at Walter Reed National Military Medical Center this fall through the Health Professions Scholarship Program. "Brown has provided a supportive environment where I've had the freedom to focus on becoming the type of physician and person I aspire to be," said MacDonald, a 2011 graduate of the U.S. Military Academy. "I'm excited to move forward with my career in the Army and I'm quite fortunate for the opportunity to serve an organization whose members work toward a common purpose larger than themselves."
Graduating veterans
The University also honored six veterans of U.S. military service who are members of the 2015 graduating class:
Matthew Ricci, A.B. in political science, a U.S. Navy veteran;
Logan Barnes, Sc.B. in computer science, a U.S. Marine Corps veteran;
Tyrone Smith, A.B. in English, a U.S. Army veteran;
Christine Keating, A.M. in history, a U.S. Marine Corps veteran;
Gilbert Cisneros, A.M. in urban education policy, a U.S. Navy veteran;
Carl Erik Bergeson, Executive Master of Healthcare Leadership, a U.S. Navy veteran.
In Memoriam
The newly commissioned officers, the graduating veterans, and University guests also honored the memory of Brown graduates who were killed in action in Vietnam:
Kenneth A. Berube, Class of 1965;
Edward W. Connelly, Class of 1965;
Graham N. Lowdon Jr., Class of 1960;
Thomas R. Temple, Class of 1965.
The ceremony concluded with a reception in Rhode Island Hall.