Graduating senior Sierra Edd, born on a Navajo reservation in New Mexico, was one of the leaders in the push to recognize Indigenous People's Day at Brown.
PROVIDENCE, R.I. [Brown University] — Born on the Navajo Reservation in Shiprock, New Mexico, Sierra Edd has been making art since she was six. Her parents are both artists, and from a young age Edd and her three sisters started selling their paintings and drawings at the Santa Fe Indian Market. Over spring break, she and her sisters painted a commissioned mural in an Albuquerque hotel depicting Navajo cosmology and the creation story.

Activism is also part of Edd's DNA. At school in Durango, Colorado, she was one of the leaders of the Prejudice Elimination Action Team. Her mother was a big influence. "I was really aware growing up of the different issues facing Native communities and other people of color," she says. At Brown, she decided to concentrate in ethnic studies to learn more. 

Awarded a Mellon Mays Fellowship, Edd researched border town violence near Farmington, Colorado, which borders the Navajo reservation. She interviewed people who had lived there for more than 20 years, including her uncle, for an oral history project, and was surprised to hear about the violence he faced in high school — like having his hair lit on fire.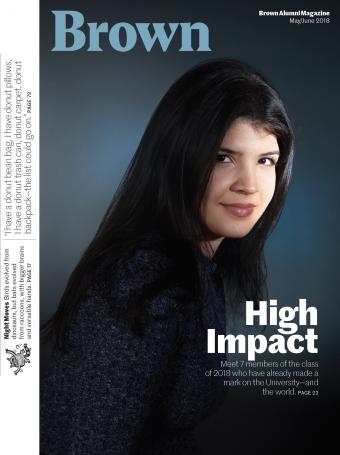 "That was pretty wild learning my own family history," she says. She also did archival research in which she learned of the murders of two Navajo men in the 1970s and the subsequent boycotts and protests that took place. "All this information was just really shocking to me, because nobody talks about it."

Edd's studies fueled her artwork, which was included in the "Native Re-Appropriations" exhibit at the Center for the Study of Race and Ethnicity in America at Brown, which attempted to confront stereotypes of Native people. "Native art is, and will always be, political," she wrote on her website. She contributed poems to The Round, a Brown literary magazine, and to the AsUs journal online. Synecdoche Publishing, based at Brown, published "Red House Wanderings," a book of her painting, photography, poetry and graphic art. Three of Edd's paintings were featured in "We Are Native Women," a show at the Rainmaker Gallery in England.

As coordinator for the Brown Native American Heritage Series, she has brought many Native American speakers to Brown. She was also one of the leaders in the push for Indigenous People's Day at Brown. 

After graduation, Edd plans to head home to paint with her sisters and, as she does every summer, sell artwork at Indian Market. Then it's off to UC Berkeley in the fall to start a doctoral program in ethnic studies. Her ultimate goal: to be an educator for Native people and "build a curriculum that is non-Western, uses indigenous knowledge, is focused on restorative justice and decolonization and all these resistance models of education that would be accessible to schools everywhere." 

— Leslie Weeden, Contributing Editor