Tin Dang, a graduating senior, dedicated much of his time at Brown to mentoring and advising other first-generation students.
PROVIDENCE, R.I. [Brown University] — Like most of the class of 2018, Tin Dang arrived on campus clueless about his meal plan.

He didn't yet know that Jo's was the place to go late-night for fried chicken sandwiches and that the lines in the Blue Room usually peaked around 4 p.m. when students could pay with meal swipes instead of points. He was so confused about meal swipes that he lost 30 pounds during his first semester. 
It never occurred to him to ask fellow students or faculty about the school's seemingly meager meal plan. As a first-generation college student, he says he had "learned how to figure everything out for myself."
Dang has since gone from a student who had "no idea how Brown worked" to one who makes it work for others. As a coordinator for the Sidney E. Frank Scholars Association, which assists low-income students who have received the school's Sidney E. Frank scholarship, he helps facilitate programming for the recipients and eases the transition of first-years into Brown. He advises students on extracurriculars and courses as a Meiklejohn adviser, and spent two years as a volunteer for the Swearer Classroom Program, making weekly visits to William D'Abate Elementary School to tutor Spanish-speaking students.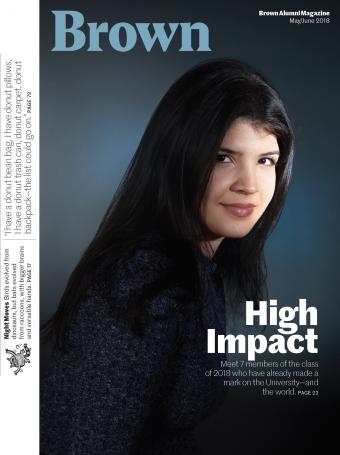 "Growing up," Dang says, "I never thought what I had to say was really important. Just knowing what I say can have an impact has changed that." 

Dang says he's leaving Brown with a newfound confidence, which he attributes to these mentorship roles, along with a healthy heaping of humanities courses.

These past four years, Dang has zigzagged between departments, balancing pre-med requirements with courses in anthropology and Hispanic studies. Dang's looking to life after Brown with the same desire to try it all. After a summer working in a lab at the Moffitt Cancer Center in Tampa, Florida, Dang felt ready to explore the world of health care outside the four walls of a laboratory. He returned to the center the next summer to conduct educational outreach on colorectal cancer for the elderly.
Last summer, when he came across a training curriculum on palliative care for physicians and nurses in Vietnam, he thought this approach, which treats both the physical and mental pain of those with life-limiting illnesses, might allow for a deeper connection with patients. And as a Vietnamese immigrant — he, his parents and his sister settled in Clearwater, Florida, when he was 5 years old — he is drawn to the idea of returning to his home country. He grew up speaking Vietnamese at home but felt a constant need to "hide" his roots at school. 
Dang says Brown provided him "an opportunity to reconnect with (his) identity," home to more first-generation and low-income Vietnamese students than his "really rich and white" high school. He's mulling booking a plane ticket to try and work for the doctor who introduced the palliative care system in Vietnam before heading to medical school.
— Rebecca Ellis, Class of 2018