Inspired by a Brown class she took on the history of imprisonment and captivity, graduating senior Aidea Downie started and nurtured a prisoner teaching program on campus.
PROVIDENCE, R.I. [Brown University] — When Aidea Downie, the daughter of Jamaican immigrants living in a working class community on Long Island asked her college counselor about Brown, his answer was blunt: "Let's be honest, here. You're probably not going to get in." When he tried to steer her toward community colleges, Downie's mother started shouting from the back of the room: "She's going to Harvard! She's going to Harvard!" 

Downie laughs. "People from low-income backgrounds, we're told all the time, either explicitly or implicitly, that some spaces of privilege don't belong to us; that we shouldn't even dream about accomplishing certain things."

When Downie was 14, her uncle, a convenience store owner, was mugged and shot dead on his way home with his earnings. It was a turning point in Downie's life and the life of her family. She decided she wanted to become a prosecutor so that she could be part of creating a safer community.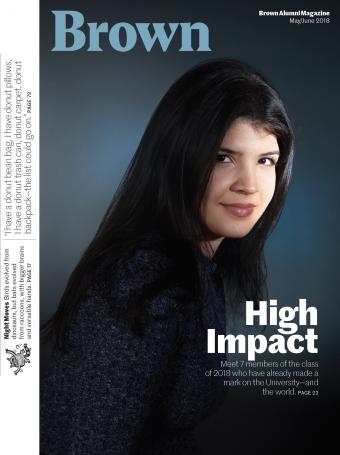 Then, her first year at Brown, Downie took Professor of History Amy Remensnyder's class Locked Up: a Global History of Imprisonment and Captivity, and everything changed again. "That course introduced me to the structural inequalities that people go through that make them vulnerable to going to prison," Downie says. "The thing that I'd been trying to be for the last four years of my life I didn't want to do anymore," she says. "I felt really lost."

Remensnyder also taught Brown-level classes in a Providence-area prison, and Downie was inspired. This struck her as a better way to help.  So, while still a first-year, she started a Brown chapter of the Petey Greene Program, a national nonprofit that trains college students to be teaching assistants in prison education programs. The popular program, now in its third year, has about 50 tutors and sponsors panels on topics like restorative justice.
In summer 2016, Downie used an Undergraduate Teaching and Research Award to assist history professor Nancy Jacobs on two research projects in Kenya. She brought Angela Davis to speak at Brown in 2017, and through the Swearer Center, she spent last summer working for the New York Division of Human Rights.
Downie has held a variety of jobs to support herself and to send money home to her grandmother, like cataloging films for anthropology professor Lina Fruzzetti and helping anthropology professor Kay Warren research police brutality. But the work she's done in the prisons stands out. "It's been amazing to help someone learn how to read a book, conquer fractions, have that happy moment when they get their GED." Downie has enrolled in the Urban Education Policy master's program at Brown, and after Commencement she'll be regional manager for the Petey Greene Program. Next, law school: "I want to work to change the criminal justice system and find ways to do that tangibly through laws."
— Louise Sloan, Interim Editor & Publisher