At a packed Salomon Center, at a reception, in interviews, and at a marathon book signing, renowned primatologist Jane Goodall spent hours speaking with Brown University students Monday evening, Oct. 19. She was eager to speak of environmental sustainability and hope, and students were excited to engage with her.
PROVIDENCE, R.I. [Brown University] — Jane Goodall entered an ornate room in Maddock Alumni Center to the immediate but politely quiet applause of more than 20 students, mostly members of the Brown Lecture Board, who had gathered for a pre-lecture reception. A few formalities — introductions and gently staged photos — prevailed for a bit, but within minutes the world-famous naturalist was standing amid a ring of faces that were beaming curiosity and peppering her with questions.
"Could you get the animals to respond to recordings?" "Do you feel like because chimps are closer to us they can be a sort of link in getting us to recognize our own humanity in the sense that we're all animals?" "For chimps that are already in captivity, what kinds of enrichment would you recommend to make sure they are stimulated?" "Did your parents put up any resistance to you doing research in an African forest?"
Carlie Peters, an environmental studies senior from New Orleans, and Catherine Willett, a philosophy senior from Sherborn, Mass., were among those who got a photo op with Goodall. They had no trouble smiling. The pair was on hand for Brown is Green to make sure the reception was zero-waste, a request conveyed to them by the lecture board's vice president for logistics, Margaret House.
"It was exciting because she was really emphasizing how much the speaker wanted this to be sustainable," Peters said. "Having her here is exciting."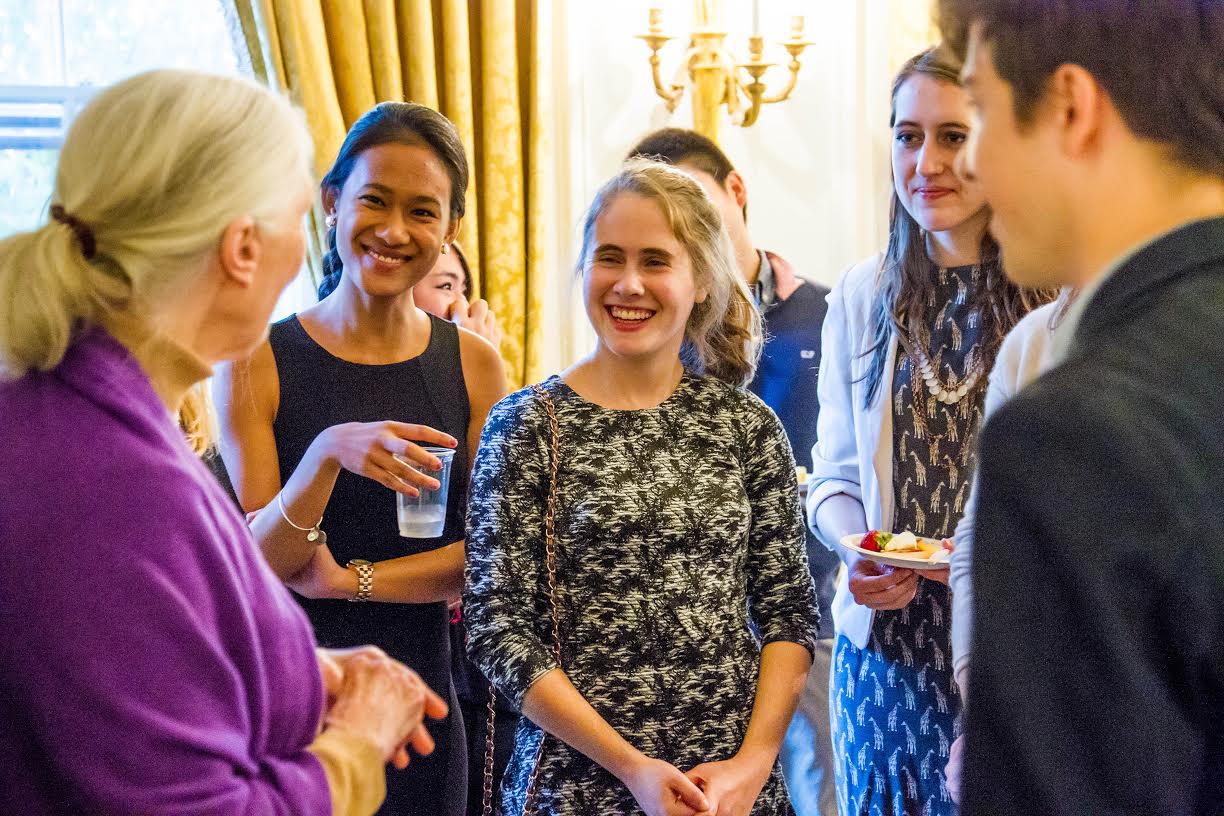 Hundreds upon hundreds of students clearly agreed. They brushed off the night's 40-degree chill to see the 81-year-old celebrity scientist, who spoke to a packed house at the Salomon Center, took questions afterward, and happily greeted student after student who stood in a book signing line that extended up the lower Salomon stairs, through the lobby and out the door, wrapping almost the length of the building toward Simmons Quad.
Goodall has become known the world over for her many discoveries, starting in 1960, about the sophistication of chimpanzees. In decades of observations in Gombe forest in Tanzania, she has observed that for better and worse the apes are much like us. They, too, fashion and use tools; they are social, familial and emotional; and they sometimes wage prolonged wars.
In recent years, Goodall has become an influential advocate for environmental sustainability and the interdependence of life in the natural world. In her address at Brown, Goodall struck these themes raising both alarm and hope.
"The more I learned the more it became obvious that there wasn't a sharp line between us and the rest of the animal kingdom," she said. "We are not the only beings with personalities, minds, and above all emotions."
Ultimately, she said, as severe and numerous as ecological threats are — climate change, deforestation, the bush meat trade, genetically modified organisms, to name a few — there is still hope. Nature is resilient, she said, and the human intellect is powerful enough to pursue sustainability, not just rapacious exploitation.
Though her speech to the Salomon audience lasted 63 minutes, in every venue of the evening, there was direct conversation with students.
During the post-lecture questions and answers, for example, she fielded a question that challenged her characterization of genetically modified organisms as an ecological threat. Aren't they, the questioner asked, simply an extension of more traditional agricultural breeding, needed to continue feeding a growing, hungry population? Not so, she responded, citing a book and other sources that GMO engineering involves inserting entirely novel genes into crop species. She also contested the idea that GMO crops yield more food.
Later at the book signing, she engaged a large group of enthusiastic fans with her pen, her smile and brief words for each. In exchange, she heard hundreds of thank yous throughout the evening.
Goodall, who's recently been spending as much as 300 days a year on the road pursuing her advocacy, said in an interview — she worked campus media interviews into the evening — that it's important for her to talk to students in particular, because humanity needs to change its dangerous course toward environmental degradation.
"Unfortunately, we've messed up the world students are inheriting," she said. "It's very important to talk with students and particularly young children to get a different kind of mindset so that together we can start putting the world to rights before it's too late."
At Brown, she found a very receptive audience of young minds.