In celebration of Brown's 250th anniversary, The Brown Reader is a collection of essays, comics, and poems by 50 alumni writers, poets, and artists reflecting on their time on College Hill. The book is now available in the Brown Bookstore and online and will be on bookstore shelves nationwide May 20.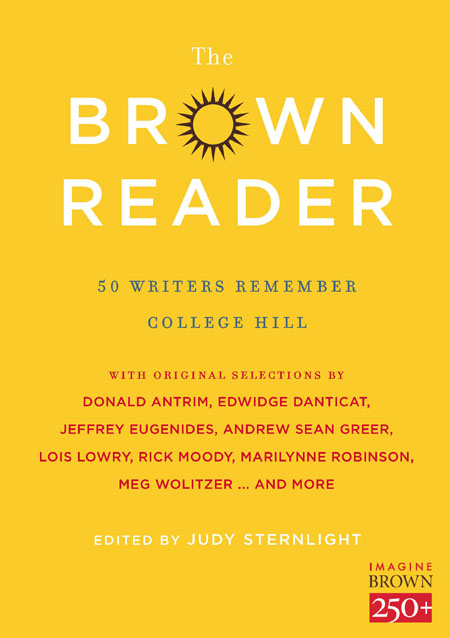 PROVIDENCE, R.I. [Brown University] — You can take the Brunonian off College Hill, but most alumni would agree that the reverse — removing Brown from their hearts and minds — is a much more difficult feat. In The Brown Reader: Fifty Writers Remember College Hill, an anthology of essays, comics and poems created for Brown's 250th anniversary, alumni share the tales of their time on campus that have stayed with them long after they passed through the Van Wickle Gates and off College Hill.
Published by Simon & Schuster, the 320-page volume covers nearly 60 years of Brown history through the eyes and words of alumni — many of them professional, prize-winning writers — reflecting on the young adult years they spent in Providence. Universal themes like love, conquering academic challenges, and self-discovery are interwoven with experiences and references that are uniquely Brown, like eating in The Ratty, the fight for need-blind admissions, and writing or editing the Brown Daily Herald.
Wendy Strothman '72, one of three Brown 250+ steering committee co-chairs, came up with the idea for the Brown Reader as plans were taking shape for the semiquincentenary celebration.
"In thinking about how Brown would celebrate its 250th, one of my goals was to make sure we celebrated what's uniqiuely Brown and also that we celebrated our own," Strothman said. "In the March celebration, for example, all the speakers had some Brown connection. So we started to think about people with Brown connections, and because I'm in the publishing business it just occurred to me that we had these wonderful writers who went to Brown."
Strothman reached out to fellow alumni in publishing, including literary agent Suzanne Gluck '81, novelist David Ebershoff '91, and Jonathan Karp '86, president of Simon & Schuster, to get the project going and to begin the process of selecting writers. Judy Sternlight '82, founder of Judy Sternlight Literary Services and co-founder of 5E, the independent editors' group, was brought on to edit the book.
The result is an impressive roster of contributors that includes Donald Antrim '81, Robert Arellano '91, M. Charles Bakst '66, Amy DuBois Barnett '91, Lisa Birnbach '78, Kate Bornstein '69, Sarah Shun-lien Bynum '95, Mary Caponegro '83 A.M., Susan Cheever '65, Brian Christian '06, Pamela Constable 74', Nicole Cooley '88, Dana Cowin '82, Spencer Crew '71, Edwidge Danticat '93 M.F.A., Dilip D'Souza '84 Sc.M., Ebershoff, Jeffrey Eugenides '82, Richard Foreman '59, Amity Gaige '95, Robin Green '67, Andrew Sean Greer '95, Christina Haag '82, Joan Hilty '89, A.J. Jacobs '90, Sean Kelly '84, David Klinghoffer '87, Jincy Willett Kornhauser '78, '81 A.M., Marie Myung-Ok Lee '86, David Levithan '94, Mara Liasson '77, Lois Lowry '58, Ira C. Magaziner '69, Madeline Miller '00, '01 A.M., Christine Montross '06 M.D., Rick Moody '83, Jonathan Mooney '00, Rowan Ricardo Phillips '03, Dawn Raffel '79, Bill Reynolds '68, Marilynne Robinson '66, Sarah Ruhl '95, Ariel Sabar '93, Joanna Scott '85 A.M., Jeff Shesol '91, David Shields '78, Krista Tippett '83, Alfred Uhry '58, Afaa Michael Weaver '87 A.M., and Meg Wolitzer '81.
In the book's preface, Sternlight writes about inviting contributors to articulate "what makes Brown Brown" and producing the finished product.
"Working on this anthology has given me a chance to collaborate with an extraordinary group of writers and creative artists whose essays invite us to see the world — and Brown — through their eyes, over the past few decades," she said. "Alternately hilarious, poignant, subversive, and thought-provoking, the cumulative effect of these pieces, as one early reader told me, is a kind of love letter to the humanities."
Strothman thinks that all readers, not just Brown alumni, will find something to connect with in the book.
"I think people will smile and remember their own times at Brown, their youthful indiscretions, and how their minds opened up to new ideas. I think they'll remember friendships and first loves and times like that. And I also hope people who haven't gone to Brown will see it as what happens in college at that time in your life. I do think it has broader audience appeal, especially since some of the pieces are just so magical."
The book is available for sale in the Brown Bookstore and online at Brown. It will be on bookstore shelves and online nationwide on May 20.