How to celebrate a 250th birthday? Brown University will begin a 15-month celebration with a two-day campus open house on Friday and Saturday, March 7-8, 2014. The guest list includes Brown's Rhode Island neighbors, middle school students from nearly three dozen public schools across the state, and all Brown faculty, students, alumni, parents, and staff.  There will be fireworks, and yes, there will be birthday cake. [Updated Thursday, Feb. 27, 2014. More at 250.brown.edu.]
PROVIDENCE, R.I. [Brown University] — Early in 1764 "the General Assembly of the Governor and Company of the English Colony of Rhode Island and Providence Plantations, in New England, in America" met to consider establishing the colony's first college. In March, they approved what became the Charter of Brown University.

Two hundred and fifty years later, the Brown University community is inviting its Rhode Island neighbors and the global Brown family to celebrate a partnership that began more than a decade before the Declaration of Independence. The celebration begins with a two-day launch party, Friday and Saturday, March 7-8, 2014, and continues through the 2015 Commencement.
"Colonial-era Rhode Islanders knew that higher education would be essential for constructing a strong, just, free, and prosperous civil society," said Brown President Christina Paxson. "Our 250th anniversary celebration begins with a University open house, honoring that original vision and exploring what Rhode Island communities and Brown University have been able to achieve."
Friday, March 7
It all begins with schools
The University's 250th celebration begins at 8:15 a.m. with the arrival of more than 250 seventh and eighth graders, their teachers, guidance counselors, and chaperones from nearly three dozen public schools around the state. After a quick snack and souvenir gift bags, the students will set out on a morning of academic exploration and discovery — a fairly wide swath: a rover working on the surface of Mars, archaeological digs, modern dance, bats in flight, Sanskrit, robots and drones, virtual reality, brain mapping, poetry with Rhode Island's poet laureate, vocal training, memory research, aerodynamics of paper airplanes, and more options, all of them led by Brown faculty and graduate students.
The middle school guests will meet and talk with President Paxson in the Salomon Center at the start of their day, have lunch with current Brown students in Sharpe Refectory ("The Ratty"), and start the trip home after performances by the Brown Band, a cappella groups, and other student artists.
"Brown's mission involves the discovery and transmission of knowledge across generations," Paxson said. "How better to begin celebrating the excitement of discovery than to invite hundreds of middle school students to visit campus and plunge right in?"
Keynote and reception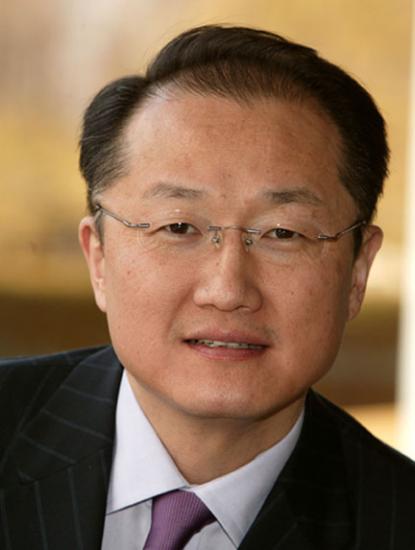 Friday's public celebrations continue at 2:30 p.m. with a keynote address by Dr. Jim Yong Kim, a 1982 Brown graduate and president of the World Bank. A human biology concentrator at Brown, Kim earned his M.D. and a Ph.D. in anthropology at Harvard. He is the co-founder, with Paul Farmer, of Partners in Health, a Boston-based nonprofit that has worked effectively to address public health crises initially in Haiti, then Peru, and now in 12 countries with more than 13,000 public health employees. Kim continued his work at the World Health Organization, leading WHO's efforts to scale up treatment of HIV/AIDS in developing countries. He also held appointments at Harvard Medical School and the Harvard School of Public Health in medicine, social medicine, and human rights. In March 2009, he was installed as president of Dartmouth College, where he served until his nomination by President Obama as president of the World Bank.
President Paxson will welcome the University's guests and introduce Kim in the Salomon Center for Teaching. Kim's address is a Stephen A. Ogden Jr. '60 Memorial Lecture on International Relations. Tickets, available without charge online, will be required.
Celebrate 250: Fireworks, birthday cake and lots to do
A variety of exhibitions and performances will continue until 10 p.m. A sampling of the many offerings (a full schedule and registration for events is available at the Imagine Brown 250+ website):
emerging artists exhibition in the Granoff Center for Creative Arts;
works by alumni artists in the David Winton Bell Gallery;
"In Deo Speramus: The Symbols and Ceremonies of Brown University" in the Haffenreffer Museum;
"Highlights from the Collection" in the John Carter Brown Library;
a concert by the Brown Wind Symphony, including the world première of Brownian Motion, a work by Patrick Zimmerli commissioned for the 250th celebration, at 8 p.m. in the Salomon Center;
student performances (dance, music, other performing arts) by more than 20 groups, at the Granoff Center for the Creative Arts (Martinos Auditorium) and the Metcalf Research Building (Friedman Auditorium).
The University's 250th birthday cake, a massive confection in the shape of University Hall (1770, the University's first building), will be served to all guests at 6:30 p.m. at the Faunce House Terrace on the College Green.
The 250th anniversary fireworks, accompanied by music from the Brown University Band and other groups, will begin at approximately 6:45 p.m. on the College Green.
Saturday, March 8
The opening weekend continues with a day-long open house celebrating higher education and an invitation to the public to explore the University. There will be open laboratories, faculty demonstrations, tours of campus and the athletic facilities, lectures, galleries, performances, public discussions. The Nelson Fitness Center will be open during the day for use by University guests.
Keynote and colloquium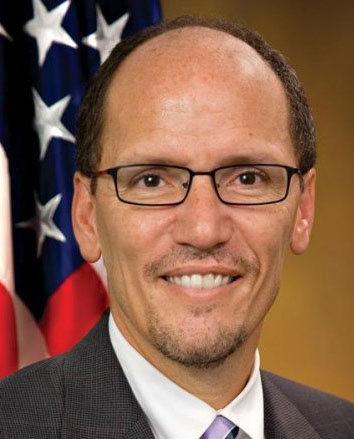 The Saturday keynote address will be delivered by U.S. Secretary of Labor Thomas Perez, a 1983 Brown graduate. An international relations and political science concentrator at Brown, Perez earned a law degree at Harvard and embarked on a career of public service, first as a law clerk in the U.S. District Court (Colorado) and then 12 years in federal service, most of it in the Department of Justice. As a federal prosecutor, he conducted or supervised prosecutions involving civil rights and the rights of employees. He served as deputy assistant attorney general for civil rights under Janet Reno, was Sen. Edward Kennedy's leading adviser on civil rights, justice, and constitutional issues, and directed the Office for Civil Rights within the Department of Health and Human Services during the last two years of the Clinton Administration. After service in labor, justice and education in Maryland, Perez returned to federal service, nominated by President Obama in March 2009 as assistant attorney general for the Civil Rights Division of the U.S. Department of Justice. Obama nominated him for secretary of labor in March 2013, and Perez was confirmed in July.
Perez will deliver his address, part of the Distinguished Speaker Series of the Watson Institute for International Studies, at 11:15 a.m. in the Salomon Center for Teaching. The event is open without charge; tickets, available at the website, will be required.
As part of the 250th celebration, President Paxson will convene a series of public discussions that examine several current global issues — issues for which higher education can provide understanding as a step toward productive action. The inaugural President's Colloquium on the Virtues of a Liberal Education will include four conversations:
Bridging the Great Divide: Politics, Polarization, and Progress in 21st Century America
Wendy Schiller, associate professor of political science and public policy at Brown, will moderate a discussion with Brown alumni and parents who have been elected to high public office, including Gov. Lincoln Chafee of Rhode Island, Gov. Maggie Hassan of New Hampshire, Gov. Jack Markell of Delaware, and Gov. Peter Shumlin of Vermont. 10 a.m. in the Salomon Center for Teaching.
Social Justice, Social Change: The Role of the Documentary
Three Brown graduates — filmmakers Betsy West and Yoruba Richen and journalist and author Alison Stewart — in conversation. 1 p.m. in the Salomon Center for Teaching.
ABCs, Bits, Bytes, and MP3s: Technology and its Impact on a Liberal Education
A conversation with Brown graduates Norman Atkins, co-founder and president of the Relay Graduate School of Education; Peter Norvig, director of research at Google Inc.; Lynn Pasquerella, president of Mt. Holyoke College; and Jose Estabil, of the Skolkovo Tech/MIT Initiative and the MIT Portugal Program. 2:15 p.m. in the Salomon Center for Teaching.
Disagreement and Dissent: The Role of Revolution in Shaping Our World
Melani Cammett, a 1991 graduate and associate professor of political science at Brown, will moderate a discussion with Richard Olson, a 1981 Brown graduate and U.S. ambassador to Pakistan; author Nathaniel Philbrick of the Class of 1978; and Gordon Wood, the Alva O. Way Professor of History. 3:30 p.m. in the Salomon Center for Teaching.
All sessions of the President's Colloquium on the Virtues of a Liberal Education are free and open, but tickets will be required. Tickets are available without charge at the Imagine Brown 250+ website.
Open labs and tours
The gallery exhibitions continue on Saturday, and many of the laboratory demonstrations prepared for the visiting middle school students will be presented again for a general audience. A variety of other tours and events will be available (a full schedule is available at the Imagine Brown 250+ website), including:
architectural and historical walking tours of campus;
tours of the Alpert Medical School and a research presentation on concussions;
sessions at the John Nicholas Brown Center for Public Humanities and Cultural Heritage;
sessions about the collections at the AnnMary Brown Memorial;
men's basketball versus Harvard (7 p.m., Pizzitola Center), with T-shirt giveaways, other features, and a special 250th halftime program;
a performance of "Passing Strange" at the Sock & Buskin Theater (8 p.m., Stuart Theater).
The Semiquincentenary Continues
A new 250th anniversary website, launched in January, will expand for the March ceremony and grow throughout the year. The site will offer an interactive timeline of Brown University's first 250 years. Among the items: The oldest known moving pictures taken at Brown, from the 1915 Commencement.
The Brown Reader is a collection of newly commissioned essays, reminiscences, drawings, and perspectives by 50 authors who are Brown graduates, edited by Judy Sternlicht. Publication, by Simon & Schuster and Brown University, is scheduled for the spring.
A book of essays on the history of Brown University by Edward Widmer, special assistant to the president and former director of the John Carter Brown Library, will be published later this year.
Brown University's first crowd-sourced video is being collected and will debut later this year.
The Brown Difference, a short film blending archival images and new material, is being produced for the semiquincentenary by Brown graduates Betsy West and Oren Jacoby.
A semiquincentenary Water Fire is being scheduled for Brown's Family Weekend in October.
The Brown–Tougaloo partnership at 50. Brown University and Tougaloo College, Jackson, Miss., signed a pioneering agreement for cooperative exchanges in 1964, a relationship that began in troubled times and has remained strong.
International celebrations will be held in London, Hong Kong, Berlin, Machu Picchu, and elsewhere across the globe by the international Brown community.
Varsity sports teams will wear 250th anniversary patches on their uniforms. Many games will have special presentations at halftime or between periods, and the 250th logo will appear on playing fields and at athletic venues.
Semiquincentenary Commencement programming will be offered in May 2014 and 2015, with all honorary degrees in 2014 conferred on Brown alumni.
A variety of apparel, blankets, souvenirs, and other objects bearing the Brown 250 logo will be available in the Brown Bookstore beginning March 7, 2014.
On Brown and Its History: Additional Semiquincentenary Resources
Brown and Rhode Island: "Tumultuous amity"
Colonial Rhode Island was a yeasty place of free thinking and big ideas: Separation of church and state; freedom from enforced orthodoxy; the right to free expression and debate. Historian Walter Bronson, author of A History of Brown University (1914), described the intellectual mix of early residents: "The afflicted and the eccentric from various quarters, Antinomians, Quakers, 'Seekers,' and Anabaptists of all stripes, had lived here together in tumultuous amity, attacking one another's heresies but steadily respecting everybody's right to preach heresy without any restraint from the civil power." Another historian summed it up: "State had wholly been dissociated from Church in a commonwealth not utopian but real."
The Brown charter incorporates that spirit, setting a tone of free thinking, broad inquiry, and respectful debate. The "College of Rhode Island," renamed Brown University in 1804, began in Warren with a single student — William Rogers, a precocious 14-year-old from Newport, who was one of seven graduates at the first Commencement. The William Rogers Award continues today as the highest honor conferred by the Brown Alumni Association.
In February 1770, the Corporation voted to move the school to Providence, and the cornerstone of University Hall was laid in May 1770.
From that single student admitted to study in Warren, R.I., Brown has grown to an international research university with about 6,200 undergraduates and nearly 2,500 graduate and medical students. In addition to its undergraduate College and Graduate School, the University now includes the Warren Alpert Medical School, the School of Engineering, and the School of Public Health. In the 2013 fiscal year, Brown University conducted more than $170 million in sponsored research.
Sources on the history of Brown University
Slavery and Justice is the final report of a committee that studied the University's historical relationship to slavery and the transatlantic slave trade (2007).
Images of the Brown campus includes lithographs, paintings, sketches and other images that trace the development of the historic College Hill campus.
Encyclopedia Brunoniana, a searchable one-volume work by Martha Mitchell (1993)
An interactive timeline will be available on the new Imagine Brown 250+ website
Facts About Brown includes current statistics on enrollment, faculty, research, libraries, athletics and more.
Brown University: A Short History, by Janet M. Phillips (1992, revised 2000)
The Search for Equity: Women at Brown University, 1891–1991, edited by Polly Welts Kaufman (1991)
Sources for interview on Brown History: Edward Widmer, archivists, and others (please contact the Office of News and Communications: 401-863-2476)
The Steering Committee for the 250th Anniversary
In February 2011, Chancellor Thomas J. Tisch announced a steering committee that would oversee the conception and planning of the University's 250th celebration. Three co-chairs led the committee's work: Russell C. Carey, executive vice president for planning and policy; Ralph F. Rosenberg, a University trustee; and Wendy J. Strothman, trustee and fellow emerita.
The nearly 30-member committee conducted a variety of site visits and interviews at peer institutions that had recently celebrated significant anniversaries and then organized itself for the task. Nine subcommittees took charge of planning for various areas, including overall concept, anchor events, academic presentations, souvenirs and memorabilia, constituent engagement, publications, technology/social media and others.