What kind of schools should educational reforms produce? Alison Rutsch, who will receive degrees from Brown and RISD, put the question to the customers — the schoolchildren themselves. The kids expressed themselves as clearly as they could: They drew pictures. Rutsch 'listened' to what they had to say.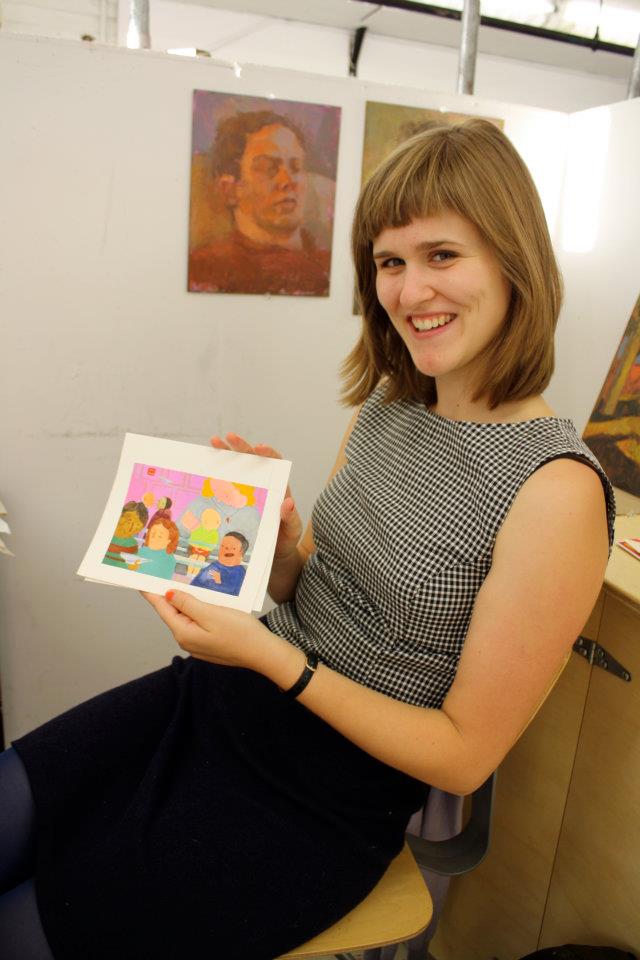 PROVIDENCE, R.I. [Brown University] — Fifty-three elementary school students from Providence Public schools were given art supplies and encouraged to draw an image of their current school and an ideal school over the course of the last school year.
Alison Rutsch, who will graduate on May 26 in the first cohort of the Brown/Rhode Island School of Design Dual Degree program, captured the results in a zine she calls, "The Best School Ever," and three editions of silkscreen prints. Rutsch plans to share the zine with the public to help students have a voice in the ongoing efforts to improve the Providence Public Schools. As for the screenprints, she is giving them away to teachers in the hopes of stimulating discussion.
"The goal of this project was to try and create more publicity around students' ideas for school reform," she said. "I think that one of the big problems with school reform historically and now is that we really don't ask students what they need."
In her zine, Rutsch categorized students' critiques of school into four categories — body and space, autonomy, social and emotional issues, and how and what they learn.
In terms of body and spatial issues, the students visually depicted that they wanted more space in which to move around. Their drawings showed they felt constricted in their classrooms and wanted more space so they could move.
Food also ranked high in their artistic depictions and they definitely wanted a say in what options were available. Depending on their ages, the students' view of food changed. Younger children were generally less concerned with nutrition, some wanting candy all of the time. Older elementary students' drawings sometimes showed they wanted healthier food to eat, with definitely more options from which to choose.
Student drawings also depicted a desire to have more decision-making power about what they learned in school. Younger students were more focused on being outside and playing, while older students wanted to study what interested them and to learn in more experiential ways.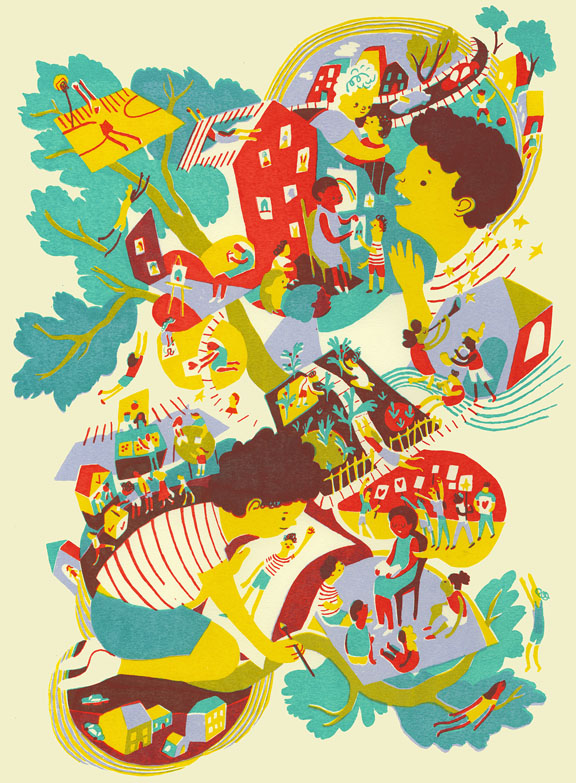 Last but not least, the student artists depicted a desire to be cared for by their teachers.
Rutsch cautions that the drawings are open for interpretation but that school administrators may find them helpful to get a sense of how students view their schools and what they might like to see change.
Rutsch undertook this project as her RISD degree project as a member of the first cohort of the five-year Brown/Rhode Island School of Design Dual Degree Program. On May 26, she will graduate as a Phi Beta Kappa (elected junior year) with a Bachelor of Arts (A.B.) in education studies from Brown and a Bachelor of Fine Arts (B.F.A.) in illustration from RISD. The dual degree program is designed to draw on the complementary strengths of Brown and RISD to provide students with a range of opportunities to develop and integrate academic and artistic work. Rutsch has taken full advantage of this duality.
"There is this back and forth between different kinds of making and learning. Half of what I do is writing academic papers and the other half of what I do is making illustrations," said Rutsch. "It can be a challenge to switch between the two modes of thinking, but I do think that the two have influenced each other for the better in really important ways."
A native of Silver Spring, Md., Rutsch hopes to stay in Providence to continue her work with schoolchildren. Her end goal is to be an art teacher, but until she gets her teacher certification, she hopes to land a position that blends art and education.
"I've found Providence to be a warm, really tightknit community and that's why I'd really like to stay, "said Rutsch. She has many more projects up her sleeve only awaiting willing students, ready to learn and express themselves through art.