Sheila Dixon traveled a long way to the top of College Hill. She will walk through the Van Wickle Gates at the top of her game: A Brown degree (A.B., political science), All-Ivy basketball honors, and options she wasn't always expecting to have.
No matter the sport, coaches talk a lot about hard work, dedication, persistence, endurance. Every now and then when they meet a player who does all of that naturally, the coaches can only watch and admire.
Graduating senior Sheila Dixon knows all about hard work. Twenty-five hours a week practicing and playing for the varsity women's basketball team. Working a job for another four to eight hours. Handling a full class load in political science. Pulling all-nighters as needed. Still finding time for community service. She has been working hard for a long time, covering a greater distance, accomplishing much, defeating some very long odds.
She started out with few advantages. Abandoned as a newborn in Schenectady, N.Y., she and her year-old brother were cared for by a foster family and raised in a household of nine kids. She learned all about competition in that household — swimming, basketball, baseball, and, significantly, test scores and achievements at school.
"'Who posted the 100 on the fridge?' is how it all started," Dixon said.
The "it all" makes an impressive list. On the Division I basketball front: All-Ivy honorable mention (2012-13 season), second team All-Ivy League twice (2010-11 and 2011-12), and Ivy League Player of the Week in her junior and senior years (February 28, 2011, and December 5, 2012).
On the extra-curricular front: the 2011 Derek Canfield Barker Prize for leadership, triumph over adversity, and community service; service on the Campus Life Advisory Board; four years of involvement with groups like Athletes in Action, the Black Student Union, and The League of United Black Women.
On the academic front: Barack Obama's 2008 election demonstrated the potential power of grassroots support and the ability of individuals to make a significant difference. Dixon was fascinated by the unfolding campaign and the election. She arrived at Brown with political interests, but it was a class with Wendy Schiller, professor of political science, that settled her choice of a concentration in political science. The focus on real problems in the United States and abroad and the high level of discussions inside and outside the classroom proved irresistible and unforgettable.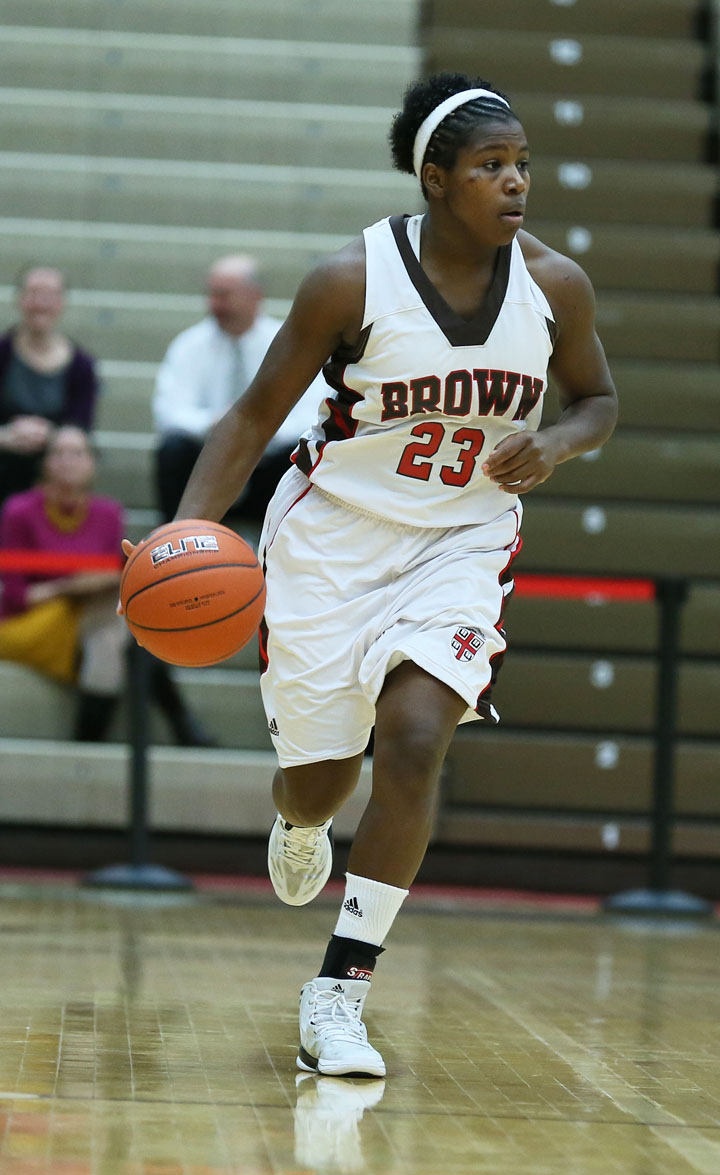 It was basketball that opened the door to College Hill. Dixon's guidance counselor suggested Brown as a place that "goes under the radar, … a great school with one of the top academic programs in the world." A Brown coach arrived and watched Dixon in an intramural game, and soon Dixon was visiting Providence.
"I felt very comfortable on campus with these girls and some guys that I didn't even know. They were very welcoming people and I thought it was representative of the school," Dixon said. "As soon as I came home I began filling out my application."
Brown's offer of admission arrived with an offer of a Sidney Frank Scholarship — a source of support that made a Brown education possible and gave Dixon's community service activities a special purpose.
Through the basketball team's community outreach programs, Dixon visited schools across Rhode Island, helping children — particularly children from low-income families — to think about a future that includes college.
"I know my success isn't solely on me," Dixon said. "If you can stick your hand out and grab somebody, they'll have a better chance of being successful. I know. It made a difference in my life."
After four years on College Hill, Dixon approaches graduation with some intriguing options. At the top of the list, currently, is the potential for a career in professional basketball — most likely in France or Spain for the coming season. Nothing is certain yet. She is also considering a couple job offers in case the basketball draft doesn't work out as she hopes. Law school and NCAA Division I coaching are also possibilities.
But for right now, Dixon can pause and reflect. She is grateful for the support she received from her adoptive mother and from coaches and guidance counselors who helped her find the way from Schenectady to the top of College Hill — to a life that is "10 times better" than it could have been.
Basketball prospects and a newly minted Brown degree. No need to post any of that on the family fridge. Dixon's mother will be on campus for Brown's 245th Commencement to congratulate her daughter on her significant milestone and cheer her on to whatever comes next.