For 12 years, Brown University has partnered with William D'Abate Elementary School in Providence's Olneyville neighborhood to bring after-school programming, in-class tutoring, and summer camps to students there. While the programs are a learning experience for everyone involved, the hope is that some lessons will have effects that last long after graduation.
It's 5 p.m. on a Tuesday evening and William D'Abate Elementary School is buzzing with activity. The gymnasium's bleachers are filled with parents, grandparents, and little ones too young for school. The air is filled with happy chatter in English and Spanish.
The room goes quiet as Principal Brent Kermen welcomes everyone and explains the evening's agenda. It's the end-of-year after-school club showcase, a chance for the students, who range from kindergarten through fifth grade, to show off what they've been working on for the last several months. One by one, clubs come out to give informal presentations as proud family members snap photos and video on their cell phones. The cheerleading club performs, the social studies club shares its new-found knowledge of Brazil, and the Dominican Republic and the language arts club members read essays on what they want to be when they grow up.
Standing among them, holding microphones to amplify quieter voices and offering words of encouragement to any students who seem shy, are noticeably bigger kids. They're students too — at Brown — who worked with the children throughout the year. For the last 12 years, students from Brown have traveled to the Olneyville school every day to run these after-school clubs. The programs, run by the Swearer Center for Public Service, began in 2000 but became more formalized when D'Abate asked the Swearer Center to take on its 21st Century Community Learning Center Grant in December 2008.
Dilania Inoa, the Swearer Center's elementary and middle school program manager, says the decision to oversee the grant fit with the Swearer Center's mission. "We're always looking to work with communities where we can combine our respective resources to have maximum impact. At the same time, we seek opportunities for Brown students to take on leadership roles within the community and learn from their involvement."
The federal funding allowed Brown to expand after-school offerings and student involvement, increasing the number of children who attended the clubs from about 40 to 187 within the first year, according to Inoa.
Today there are 208 D'Abate students enrolled in the after-school program, which includes 40 different clubs, ranging from Girls Scouts and soccer, to robotics and mathematics. Brown volunteers create the majority of the programming, while teachers and outside community partners like the Girl Scouts also pitch in. The programs allow students to dabble in a variety of extracurricular activities, exploring interests while also expanding on classroom lessons. Academics remain the focus of the program; each afternoon begins with a half hour of help with homework.
Oliver Torres, a student coordinator for the after-school program, says the effect the programs have on the D'Abate students is obvious. "You go into the clubs, and there are certain students who you can tell that their general attitude toward school seems to be 'I don't care' or 'I'm too cool for this.' And then they'll be doing this really cool science experiment and they'll say 'I like science club.' They're finally allowing themselves to admit that education can be fun."
Inoa says the programs have a positive impact not only on the children at D'Abate, but also on their entire families. "It is very gratifying to provide parents with the support they need to be able to work and provide for their families while their children are in a safe learning environment after school. I believe parents see that as a big support."
Virginia Morgan, D'Abate PTO president and mother of a second grader at the school agrees. "The programs that Brown provides mean a lot to me as a parent because the kids see the Brown students and know that someone cares about them. And they'll put a little more effort into their studies because they want to be like those students."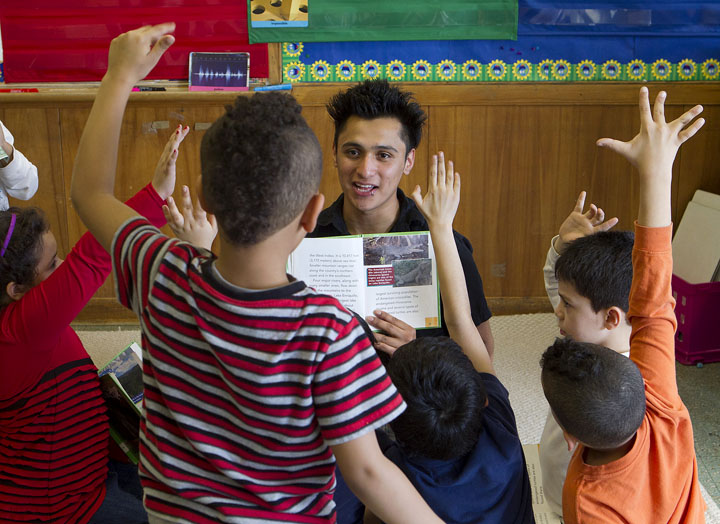 Brown students also work in the school during the day. Currently 33 Brown students are involved in the literacy tutoring program, going into classrooms during specific reading periods to help students read stories and summarize and think critically about the content. With at least one tutor in every classroom, the program aims to give D'Abate students more individualized attention by freeing up teachers who often have few chances to focus on a single student in a classroom of more than 20. Christine Joyce, a student coordinator for the program, says the consistent presence of the Brown students in the classroom makes a difference.
"The Brown students are there week after week building connections and we feel that those connections are what makes the program so important because the kids look forward to and depend on us coming every week. Once we connect with those kids, the tutoring work is much easier," Joyce said.
D'Abate Principal Kermen said the bond the children form with the Brown students is evident in the way they light up when they see them enter the school each day. He believes these relationships have a positive impact on the children's outlook. "When the students from Brown come in, they open the children's eyes. Being in their company, the children get the sense that anything is possible."
Programs with parents and other adults in the community form another component of the partnership. Brown students spend time in the school after hours four days a week as part of the adult English for Speakers of Other Languages (ESOL) program.
In total, 160 Brown students spend more than 500 hours a week at D'Abate and an additional 300 at Asa Messer Elementary School, a school in the Federal Hill community bordering the West End. The Swearer Center's educational programs also reach far beyond those two schools. Currently, more than 400 Brown students spend time in Rhode Island public schools each week. The Swearer Center has 13 staff members based in the urban public schools in all six of Rhode Island's urban districts each week. More than 4,000 public school students will participate in Swearer Center programs across Rhode Island urban school districts this year.
The programs don't stop when the school year ends. This summer, 125 children from the Olneyville community will participate in a five-week summer camp at D'Abate. Run by the Swearer Center, 11 Brown student volunteers help staff the camp. Children, who will range from incoming kindergartners through sixth-graders, will receive one hour of instruction in math and literacy every day, followed by activities in the areas of social studies, science, arts, and dance. Brown students will design activities for elective periods, generally based around their own interests. One year, a student taught Chinese to kindergarten and first-grade children and Tae Kwon Do to second, third, fourth, and fifth graders. "We try to make it fun, but at the same time ensure that the summer learning loss is minimal," Inoa says.
It's not just the D'Abate students who benefit from the program. With concentrations that range from science to education to English, many of the Brown students have aspirations to teach after graduation; spending time at D'Abate gives them valuable in-class experience. Students who head the programs at D'Abate meet often to discuss the logistical and theoretical aspects of the work they are doing. Inoa says that efforts are being made to connect the student volunteers with teachers at D'Abate on a regular basis to give them a chance to discuss curriculum, answer questions about discipline, and problem-solve any issues they may be having.
Joyce says her time at D'Abate reinforces not only what she's learning in her classes at Brown, but also why she's chosen an education concentration.
"My work in a lot of my education classes centers around big discussions about policy and challenges in the system, and often there are not a lot of answers when that ends. Working directly with the students keeps me grounded and reminds me why I'm interested in education and my future as a teacher."
The Swearer Center programs at D'Abate are aimed at helping students academically, but there are other lasting effects that are equally important, says Inoa.
"We do this work for the kids as a way to broaden their horizons and make them aware of the opportunities and choices they can make in their lives."