Opening June 9, 2012, at the David Winton Bell Gallery at Brown University, rolemodelplaytime is an imaginative exhibition featuring works in a variety of media that explore the way we create lasting identity through play. Rolemodelplaytime includes works by Hannah Barrett, Caleb Cole, Jane Maxwell, Randy Regier, Kent Rogowski, and TRIIIBE.
PROVIDENCE, R.I. [Brown University] — The David Winton Bell Gallery will present rolemodelplaytime from Saturday, June 9, 2012, through Sunday, July 8, 2012. Exploring the way we create identity through play, the exhibition, curated by Ian Alden Russell, features recent works by Hannah Barrett, Caleb Cole, Jane Maxwell, Randy Regier, Kent Rogowski, and TRIIIBE. An opening reception will be held on Friday, June 8, 2012, from 5:30 to 7:30 p.m. The exhibition and reception are free and open to the public.
Representing photography, collage, sculpture and painting, the works in the exhibition all share a sense of playfulness in examining processes of forming, inheriting, and expressing personal and social identities. The artists all share the message that these processes are commonalities shared by all humans that begin at a very young age. Whether from teddy bears, toys, fashion icons, parents, siblings, or complete strangers, all children seek out models for how to be human. The works here remind viewers of their early play times and how integral they can be to forming identities throughout life.
"While some of the works are complex, challenging, or conceptual, there is a shared sense that life is a play in which we are cast (and cast ourselves) in many different roles," Russell said. "I hope the exhibition will be an opportunity not just to examine and deconstruct our personal and social identities but also to remind us to enjoy playing with our identities as part of our personal and social lives."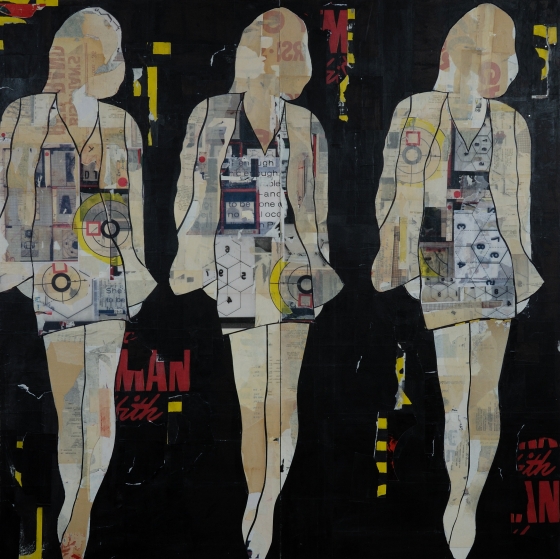 The Artists
Hannah Barrett is a New York-based artist who has had solo exhibitions as well as major group exhibitions at National Museum of Women in the Arts, Washington, D.C., and Massachusetts College of Art's Bakalar Gallery. Since 2000, she has painted invented portraits based on collage. Her aim is to create portraiture that deviates from the conventional male or female and to explore the resulting pictorial and conceptual possibilities. The series exhibited here, Tales from the House of Gibson, is a group of invented portraits inspired by Charles Hammond Gibson Jr. and his museum. The paintings originally hung in a fantastic three-story, exotically wallpapered staircase in the Gibson House Museum in Boston.
Caleb Cole is a Boston-based artist and photographer. Cole has exhibited at a variety of venues, including Gallery Kayafas (Boston), the Danforth Museum of Art, Photo Center Northwest (Seattle), and Jenkins Johnson Gallery (New York). Cole was also featured in Boston Magazine (HOME) as an emerging photographer who is "shaking up New England's visual arts scene." His work exhibited here, Other People's Clothes, is a product of his exploration of private moments of expectation, a visual expression of his experiences stepping into the shoes of the types of people he sees on a daily basis.
Jane Maxwell is a mixed media artist based in Boston, whose work is shown in major galleries throughout the country and a has been collected by art patrons around the world. Maxwell's artistic voice grew out of a passion for vintage materials, modern fashion, and design — mingled with a deep fascination for pop culture and female icons. Her current work, exhibited here, largely focuses on women, body image, and the feminine ideal. Her collages are deeply layered works, combining color, texture, and text that surround and become the female figure.
Randy Regier is a mixed media and installation artist now based in Wichita, Kan., but who was until recently based in Portland, Maine. Regier's artistic statement begins with the words of the German literary critic Walter Benjamin who wrote wrote in his 1928 essay, The Cultural History of Toys, "Children do not constitute a community cut off from everything else ... their toys cannot bear witness to any autonomous separate existence, but rather are a silent signifying dialogue between them [children] and their nation."
Kent Rogowski is an artist/photographer living and working in Brooklyn, N.Y. His first European solo show opened at the In Focus Gallery in Cologne, Germany, in 2009. His work exhibited here, Bears, is a series of portraits of the most unusual sort: ordinary teddy bears that have been turned inside out and restuffed. Simple patterns and devices never meant to be seen are now prominent physical characteristics, giving each one a distinctly quirky personality: Their fasteners become eyes, their seams become scars, and their stuffing creeps out in the most unexpected places. It is by virtue of revealing their inner core that might we better understand our own.
TRIIIBE is a Boston-based collaborative that obscures the seams of authorship, fusing the input of several parties, most prominently that of photographer Cary Wolinsky and triplets Alicia, Kelly, and Sara Casilio. In 2009, TRIIIBE had their first solo exhibition of photographs at Kayafas Gallery. TRIIIBE has also performed at the Institute of Contemporary Art, Boston, Republican National Convention, samsøn, Ground Zero, and Massachusetts College of Art. Their work has been covered by New York Public Radio, The Village Voice, Boston Globe, Forbes Online, Chronicle, Channel 5, The Improper Bostonian, and Philadelphia Weekly.