A donated collection of books once belonging to a member of the Brown University Class of 1773 included a piece of history tucked inside one of the volumes: an exceptionally rare engraved print by Paul Revere. Brown's copy of the print, depicting Jesus and John the Baptist in the Jordan River, is one of only five known to exist.
Leafing through a donated collection once belonging to physician Solomon Drowne, Class of 1773, Marie Malchodi of the University Library's Preservation Department was finding signs of previous ownership everywhere: a thick leather book cover that had been sewn on by hand; a child's paper cutout of two yellow roosters tucked in among the pages; even notes written in the margins about a trip to Boston to see a garden. "There were many signs that these were somebody's working books, and that's what slowed me down and made me want to really see them," Malchodi said.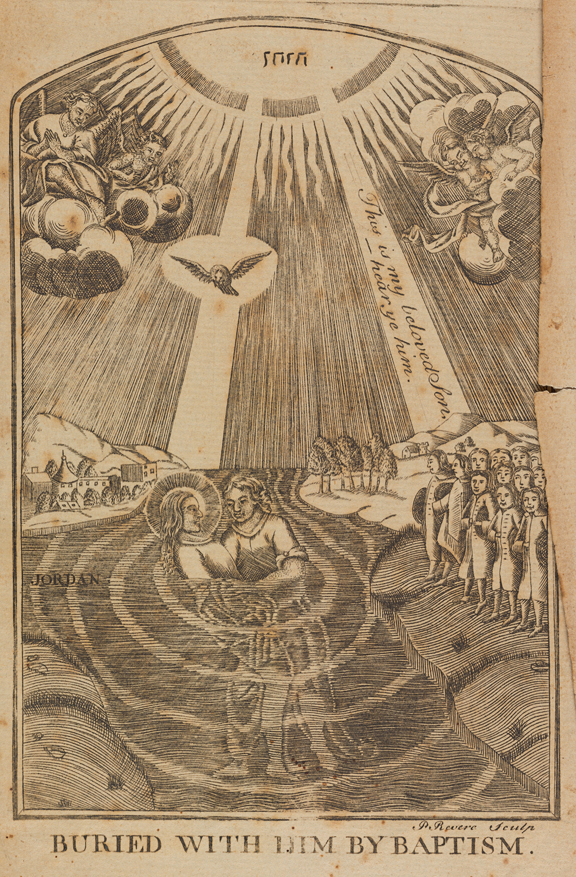 But those findings never could have prepared her for the what she found inside the back cover of The Modern Practice of Physics, by Robert Thomas, published in 1811. It was an engraved depiction of Jesus Christ and John the Baptist titled "Buried with Him by Baptism." Studying the delicate piece of paper, Malchodi was struck first by the dissimilar styles of the onlookers and village depicted in the background. Further inspection revealed something that piqued her interest even more: In the bottom right corner was the signature "P. Revere Sculpt." Sensing her discovery might be unusually significant, Malchodi immediately brought it to Richard Noble, the library's rare materials cataloguer. for a closer look. "I'll never forget what Richard said. He looks at it and says, "That's just crude enough to be him,'" Malchodi said.
Although the style of the engraving suggested that it was done by Revere, Noble did some research to be sure. It didn't take long for him to realize that the print was not only done by Revere, but incredibly rare. Clarence S. Brigham, in his book Paul Revere's Engravings, characterizes it as "one of the scarcest of the plates signed by Revere."
It is only the fifth copy known to exist. The others are housed at the American Antiquarian Society, the Worcester Art Museum and a private museum collection in Massachusetts. Another was offered at auction by Sotheby's in 2007.
Many questions remained. Why did Revere create the print in the first place? How did the Drowne family come to own it? Based on Jesus and John's position chest-high in the water, Noble categorizes it as a theo-political cartoon depicting a Baptist ceremony. In his book, Brigham indicates that he could find no evidence that it was ever used publicly in a book or religious pamphlet. He also could find no model in any British book or periodical that Revere might have used as inspiration for this style of baptism depiction. Noble believes it may have been a one-off printing, meaning that Revere only made a few at a time to give to friends and close acquaintances who requested it, which also explains why the print is so rare.
"It appears to be an American original, by an American original. The son of French Huguenot refugees who eventually became, by all accounts, a Unitarian. The print thus marks a stage in the evolution of that aspect of Revere's life," Noble said.
It may also be the only known print that has the full plate mark, left when the metal engraving was pressed into the paper to transfer the ink. Of the prints known to exist, the one found at Brown is the only one large enough to accommodate the entire plate.
As for the Drowne family's possession of the print, it's not impossible that Revere and the Drownes had a personal connection. "Given the time period, these people could have encountered one another at one time or another. Drowne was involved in the Revolution, as were most people of a certain standing," Malchodi said.
However it was obtained, the mystery remains as to why it has remained hidden for so long, said Noble. "You know that eyes were laid on that book and it did not stir any curiosity. Wouldn't you see 'P. Revere' and say to yourself, 'I wonder if that's Paul?'"