Brown University master's candidate Courtney Mattison unites her interests in art and environmental studies in her large-scale ceramic coral reef wall installation, on display this spring at the National Oceanic and Atmospheric Administration headquarters in Washington, D.C.
In her downtown Providence loft space, student Courtney Mattison has created an underwater scene not usually visible without a snorkel and diving mask. Two-foot wide sea anemones, a variety of coral species, and big nasty globs of algae stretch floor to ceiling. Each item is a handcrafted ceramic.
Mattison, a master's candidate in environmental studies with an arts background, is preparing a larger-than-life ceramic wall installation modeling a Pacific coral reef. The project, titled Our Changing Seas: A Coral Reef Story, is her thesis project, and it will soon be on view at the National Oceanic and Atmospheric Administration headquarters within the U.S. Department of Commerce in Washington, DC.
A 25-year-old California native, Mattison grew up exploring local tide pools and says she always felt a connection to the ocean. After snorkeling and scuba diving in Thailand, Hawaii, the British Virgin Islands, and the Great Barrier Reef, she was inspired to bring the beauty of the reefs out of the water and into public view, to help spread the message of marine conservation.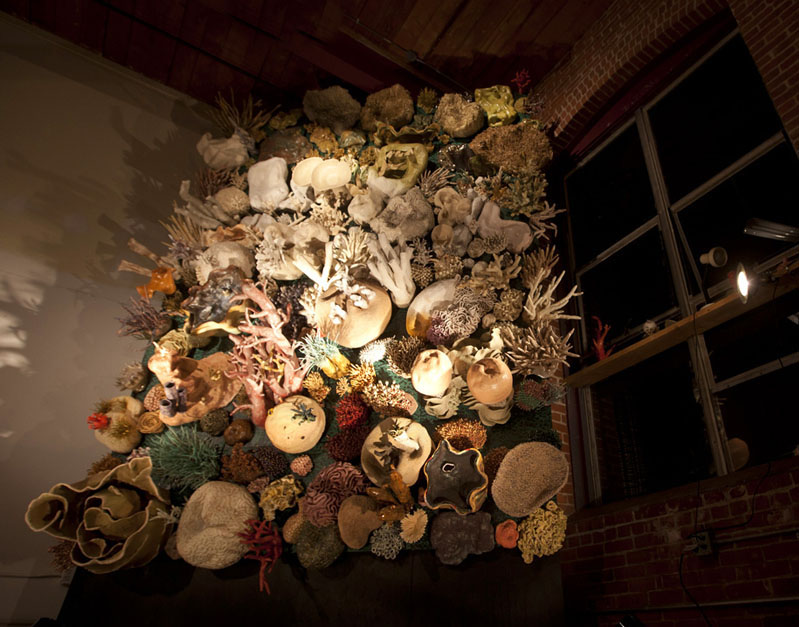 "Simply put, coral reefs are some of the most amazing living resources that we have. Few people ever get the opportunity to see them in real life," said Mattison, who graduated from Skidmore College in 2008 with a major in marine biology and ceramic sculpture. "By bringing them above the water and getting people to focus on them, who wouldn't normally, maybe we can start a movement and get people to care."
Informative, intricate, and aesthetically stunning, the installation is 10 feet wide and nearly 15 feet high, made of hundreds of individually hand-sculpted ceramic pieces. Mattison sculpted, glazed, and fired the pieces in a kiln at a RISD ceramic studio. Each piece is bolted to one of 24 panels that are then affixed to a self-supporting metal grate.
The bottom left corner of the installation depicts a colorful, vibrant, complex ecosystem, with anemones and a large variety of coral species. The diversity begins to dissipate in the middle section of the design, where Mattison illustrates degradation, coral bleaching, and finally algal-domination — when algae smothers the reef and it becomes a "green, hairy nasty rubble pile." Those degraded states occur on reefs when rising sea temperatures, overfishing, and land-based pollution come into play as a result of climate change, high fishing pressures, and coastal development.
"I hope that by showing the fragile beauty of a healthy reef that gradually fades into degradation, the piece will communicate those major threats to viewers in a way that doesn't seem too preachy or negative," Mattison said. "It's more about getting us to care about reefs and appreciate what we're losing before it's gone. Plus, there's a small 'glimmer of hope' up in the top right corner of the piece — a red branching coral that's growing out from the slime — to symbolize recovery."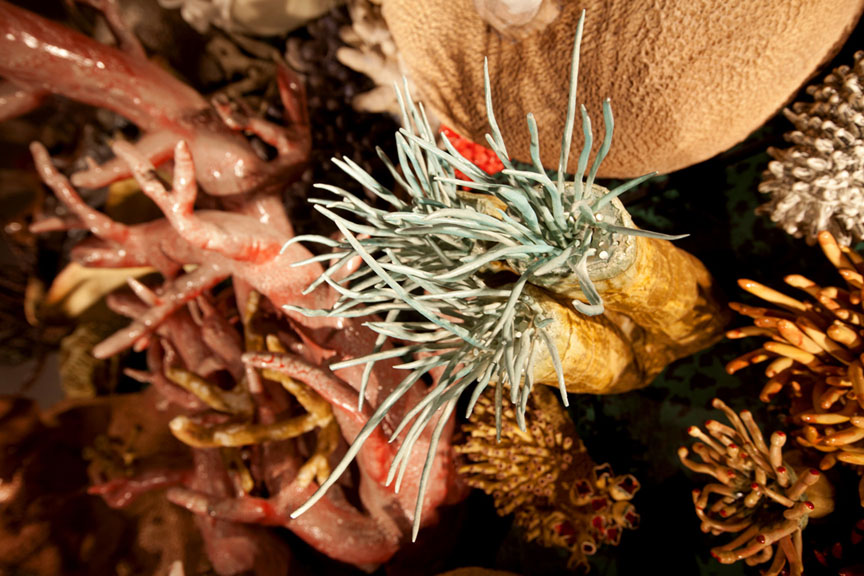 The project is interdisciplinary, as it combines marine conservation science and policy and social sciences with fine art. Mattison interviewed dozens of artists, marine researchers, and environmental professionals about how art might promote coral reef stewardship and policy change. She used the prominent concepts that arose during those conversations, particularly, those regarding human interactions with reefs, to inform the design. In Washington, viewers can flip through quotes from those interviews using two iPads on display in front of the installation.
"Courtney's work is extraordinary, combining a vital ecological issue with gorgeous artistry," said Timmons Roberts, director of Brown's Center for Environmental Studies, who helped advise Mattison's project. "What a joy to see this project come to life."
In addition to Roberts, Mattison has worked under Heather Leslie, the Sharpe Assistant Professor of Environmental Studies and Biology, and Linda Sormin, department head and associate professor of ceramics at RISD. Mattison's work has been supported by grants from Brown's Center from Environmental Studies, Humanities Research Funds, Creative Arts Council, and the Graduate School's Teaching Assistantship in Environmental Science and hosted by the RISD Ceramics Department.
The installation will be on display from Friday, April 15, through Friday, June 15, 2011, in the lobby of Herbert C. Hoover Building, U.S. Department of Commerce, 14th Street NW at Constitution Avenue, Washington D.C.