Brown University's annual "Brown Shops Local" event drew hundreds of faculty, staff, and students to the Brown Bookstore Thursday. On offer: free coffee, free tote bags, and exclusive discounts from local merchants.
PROVIDENCE, R.I. [Brown University] — Holiday energy infused the Brown Bookstore Thursday, as Brown students, faculty, and staff queued up for "Brown Shops Local," an annual event. Brown Shops Local supports the local economy in Providence and Rhode Island by encouraging the Brown community to spend their holiday shopping dollars in Providence.
At the event, Brown staff distributed free Brown Shops Local tote bags, cookies, and Blue State coffee, along with a list of exclusive discounts offered to the Brown community by local merchants. Business districts represented included Thayer, Hope, Wickenden, and South Main streets, as well as Wayland Square, DownCity, and the Jewelry District.
"I love this event because it's giving back," said Cindy Grant, a Brown Bookstore employee. "It's helping out the community."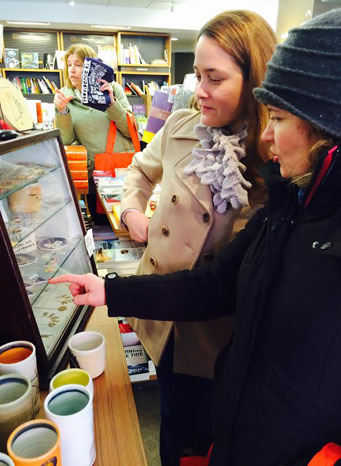 This year the event also included a Brown Shops Local pop-up shop in the Brown Bookstore. The shop, open since the start of the fall semester, features Rhode Island-made products — from recycled-skateboard jewelry to small fabric "stuffed quahogs" — curated by the local independent gift store Frog & Toad.
"Shopping local is an important way to support community and to ensure that our neighborhoods will always have great character," said Erin Schofield, co-owner of Frog & Toad, who was on hand for the event. "It means everything to me as a local merchant to be a part of this community, to have people shopping local, supporting our family, and giving back to the community. Brown is a cornerstone of Providence, and we are just so excited to partner with Brown for this event."
The event was organized by the Brown Office of Government Relations and Community Affairs, with support from the Brown Bookstore, Blue State Coffee, Frog & Toad, and many local merchants.