The David Winton Bell Gallery at Brown presents <em>Dead Animals, or the curious occurrence of taxidermy in contemporary art</em>, a survey of some of the current artistic uses of taxidermy through the work of approximately fifteen artists, on view from Saturday, Jan. 23, through Sunday, March 27, 2016. An opening reception and artist talk will take place on Friday, Feb. 5, at 5:30 p.m. in the List Art Center auditorium.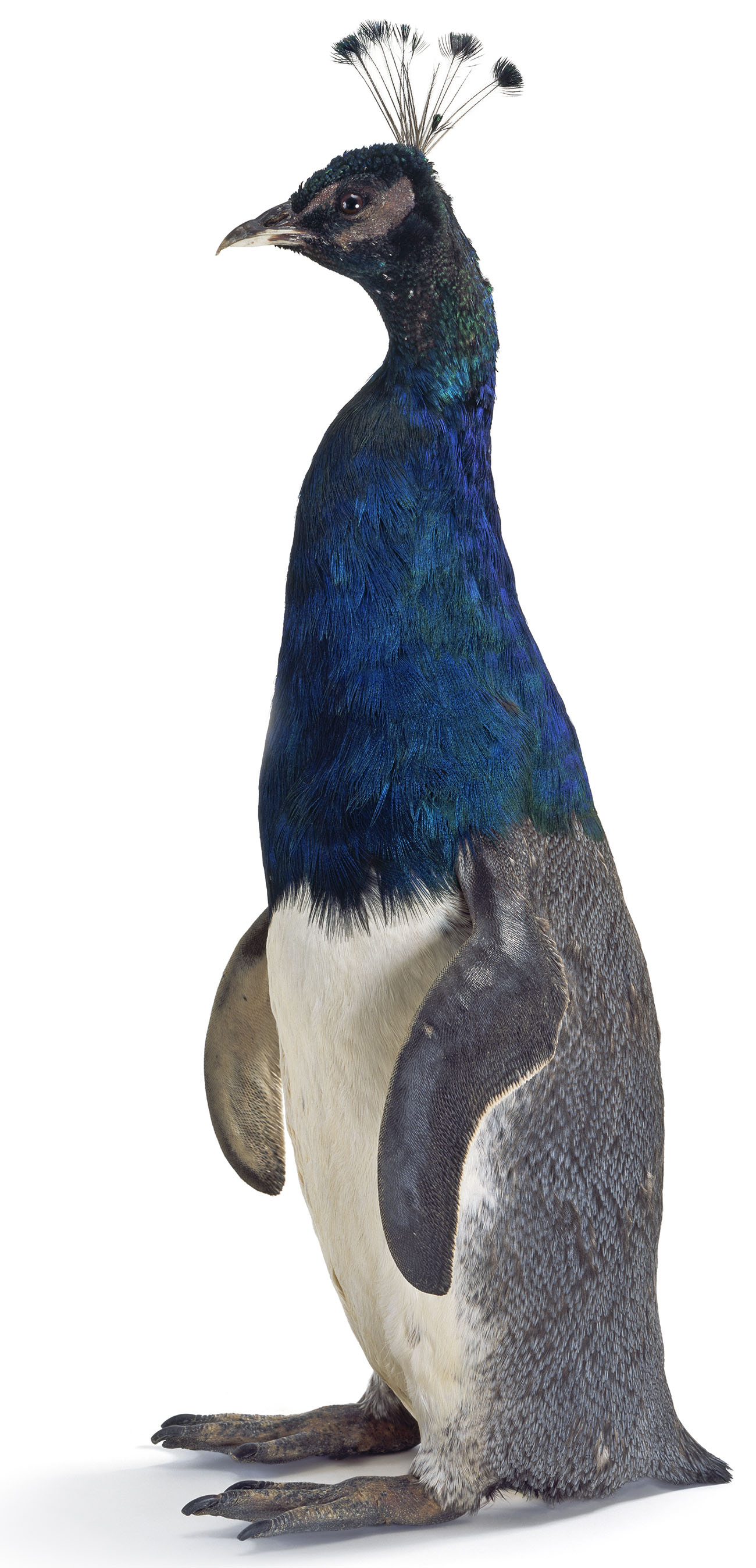 PROVIDENCE, R.I. [Brown University] — The David Winton Bell Gallery will present Dead Animals, or the curious occurrence of taxidermy in contemporary art, on display from Saturday, Jan. 23, through Sunday, March 27, 2016. The opening event — a conversation with taxidermist and artist Polly Morgan, followed by a reception — will be held on Friday, Feb. 5, at 5:30 p.m. In addition, a symposium, "Taxidermy, Art, and the Animal Question," is scheduled for Feb. 26-27, and an artist lecture, co-sponsored by the Haffenreffer Museum of Anthropology, will be presented by Nicholas Galanin on March 17 at 5:30 p.m. All events will take place in the auditorium in List Art Center.
At a time when natural history museums are moving away from taxidermy, there has been a resurgence of interest in popular culture — in blogs and image collections, in fashion, home décor, and advertising — as well as in art practice. Dead Animals surveys current artistic uses of taxidermy through the work of approximately 15 artists, including sculptors Maurizio Cattelan, Kate Clark, Mark Dion, Nicolas Galanin, Thomas Grünfeld, Damien Hirst, Annette Messager, Polly Morgan, Angela Singer, Deborah Sengl; and photographers Snæbjörnsdóttir and Wilson, Karen Knorr, Richard Barnes, Jules Greenberg, Sarah Cusimano Miles, Richard Ross, and Hiroshi Sugimoto.
The exhibition will present an opportunity to explore why artists choose to use taxidermy in their art and the complex implications of that decision. For some artists, the answer may simply begin with logistics — the fact that dead animals rot and live animals move can reduce their usefulness to artists in some instances. But artists also may be interested in verisimilitude, the link with the real that is afforded by taxidermy. They may be intrigued by the dual nature of taxidermy: Taxidermy's veracity coexists with an unnatural stillness that signals the artificiality of the animal specimen and its death. They may wish to participate in the growing reevaluation of the human-animal question manifest in writings on animal studies and posthumanism.
Taxidermist and artist Polly Morgan works against the traditional goals of taxidermy. Rather than a lively depiction, she presents animals in death. Gannet, 2014, is a momento mori. The large and beautiful bird falls limply over the edge of a black frame — in a pose that is synonymous with death. The frame houses a drawing of a bird's nest created from the ashes of cremated birds.
German artist Thomas Grünfeld explores animal hybridity in his Misfits. What if you could breed a flamingo and a mastiff, a rooster and a donkey, or, as in the work in this exhibition, a penguin and a peacock. Grünfeld's finely crafted animal specimens befuddle and amuse. Denying any concerns for genetic engineering or cloning, Grünfeld views his works instead as a "possible and thinkable alternative to God's creation." Expressing an interest in the commonality of humans and animals, Kate Clark creates stunning hybrid creatures with animal bodies — antelopes, bears, monkeys, and the like — and human faces, clearly recognizable and individualized portraits.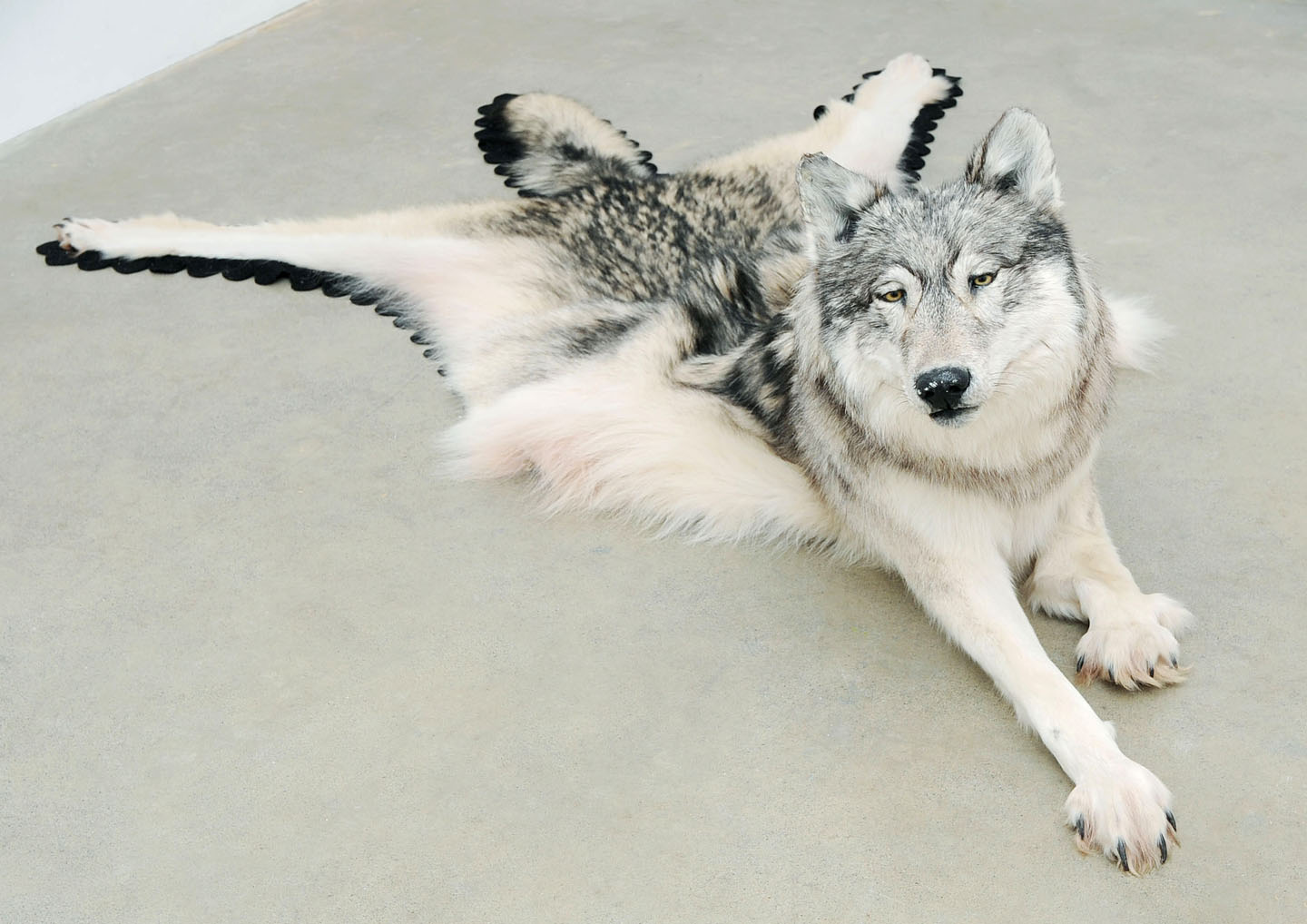 A number of artists in the exhibition react to human treatment of animals and the environment. Reflecting on the Victorian and colonial roots of taxidermy, the artistic collaborators Snæbjörnsdóttir and Wilson have created an archive of extant taxidermied polar bears in the United Kingdom. Photographing each bear where it was found — in circuses, museums, trophy rooms, and domestic settings — they combine the photos with a textual history of the animals' "second life," the details of how, when, and where they were captured, who stuffed them, and where they have resided since. They wittily call the series Nanoq: flat out and bluesome.
New Zealand artist and animal activist Angela Singer rails against trophy hunting. Her latest work Spurts (2015), depicts a decapitated deer with cartoony yet still gruesome bubble-gum pink "blood" spurting from it neck. Mark Dion's Concrete Jungle (1993) is not a grimy, crime-ridden city from film noir, but rather the detritus of our contemporary consumer culture — a pile of discards and garbage in which animals attempt to survive.
As Rachel Poliquin — author of the cultural history The Breathless Zoo: Taxidermy and the Culture of Longing — affirms, taxidermy is a extraordinary animal thing, "at once lifelike yet dead, both a human-made representation of a species and a presentation of a particular animal skin." Embedded with the history of their historical, material, and scientific origins, taxidermy animals and artwork employing taxidermy are open to layers of interpretation far beyond the artist's original intent.
Support for Dead Animals and its associated programs is provided by Brown's Creative Art Council Arts Initiative, the Steven and Alexandra Cohen Foundation, and the Marshall Woods Fine Art Lectureship.
The David Winton Bell Gallery, on the first floor of List Art Center, 64 College St., is open Monday through Wednesday from 11 a.m. to 4 p.m.; Thursday 1 p.m. to 9 p.m.; Friday 11 a.m. to 4 p.m.; and on Saturday and Sunday from 1 p.m. to 4 p.m. For more information, call 401-863-2932 or visit brown.edu/bellgallery.