Each summer about a dozen students perform global health research in the Minority Health and Health Disparities International Research Training program. What they take away is experience and inspiration that broadens their horizons and deepens their insight.
PROVIDENCE, R.I. [Brown University] — With a concentration in botanically derived medicines — ethnopharmacognosy — junior Brandon Dale of Lafayette, La., is learning about the chemical biology of plant proteins in his lab research at Brown. Dedicated to health care, he'll learn a lot about doctoring when he attends medical school at the Icahn School of Medicine at Mount Sinai in two years. But the experience he gained in Ghana this summer has given him knowledge and inspiration that he would never have found on a campus.
Dale went to Accra and other sites in Ghana for eight weeks through the Minority Health and Health Disparities International Research Training (MHIRT) program of Brown University's Global Health Initiative. His main project was to assist in tracking the outcomes of patients who were co-infected with HIV and a strain of tuberculosis that is often misdiagnosed. But being there also gave him ample opportunities to quiz about 20 local doctors on whether and how they employ traditional botanical medicines.
Dale's visit was two research projects in one: the project where he contributed to an important public health study, and the extra project he created through his initiative. Day in and day out he also got to watch the doctors at Korle Bu Teaching Hospital as they helped patients survive multiple epidemics in a country with a per capita GDP that is only about 7 percent that of the United States.
"I don't think I'll ever meet physicians who give so much, receive so little, and expect nothing," he said. "They feel like the work that they do provides the utmost respect and dignity for their patients. For me that was really big, to have the experience of shadowing them. It's definitely given me a lot of insight in terms of what type of physician I want to be."
That kind of inspiration is a main goal of the MHIRT program, said co-instructor Dr. Timothy Flanigan, professor of medicine in the Alpert Medical School and professor of health services, policy and practice in the School of Public Health. Each of the last two years the program has sent about a dozen students — mostly undergraduates — all over the globe. Not only do they gain hands-on research experience and exposure to how health and medicine are delivered outside the United States, but also they get the chance to become inspired by doing real, consequential research. They get a preview of the work they can do professionally.
"The MHIRT is quite extraordinary," Flanigan said. "The underlying premise is that one of the reasons students are inspired and go on to develop the tools to excel in biomedical research is they have seen the importance of it in overseas experiences working in resource-limited settings."
Before they go overseas, students prepare by taking a spring semester class, "PHP 2385: Local and Global Community Engagement to Reduce Health Disparities," with Amy Nunn, assistant professor of medicine and assistant professor of behavioral and social sciences. Among other things, Flanigan said, the class emphasizes that going overseas to participate in research means listening to and respecting the expertise and needs of the people there, rather than swooping in on a mission to solve everything.
Travels in Tacloban
Like Dale, junior Nancy Truong of San Francisco brought back knowledge and inspiration from her MHIRT experience that has proved meaningful in her studies at Brown. Born in Vietnam but a U.S. resident since age 7, Truong grew up witnessing how socioeconomic status, gender, and race can affect health in the United States. That helped inspire her to choose a concentration in health and human biology with a focus on racial and ethnic disparities in disease. But she said her MHIRT trip to Tacloban, Philippines, has given her an added depth and perspective for her work.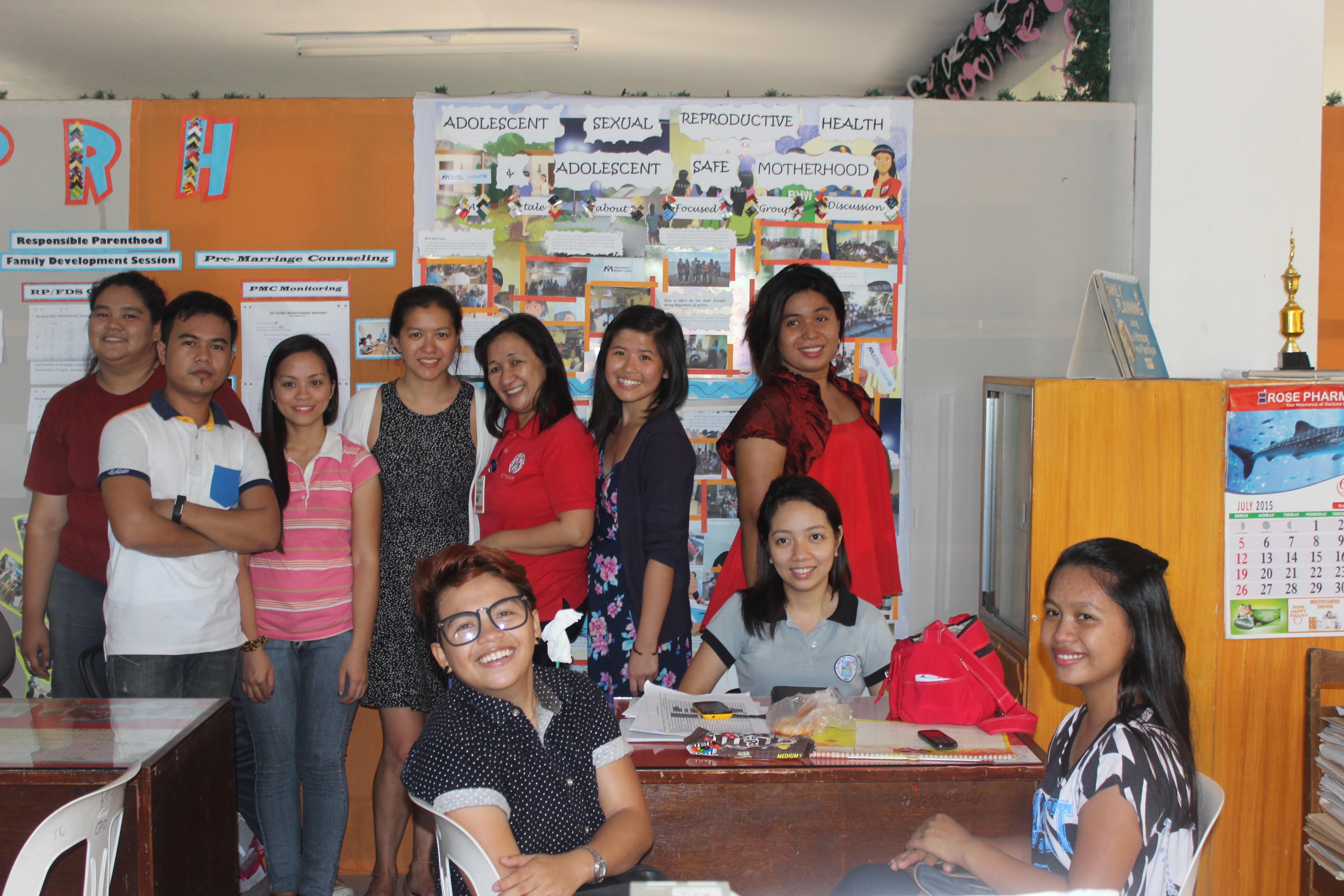 "It's really motivated me to integrate a more global perspective in my studies and possibly future career trajectory," she said. "I'm really interested in connecting global health inequalities with local health inequalities. A lot of these things are connected."
In Tacloban, a city that became known worldwide for the tragic devastation of Typhoon Haiyan in 2013, Truong and fellow MHIRT student Heather Jue-Wong helped to evaluate the pilot testing of a peer-delivered sexual health education program among teenagers in different parts of the city, both rich and poor. Among the many problems in the aftermath of the typhoon was a sharp rise in teen pregnancies.
One of the most instructive things that Truong and Jue-Wong observed, Truong said, was that the program sometimes met resistance when the central authority, the city's population office, had not done enough to communicate the importance and value of the program to neighborhood "barangay" officials. It was not uncommon, for instance, for the barangay offices to express discomfort with the idea of presenting family planning ideas, even if they included abstinence, to teens. The peer health educators sometimes bore the brunt of that tension.
"In speaking to the peer health educators we found that there were a lot of barangay people who weren't completely on board with the project and so they gave the peer health educators a lot of issues," she said, "These are high school- and college-age students so they don't really feel comfortable interacting with these older folks."
Back at Brown
Truong's expanded horizons were evident almost as soon as she got back to school in September and shopped an anthropology class, International Health Perspectives.
"I actually thought a lot about my experience in Tacloban," she said. "We talked a lot about whether global aid and global health efforts can make much of a difference in terms of improving health outcomes in middle- and low-income countries. It gave me a chance to reflect on my own experience traveling abroad and being critical of what it means to do that."
Dale has also seen this come up in his interactions with faculty at Brown — at a recent office hours for his course, ANTH1940 Ethnographic Research Methods, for instance.
"We were talking about indigenous knowledge, specifically of instances when outsiders re-appropriated, misused, or misinterpreted this knowledge as being 'simplistic or primal,'" he said. "Following this conversation, we digressed further on to the topic of traditional medicine, and given the context of our conversation, I couldn't help but think of the many diverse perspectives on traditional botanical knowledge that I encountered while in Ghana."
The MHIRT program is not the only way for students to go overseas, Flanigan notes. In fact the Office of International Programs offers many opportunities. But MHIRT's focus on global health and on serving minority, low-income, and rural students in particular allows it to accomplish a specific mission: increasing the engagement of such students with health careers, Flanigan said.
Both Truong and Dale said they would not have been able to go overseas without the program's considerable financial and logistical support.
But it's about more than mere enabling, they said. As members of minority groups, they see a need for more minorities to participate in health careers.
"As a person of color who studies science and plans on being involved within the scientific community in the future, even here at Brown it's evident that we are the minority in STEM classes," Dale said. "And that observation is made without taking research labs, graduate schools, and the scientific industry into consideration."
Dale looks ahead to his career and back at his time in Ghana when he studies.
"I left Ghana very re-energized," he said. "When I'm in the library at 4 a.m. doing organic chemistry," Dale said. "I need to do this for my patients."