Peppers, mushrooms, cheese, and extra candor: Members of the Class of 2019 joined President Paxson in Sayles Hall Wednesday night for pizza and a chance to ask her anything. By all accounts, it was a good conversation, with nothing off-limits. The pizza, said one student, was definitely a draw.
PROVIDENCE, R.I. [Brown University] — On a college campus, pizza is an easy way to draw a crowd and that theory proved true Wednesday night for about a hundred first-year students who attended Brown's first-ever "Pizza with the President" discussion in Sayles Hall.
For most of the freshmen in attendance, the cheesy slices weren't the main attraction. It was a chance to learn a little more about President Christina Paxson, who stood before the students for more than an hour, taking impromptu questions — first from Class of 2019 officers and then from the crowd.
"I haven't gotten a chance to speak to President Paxson yet and this is the closest I've been to her," said Khalif Andre. "It's an opportunity to break down that student-administrator wall."
Others said they came because they wanted to better understand the University.
"It's a chance to get to know President Paxson, but there are also things I keep hearing about that I don't quite understand, like the endowment and financial aid policy, so I'm hoping to learn something," said Max Naftol. "And the pizza is definitely a draw."
The conversation covered a broad range of subjects and nothing was off-limits.
Paxson answered questions about her own experiences in college, revealing that she wished she had worked more on learning a foreign language, a skill that would have come in handy once she started traveling the world to conduct economics research.
Asked about changes she'd like to make at Brown, Paxson said that increasing the endowment and improving communication between students and the administration were high on her list. "I'd love input on how we can communicate better with the student body. It's a hard problem that I'd like to solve."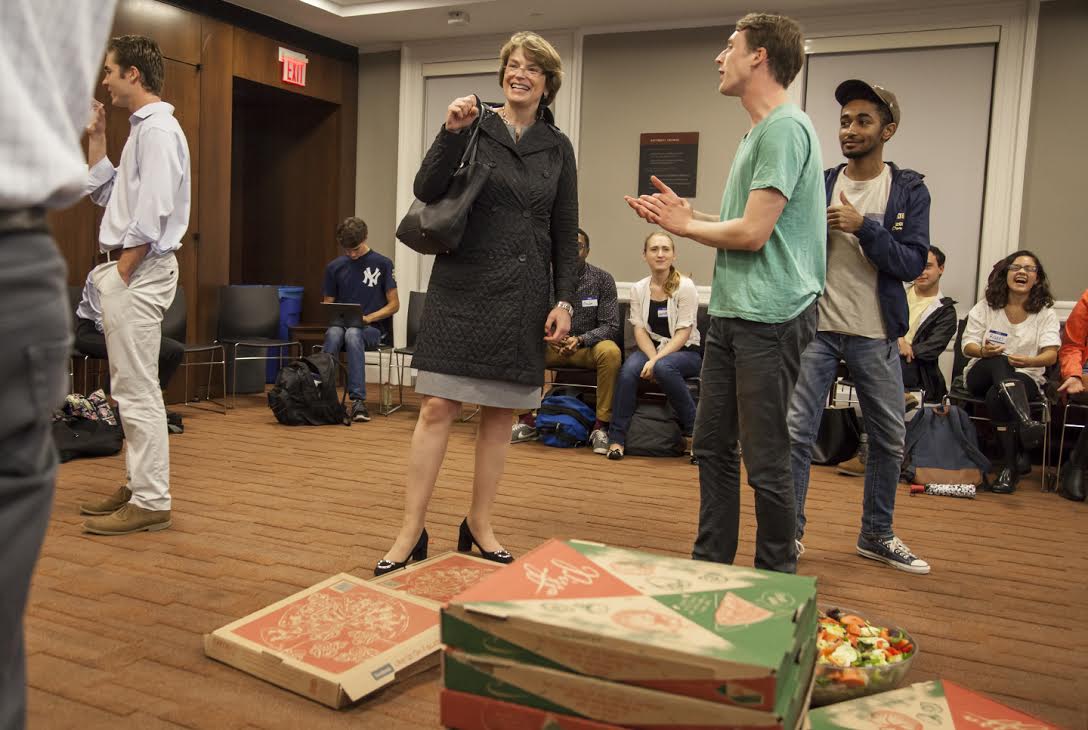 Diversity came up frequently throughout the night, with many students asking about plans to bring more students and faculty from underrepresented groups to campus. In response, Paxson spoke about ongoing outreach efforts to students from a broad range of backgrounds and her plan to double the number of faculty from historically underrepresented groups in the next decade.
In response to a question about balancing conservative and liberal views, Paxson said a diversity of values and perspectives, including those along the political spectrum, helps students see themselves reflected in the teaching and mission of the institution in addition to preparing them to encounter diverse perspectives in the leadership roles that many students will assume beyond college.
There were plenty of lighthearted moments as well. One class officer asked Paxson about her favorite kind of pizza.
"I'm not a vegetarian, but I like anything piled as high as possible with vegetables," she said, adding that her preference often ran counter to that of her pepperoni-loving family, sometimes resulting in "pizza fights."
Another student asked about her favorite meme, though he couldn't name his own favorite.
"I don't have one, I'm sorry. But you can't ask me mine without telling me yours," she countered, receiving laughter from the crowd.
The rest of the evening's questions were equally wide-ranging, touching on everything from her legacy — "I want people to look back and say that this was a time that Brown really took off" — to moments with students that have had an impact — "There is something about Brown students that is really special. They have a fearlessness to make things happen" — to the recently released sexual assault report and survey — "It's important for us to come together as a community and for students to feel comfortable speaking up if something happens."
Overall, students were impressed with Paxson's candor and willingness to answer any question asked.
"Her answers were very fair. She could have dodged a lot of them but she answered them head-on, which I respect," said Andre.
Class President Drashti Brahmbhatt said the goal of the event was to get Paxson to talk about the issues that freshman are curious about and to build a stronger connection with the students. Paxson's willingness to speak candidly and off-the-cuff left a lasting impression on many in attendance, Brahmbhatt said.
"The answers were coming from her own mind and not the broader University message that you hear all the time. That was very meaningful for us."
After the event, a group of students who couldn't attend pizza with the president had pizza delivered by the president. Paxson and the Class of 2019 officers walked over to the Robert Campus Center and delivered the remaining pizzas to the Undergraduate Council of Students meeting. It was the second-largest applause of the evening.