Michael Dell visited Brown on Friday, Oct. 9. In a casual conversation, he talked about entrepreneurship and the keys to success.
PROVIDENCE, R.I. [Brown University] — Michael Dell's fascination with computers started early.
"When I was in high school, some people would like to soup up their cars. I was souping up computers," he said. By the age of 19, he was running Dell Computers out of his University of Texas dorm room.
Dell sat down for a question-and-answer session moderated by Brown CIO Ravi Pendse in the Di Ciccio Family Auditorium at the Salomon Center in front of a crowd of about 200, many of them budding young entrepreneurs.
Entrepreneurship, Dell told the crowd, is a key part of pulling people out of poverty and blunting conflict around the world.
"If you look at where do jobs come from, 70 to 90 percent come from entrepreneurs, from small business or medium sized businesses," he said. "In these conflict zones, a lot more thought could be given to how can we create jobs. If there aren't bright opportunities for young people, then the same problems are going to repeat themselves in different forms."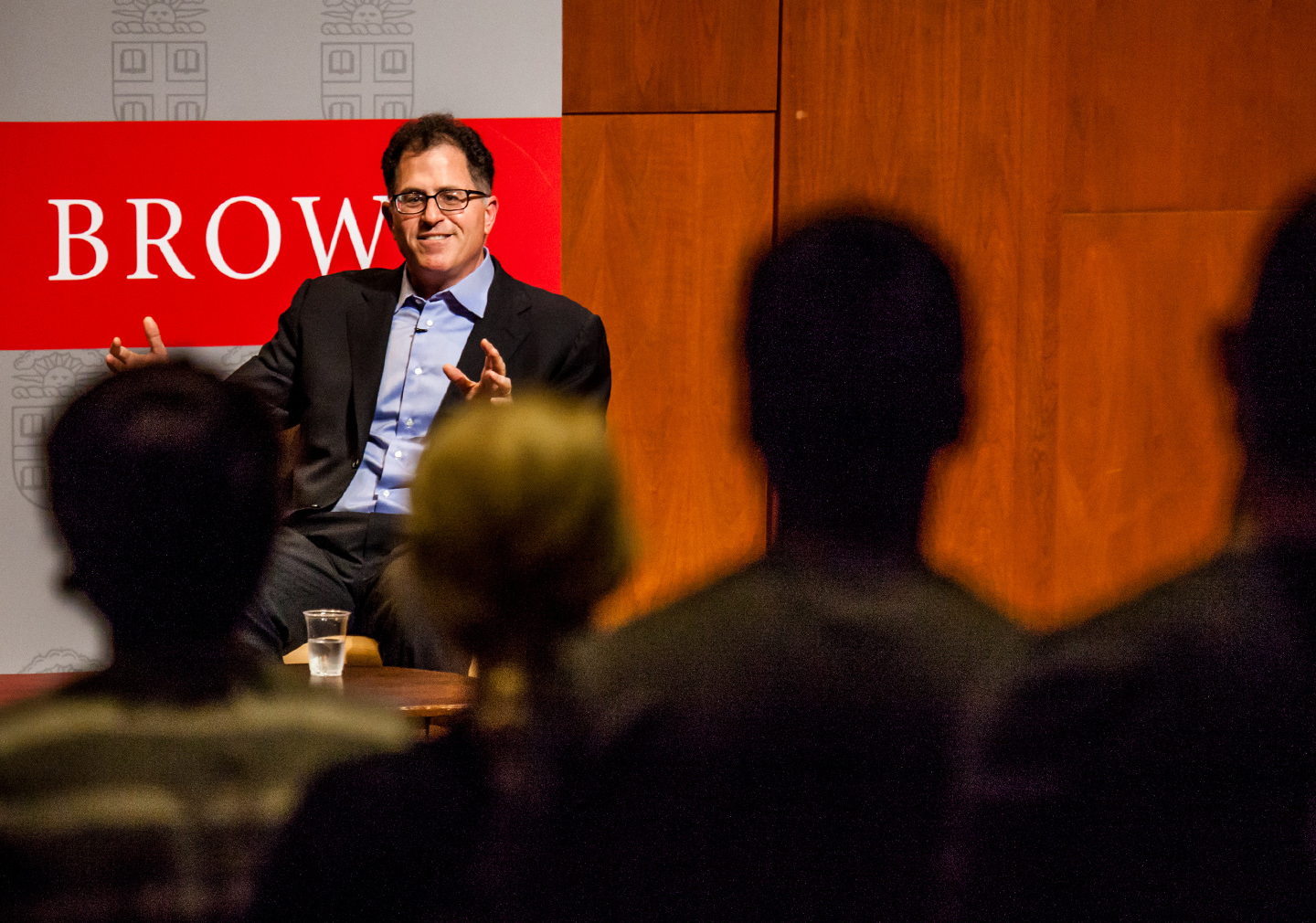 Dell Inc. now employs more than 100,000 people worldwide, and Dell himself became the youngest CEO ever to make the Fortune 500. One student asked how a young entrepreneur might achieve that kind of success.
"You need to be fearless," he said. "Don't be afraid to fail. If you're not afraid to fail then nothing can stop you."
Another key attribute in success, he said, is curiosity.
"It's way underrated," he said. "If I had to place my bet on one thing, I'd put it on curiosity."
Another student asked for advice in balancing a young startup with schoolwork. Dell, who dropped out after his freshman year, admitted he didn't have much advice to give on that topic.
"I don't have any great tricks there," he said with a smile, "and I could get in a lot of trouble with your parents."
The event, sponsored by Brown CIS, the Watson Institute, and the Department of Computer Science, was part of the Leadership in Technology lecture series.