Creativity and innovative ideas abound on College Hill. But how can students start to think about turning those ideas into businesses? The inaugural Startup@Brown Conference aimed to put students in touch with successful young entrepreneurs to learn how the startup world works.
PROVIDENCE, R.I. [Brown University] — Around 300 Brown and RISD students gathered last weekend for the inaugural Startup@Brown conference. The two-day event aimed to bring students together with a distinguished group of entrepreneurs, venture capitalists, and business leaders to learn the ins and outs of the startup world.
Attendees went to workshops and had small group discussions with leaders of companies like Teespring, Casper, Fivestars, Apropose, and others, many started by Brown alums. The event was organized by students from Brown EP, an undergraduate entrepreneurship program, and Hack@Brown, the University's annual student-run hackathon, with support from the Department of Computer Science.
"We wanted to help to demystify the idea of starting a company," said Valentin Perez, a sophomore studying computer science/applied math and one of the event's lead organizers. "It's a way for students to learn about the cool things startups are doing as well as the challenges they face. The companies gave workshops about topics ranging from funding 101, to how to build a healthy culture, to how to build your first physical product."
By splitting into small groups, the organizers hoped to create an atmosphere where attendees felt comfortable to ask whatever questions they had in mind. Kevin Hale, partner at seed funding provider Y Combinator, held one-on-one "office hours" to help attendees hone their startup ideas.
"We wanted to have students connect in an intimate way that's not possible at a career fair or a normal conference."
The Brown Office of News and Communications asked several attendees to talk about the best piece of startup advice they received during the conference. Here's what they had to say: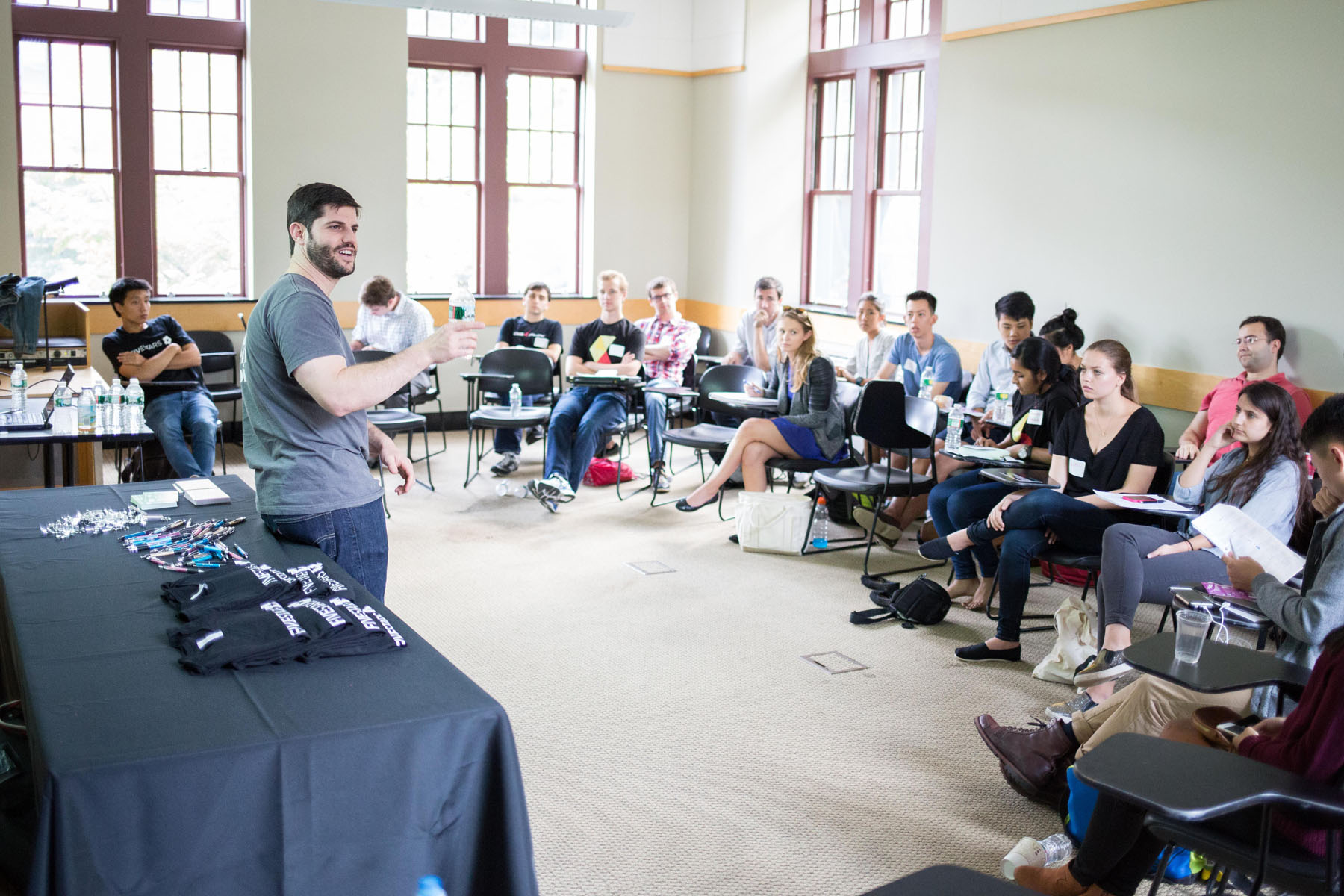 Matt Cooper
"The best startup advice I got all weekend was during office hours from Y Combinator's Kevin Hale. My app, Chorus [a collaborative songwriting app], has been in beta since July. We were waiting to launch until we could implement some new features, like search. Kevin was horrified that we had been waiting so long and yelled, 'The app works. Why are you not launching!?' We submitted to the app store that night. He really kicked us into gear and broke the stagnation that had set in since school started."
Jakob Schneider
"As a student in Brown's Innovation Management and Entrepreneurship Program, I found Startup@Brown to be extremely helpful for meeting people and hearing about their experience. Listening to Allan Tear from Betaspring provided not only the most tangible professional advice, but also helped me understand the dynamic within a startup. For instance, he taught me about the importance of clearly defining the benefits of a potential product, and gave guidance on how to talk to venture capital firms to raise funds. Startup@Brown has confirmed to me, more than ever before, that entrepreneurship is a lifestyle pursued by some of the smartest and most creative minds I have ever met. As I will certainly be back next year, I want to thank everyone involved in planning and running this truly amazing initiative."
Stacy Chiou
"It was amazing to see a diverse range of academic backgrounds and interests represented at Startup@Brown. It's been said that the ideal founding team consists of a designer, a hacker, a hustler. All of those were present in spades, and the creative energy was palpable. The best piece of advice I received was … that interfaces don't intuit; humans intuit. When designing products or services, many founders aim to create something that's never been seen before. Instead, we should take advantage of users' existing knowledge and build functionality off of that."
Ingrid Zippe
"With a community that is so strong in computer science, design, and innovation-based thinking, College Hill is bound to remain a leader in the growth of youth-driven entrepreneurship. Startup@Brown I feel was a great introduction for those who are just becoming interested in the space and was a deep and immersive learning opportunity for those already working on a venture. I am the founder and creative director at Suma, and I was lucky enough to hear Kevin Hale, co-founder of Wufoo, critique the work we have accomplished so far on Suma. When you're so deep into a project, it is difficult to step back and realize how much better you understand the inner workings of your project than others do. Kevin helped me realize how much more direct my communication could be about exactly what the value is that my venture delivers. Rather than assume the concept is clear, it is essential to spell out in one sentence what we deliver."