Tricia Rose, professor of Africana studies and director of the Center for the Study of Race and Ethnicity in America, will deliver the 252nd Opening Convocation address to the campus community, including undergraduate, graduate, and medical school students who are beginning their studies at Brown this fall. The ceremony begins at 4 p.m. Tuesday, Sept. 8, 2015, on the College Green.
PROVIDENCE, R.I. [Brown University] — Brown University President Christina Paxson will officially open the University's 252nd academic year during Opening Convocation, Tuesday, Sept. 8, 2015, at 4 p.m. on the College Green. Tricia Rose, professor of Africana studies and director of the Center for the Study of Race and Ethnicity in America, will deliver the opening address titled "Unfinished."
Rose's address will be presented live online at brown.edu/web/livestream/. The live stream can also be viewed in the Salomon Center for Teaching, De Ciccio Family Auditorium.
The Opening Convocation ceremony begins with the traditional procession of incoming students through the Van Wickle Gates onto the College Green. This year, Brown welcomes 1,620 first-year students, 778 graduate students, 144 medical students, 93 transfer students, and 10 students enrolled in the Resumed Undergraduate Education program.
Tricia Rose
Born and raised in Harlem and the Bronx in New York City, Rose graduated from Yale University where she received a B.A. in sociology (1984). She earned her Ph.D. from Brown University in American Studies in 1993. Rose has taught at New York University, and the University of California–Santa Cruz, and has been a professor of Africana studies at Brown since 2006. She was named director of Brown's Center for the Study of Race and Ethnicity in America in 2013.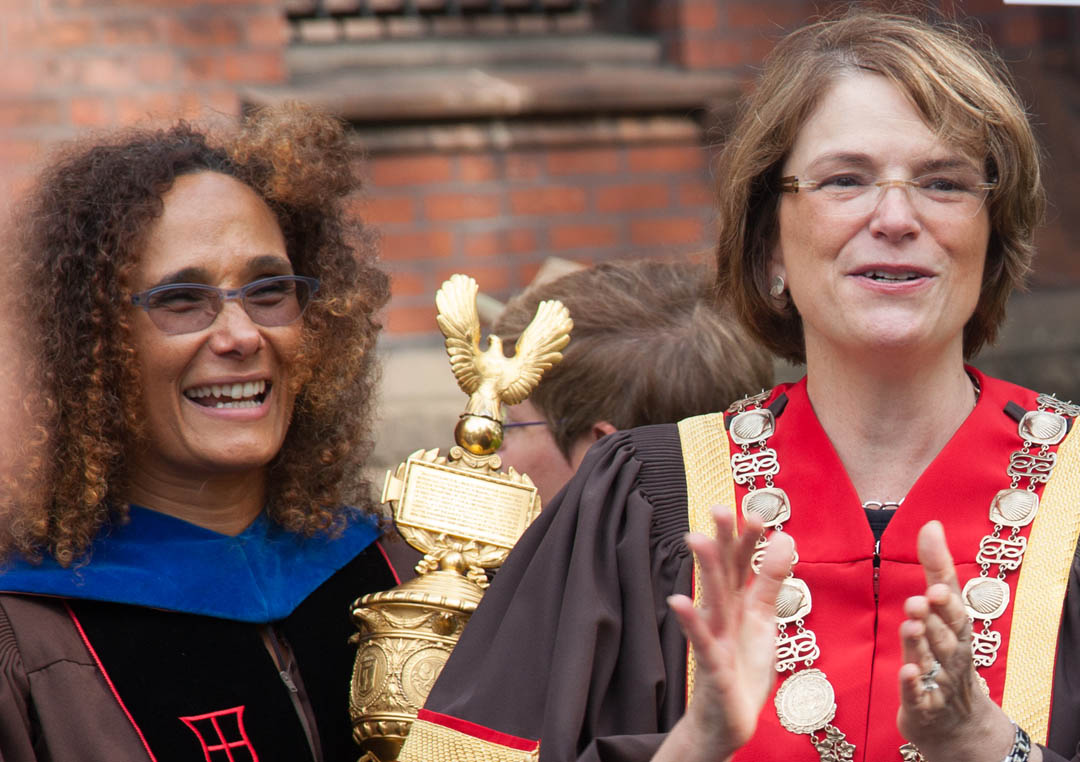 Rose is an internationally respected scholar of post-civil rights era black U.S. culture, popular music, social issues, gender, and sexuality. She has been honored for her teaching and has received several scholarly fellowships including fellowships from the Ford Foundation, the Rockefeller Foundation, and the American Association of University Women.
Rose is best-known for her groundbreaking book on the emergence of hip hop culture. Black Noise: Rap Music and Black Culture in Contemporary America is considered a foundational text for the study of hip hop, a work that has defined what is now an entire field of study. Black Noise won an American Book Award from the Before Columbus Foundation in 1995, was voted among the top 25 books of 1995 by the Village Voice and in 1999 was listed by Black Issues in Higher Education as one of its "Top Books of the Twentieth Century." In 2003 Rose published a rare oral narrative history of black women's sexual life stories, called Longing To Tell: Black Women Talk About Sexuality and Intimacy. In 2008, Rose returned to hip hop to challenge the field she helped found with The Hip Hop Wars: What We Talk About When We Talk About Hip Hop-And Why It Matters. In addition to her teaching, scholarship, and directorship at CSREA, Rose speaks to a broad public audience on issues related to African-American culture, U.S. social issues, gender, and inequality.
The Class of 2019
A total of 30,396 students applied for admission to Brown's undergraduate Class of 2019. The University admitted 2,877 students (9.5%), yielding a matriculating class of 1,620:
Gender: 741 men (46%) and 879 women (54%);
Diversity: 39 percent of the Class of 2019 are students of color;
First-generation: 12 percent of students are first-generation college students;
Academic interests: Engineering, biology, computer science, economics, international relations, biochemistry and molecular biology, English, history, and political science are among the most popular intended areas of concentration;
Geographic area: The Class of 2019 comes from 49 U.S. states and 61 countries. Fifteen percent of students are international. The top foreign countries represented are China, Canada, Korea, India, and the United Kingdom;
Ten incoming RUE students and 93 transfer students;
Financial aid: 42 percent of the Class of 2019 will receive need-based scholarship or grant aid. Sixty percent of those students will have no loans in their financial aid awards, and 30 percent will have no expected parental contribution from income.
The Graduate School
A total of 9,682 students applied to begin master's and doctoral programs at Brown. The University admitted 1,941 (20 percent), yielding a matriculating class of 778.
Selectivity for Ph.D. programs was 11.6 percent.
Thirty-nine percent of incoming graduate students are international.
The top foreign countries represented are China, India, Germany, Canada, and Italy.
The Warren Alpert Medical School
One-hundred and forty-four new medical students will begin their studies at Brown. The Warren Alpert Medical School received 6,175 applications for its Class of 2019, the largest pool in the school's history. The medical student body has been increasing in recent years, drawing students from several admission routes:
Forty-eight of the new students are entering the medical school portion of Brown's eight-year Program in Liberal Medical Education, which they entered as high school graduates.
Three were admitted through Brown's Early Identification Program in Medicine.
Eleven were admitted through pre-medical post-baccalaureate programs.
The remaining 82 students admitted through the AMCAS route include 16 students in the inaugural cohort of the M.D./Sc.M. in Population Medicine combined degree program.
Overall, matriculating medical students range in age from 21 to 38. They have earned degrees in more than 46 different majors, from American Studies to cognitive neuroscience to South Asian Studies. Thirteen students have advanced degrees, with graduate work in anthropology, education, epidemiology, business, public health, and biological sciences.