Orientation Weekend brings a crush of activity — family vehicles, hand trucks and armloads of belongings, information sessions, introductions to roommates and classmates, a Resource Fair, and the "sad but joyous" parental good-bye.
PROVIDENCE, R.I. [Brown University] — More than 1,600 first-year students from the United States and around the world began a new chapter in their lives, as Orientation Weekend 2015 got underway.
There were lines to pick up room keys, student volunteers and staff to greet the newcomers, and orientation packets, backpacks, water bottles, sunglasses, and stress balls everywhere.
"I'm nervous, and I don't know what to expect," said Julius Sun, of South Kingstown, who was pleasantly surprised by the planned events.
Sean Briody, a first-year from New York, was most excited about meeting new people on the floor and getting to know the RPLs, but more importantly, he was happy to have made it to campus with all of his belongings intact. "I was worried when we were driving uphill, that the back of the car was just going open because there was so much pressing against the trunk."
Streets near dormitories were packed with family vehicles as far away as California, and there were plenty of family and friends to help haul belongings.
Hana Estice and her family, from Columbus, Ohio, were unloading after a 12-hour drive on Thursday. Near the top of her list: "I'm excited to start decorating my room."
Colin Kent-Daggett, of Portland, Ore., was in the same boat — hauling belongings, setting up his part of the room, and meeting new friends in the unit: "These are people I'll know for the rest of my life."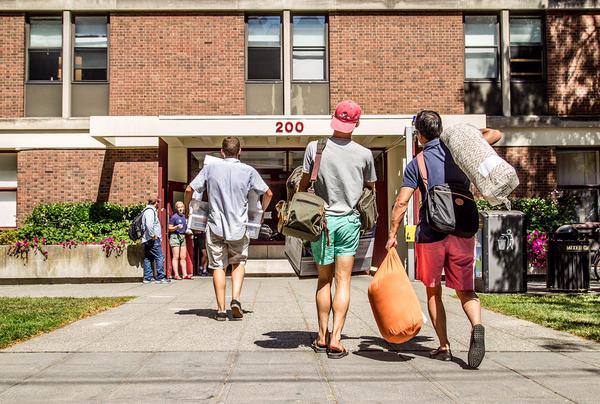 Once their belongings were packed, students headed for a variety of orientation events, including the University Resource Fair, intended to provide information on the services and resources available at Brown.
"It was really great, I didn't think there would be so many groups available," said Nicole Comella, of Providence, noting that he staff she met from the Sarah Doyle Women's Center and the Center for Students of Color made the trip worth the effort.
As the day came to a close, about 100 international students were finishing their program on the College Green. International students had arrived on Wednesday, attending events, finding essential locations, and forming friendships with classmates from across the globe.
A few steps away, families were listening to a "First-Gen@Brown" panel discussion aimed at how first-generation students could navigate the "Brown experience."
If Saturday was about arrivals, Sunday offered some help with good-byes.
In "Saying Goodbye, Letting Go, and Learning to Live with a Brown Student: A Practical Guide for Parents," staff and students answered questions about the open curriculum, schedules, student-athlete obligations, and "family contracts."
Margaret Chang, director of the Curricular Resource Center, explained to the crowd that she came from a South Korean background and an educational system that did not offer tremendous academic freedom. "What we say at Brown is that we want you to chart your own path," Chang said of the open curriculum.
"I think it's important to hear what your son or daughter is going through," said Maria Suarez, associate dean and director of student support services. "We give our children the wings and then we're a little annoyed when they don't fly in the direction we want them to fly." Parents, she said, need to respect their student's "flight plan."
President Christina Paxson greeted students and their families with a welcoming address that focused on taking risks, asking questions, and belonging.
"You deserve to be here whether you came from a private school in Manhattan, a parochial school in Los Angeles, or a public school in China," Paxson said to the families that had gathered on the College Green. "Our office of admission is superb. They are experts. They read your applications with great care, and they select students who have the intelligence, the creativity, the grit and the values to thrive at Brown University."
As she concluded her remarks, Paxson told the audience that it was time to say goodbye — a sad but joyous moment.
"To the family members, I want to give you my sincerest thanks for sending your students to us," Paxson said. And to the students, she said she was looking forward to seeing them at Opening Convocation on Tuesday.
Nadia Lahlaf and Sebastian Niculescu accepted a banner on behalf of the Class of 2019, a long held tradition at Brown. And with that, families said their goodbyes and students embarked on their new journey.