Near the end of Staff Development Day, University employees gathered to dedicate a new elm tree to mark the end of Brown's semiquincentary. If all goes well, the young elm will be on hand for the 350th, standing 60 feet tall.
PROVIDENCE, R.I. [Brown University] — Brown staff gathered Thursday afternoon to dedicate a newly planted tree honoring the hundreds of staff, students, alumni, and faculty who contributed to Brown's 250th anniversary.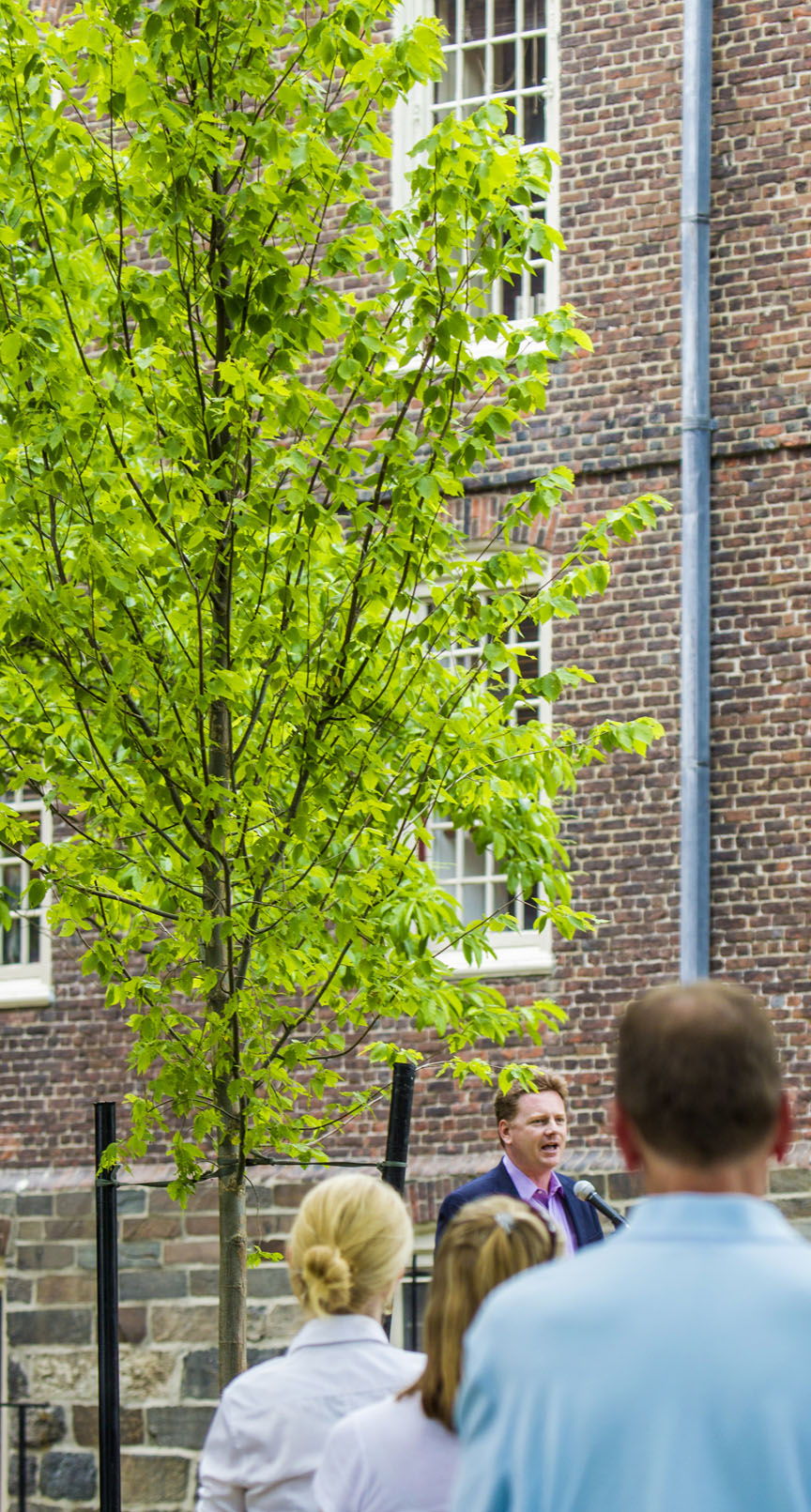 "This is an American elm, a variation called a New Harmony, which symbolizes much of what we tried to do over the last 15 months," said Russell Carey, executive vice president for planning and policy. Throughout his remarks, Carey thanked the various departments that contributed to the 15-month celebration.
Later, Carey symbolically planted the tree with President Christina Paxson and the 250th Office.
The sapling was planted on June 3, 2015, between two elm trees near University Hall. Under optimal conditions, it's expected to grow about 60 feet tall. The New Harmony variety is resistant to Dutch elm, the notorious fungal disease.
"American elms grow high and have high canopies," said Patrick Vetere, grounds superintendent. Brown's commitment to preserving the natural landscape shows in the trees it plants. The campus has a variety of trees including oak, magnolia, locust, and many others that would have been here hundreds of years ago, Vetere said.
"With the planting of this tree, we are making a lasting contribution that will be here long into the future," said Eve Ornstedt, executive director of the 250th.
A plaque near the tree reads: "In Commemoration of Brown University's 250 Anniversary, March 7, 2014 – May 24, 2015. Thank you to the global community of staff, students, faculty, alumni, parents and friends who contributed to and participated in the Semiquincentenary. June 11, 2015."
The young tree is expected to live more than 100 years.