Forty exhibitors, lots of robots, lots of friendly competition, hands-on technology everywhere — it must be the second annual Rhode Island Robot Block Party.
PROVIDENCE, R.I. [Brown University] — A crowd of more than 2,500 gathered at Brown's Pizzitola Sports Complex last Saturday to rub elbows with robots.
The second annual Rhode Island Robot Block Party showcased state-of-the-art robotic technology being used and developed in the Ocean State. More than 40 exhibitors showed off robotic technologies used in research, education, industry, and elsewhere. The event was cosponsored by Brown University's Humanity Centered Robotics Initiative and Rhode Island Students of the Future, a Providence-based nonprofit.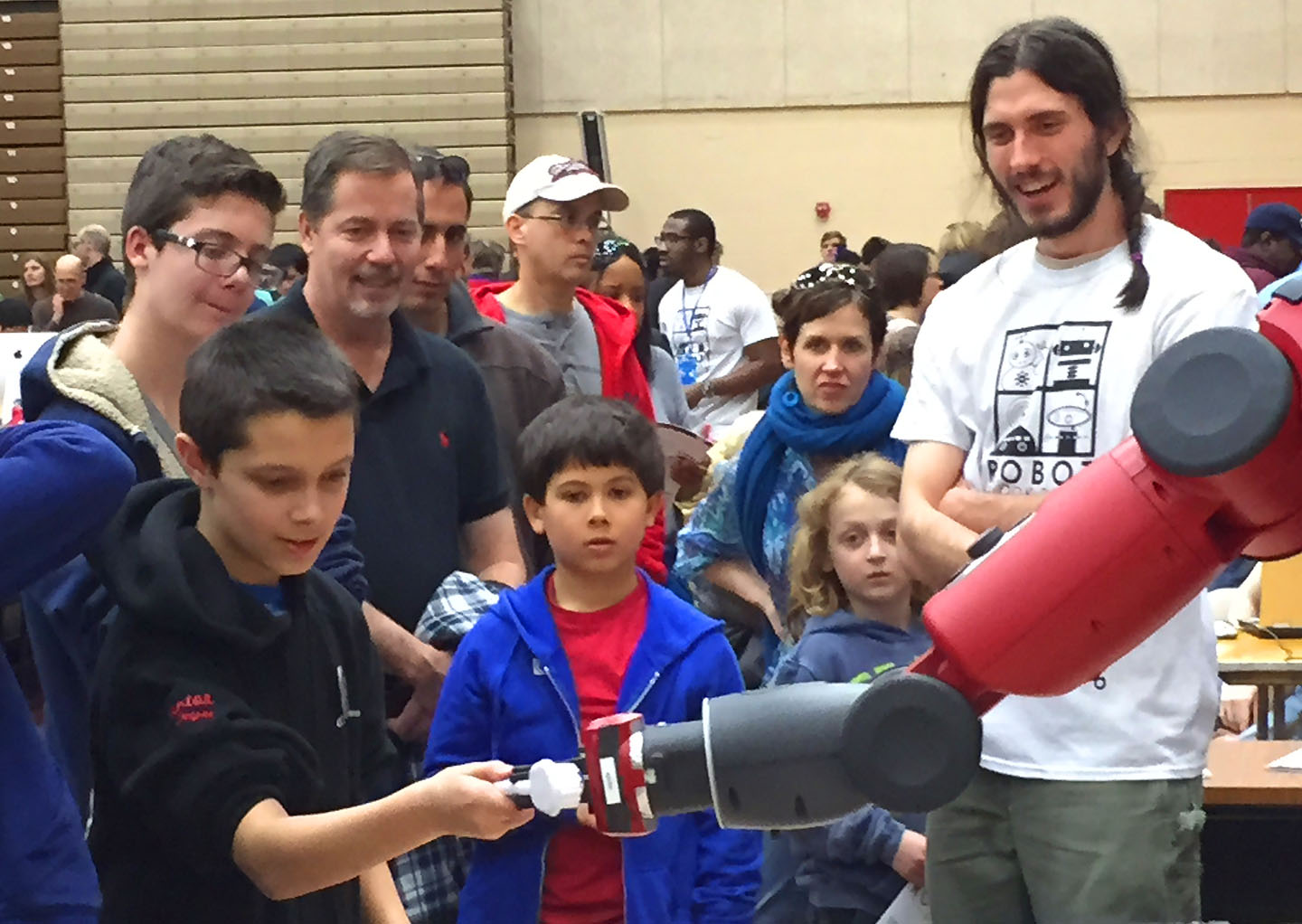 "This is an effort to inspire," said Mary Johnson, a member of the Board of Directors of Rhode Island Students of the Future. "We want to give kids a chance to see these cutting-edge technologies up close and meet the people who build and work with them."
Brown University roboticists were on hand with Baxter the robot, a bevy of telepresence bots, drones controlled through web browsers, and virtual robots that run on cloud servers. The University of Rhode Island showed off robotic kayaks and buoys used for oceanographic research on Narragansett Bay, and a "flapping fin robot" that been tested for use in detecting unexploded ordinance and sea mines in shallow waters. College students competed to see whose mini-robot could best navigate a 16-by-16 foot maze. Elementary, middle- and high-school students demonstrated robots they built for robotics competitions and after-school programs.
Matt Hayes, a sixth-grader from North Attleboro, was impressed with what he saw.
"Before I came here I didn't really know how far we were with [robots]," Hayes said. "But now I know that we're pretty far along. Who knows what we could learn in the future?"
Hayes said he could definitely see himself working as part of that future. And that's the point of the event, according to Johnson. "We want kids to be excited about careers in STEM fields," she said.
Few ambassadors for STEM (science, technology, engineering, and math) fields capture kids' imaginations like robots.
"I couldn't wait to get here," said Felix Leitner, a fifth grader-from Warwick. "I was just really excited to come to a giant room with lots of robots."