BrownConnect, launched today, is an initiative that will provide Brown students with streamlined access to summer internships, research, and funding — and a suite of digital information services to review opportunities and engage with a global network of Brown alumni, parents, and supporters.
PROVIDENCE, R.I. [Brown University] — Brown University announced today the official launch of BrownConnect, an initiative aimed at providing Brown first-year students, sophomores, and juniors increased support for summer internships, research, and funding. The program takes advantage of digital technology to engage Brown alumni, families, and others to provide internships, research opportunities, and other resources, and to connect students with these opportunities.
The initiative builds on President Christina Paxson's commitment to ensure that all students, regardless of financial need, have the opportunity to take part in an internship or research experience during their time at Brown.
"Internships and research opportunities complement and enrich classroom experiences and prepare students for careers after college," Paxson said. "BrownConnect will ensure that all of our students experience the benefits of these important opportunities."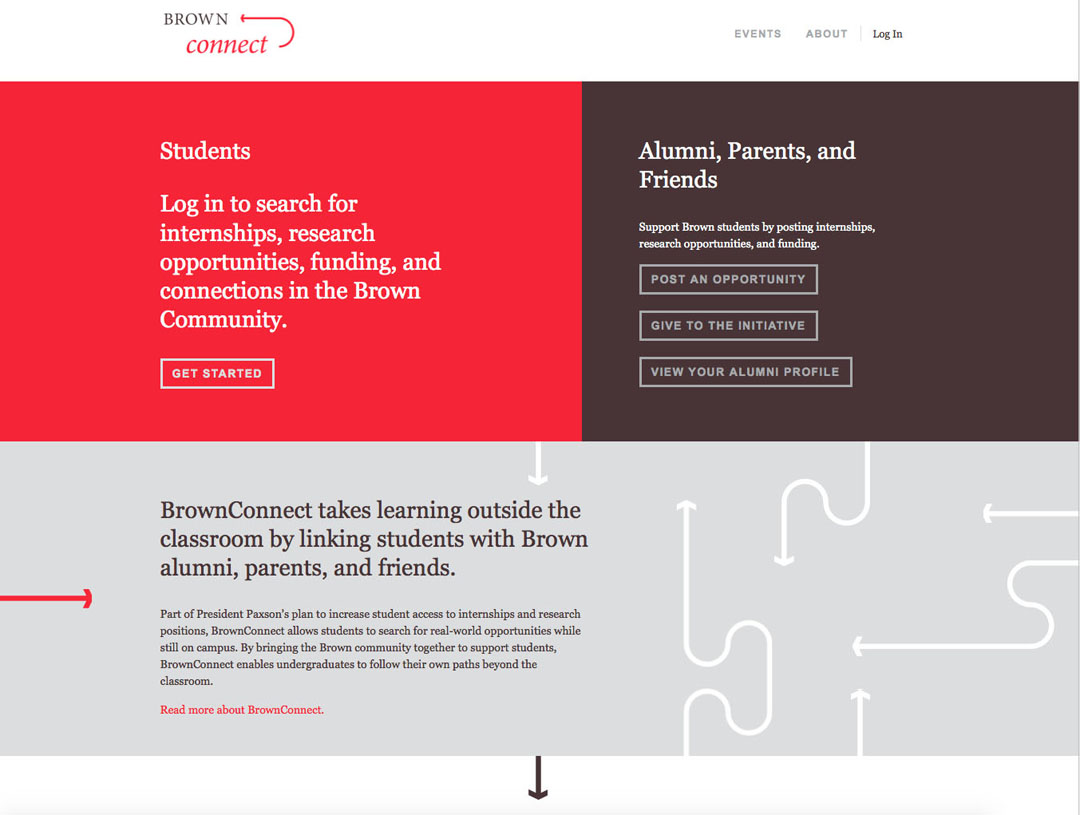 The centerpiece of the new initiative is the BrownConnect website and search engine, a one-stop shop where students can search for internship and research opportunities in a wide range of fields and locations, as well as financial support for low-paid or unpaid internships in the form of Linking Internships and Knowledge (LINK) awards, Undergraduate Teaching and Research Awards (UTRAs) and summer earnings waivers.
Students can use the website to connect with Brown's global network of alumni and parents for internship opportunities, mentoring, career advice, and other information. Brown alumni, families and others who wish to post opportunities or provide funding to support student opportunities can do so through the website.
Increasing internship opportunities has been a long-standing focus of President Paxson. In her strategic plan, Building on Distinction: A New Plan for Brown, Paxson identified support for summer internships and research opportunities as an important element of both experiential learning and educational leadership. She assembled a committee of alumni and parents tasked with creating greater student access to these opportunities.
In January 2014, at a White House summit on the "College Pipeline Initiative," President Paxson announced a commitment to ensure that students who receive need-based aid will have the opportunity to participate in at least one internship or research opportunity during their undergraduate careers, regardless of economic circumstance. The program began in the summer of 2014 and will be expanded to include all qualified students by the summer of 2018.
Housed in Brown's CareerLAB and jointly administered by the Office of Alumni Relations, BrownConnect began with a pilot phase during the 2013-14 academic year before its formal launch in fall 2014. To date, the initiative has created 154 new internship opportunities; funded 254 students with LINK awards, a 57-percent increase from last year; and increased summer UTRAs to $3,500, while increasing the number of UTRAs awarded to 265, an increase of 34 from last year. In addition, hundred of students and alumni attended summer gatherings in cities in the United States and abroad to foster new connections.
Throughout the 2014-15 academic year, BrownConnect will work with the CareerLab to offer programming, including alumni panels and workshops, for students looking for more information on preparing for internships, research, and jobs after Brown.
Brown alumni
Brown's 75,000 undergraduate alumni, with roles in every sector, including the arts, business, public service, and education, create a global network that welcomes opportunities to support current students through internships, research, and career conversations. These alumni will be part of the BrownConnect network.
About Brown
Founded in Rhode Island in 1764, Brown University is celebrating its 250th anniversary this year. Brown is an independent, coeducational Ivy League institution with more than 6,400 undergraduate students, 2,000 graduate students, and 450 medical students. In addition to the historical undergraduate College, the University incorporates the Brown Graduate School, the Warren Alpert Medical School, the School of Public Health, the School of Engineering, and the School of Professional Studies.
Brown has long recognized the value of experiential learning. In 1985, Brown co-founded the Campus Compact, a national organization of more than 600 colleges and universities that encourages community service. Soon after, Brown established the Swearer Center for Public Service to provide students with opportunities to advance their learning and scholarship while engaging with the community.
LINK awards and UTRAs provide students with funding for summer research and internships, and the CareerLAB works closely with students throughout their time at Brown to identify interests and skills and explore a range of internship and job opportunities.