Members of the campus community who have University computing accounts — and Brown alumni with computer accounts through Alumni Relations — now have free online access to Rosetta Stone instruction in 30 languages.
PROVIDENCE, R.I. [Brown University] — It began in the late spring with an email to all current Brown students, expanded to faculty and staff in mid-May, and reached University alumni shortly after Commencement: Rosetta Stone, the self-paced language study program, is now available online free of charge to all members of the Brown community.
"To the best of my knowledge," said Ravi Pendse, vice president for computing and information services and the University's chief information officer, "Brown is the first educational institution to offer free enterprise-level access to a program of this kind."
It's a program very close to his heart. An electrical engineering professor with significant research projects in network design and information technology, Pendse led the campuswide implementation of wireless academic computing at Wichita State University before coming to Brown. His portfolio included library systems, digital classroom design, comprehensive IT planning, and development of a Music and Language Innovation Center, based on the observation that music and language students have parallel uses for innovative technology.
"With the experience I had in the design and development of music and language innovation center at Wichita State, I was asked by Provost Schlissel to work with faculty members in the languages and assist in the enhancement of the Language Resources Center at Brown," Pendse said. "I love learning languages. To have an opportunity to work with our amazing language faculty members was a great honor."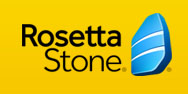 Reaction was positive and immediate. Within its first month at Brown, the Rosetta Stone service attracted nearly 5,000 users and had reached nearly 9,000 by the end of July: 3,787 students, 913 staff, 687 faculty, 3,523 alumni, and 65 staff members at Brown-affiliated institutions who have University computing accounts. Rosetta Stone offers instruction in 30 languages.
"Rosetta Stone was hugely popular with students," Pendse said. "We designed the system so that graduating seniors who began using the service a month before Commencement would have their credentials seamlessly transferred when their email addresses changed from @brown.edu to @alumni.brown.edu. All their online language studying records remained intact."
How to access Rosetta Stone
Members of the campus community who have University computing accounts can get started by logging in at the Rosetta Stone page: http://rosettastone.brown.edu.
Brown alumni who have registered for computer accounts through the Office of Alumni Relations can access Rosetta Stone by logging in at the alumni portal: http://alumni.brown.edu/. Select "Rosetta Stone" from the "Online Tools" menu.
Are there plans for other enterprise-level online offerings?
"Brown is always looking for ways to leverage access to useful online materials," Pendse said. "We are continuously exploring."