At a mid-morning press conference Tuesday, May 6, 2014, President Christina Paxson and Mayor Angel Taveras announced plans for improving the Thayer Street commercial zone — re-paving and re-lining the street, creating a small "parklet," replacing signs, and other measures.
PROVIDENCE, R.I. [Brown University] — On Tuesday, May 6, 2014, President Christina Paxson and Providence Mayor Angel Taveras announced a list of improvements that will appear along Thayer Street this summer. Those improvements grow out of a planning process that involved Brown, the City, area residents, and Thayer Street merchants.
"Thayer Street is a thriving and attractive place that is full of potential," Paxson said. "The University, the City, and the Thayer Street merchants have been working together for a long time to keep it healthy and growing, and the future looks bright. We are all eager to see these new measures take shape."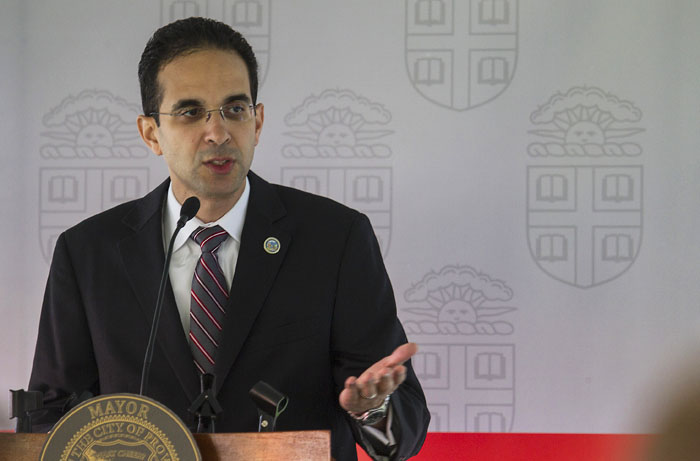 The new Thayer Street measures include:
repaving and restriping area streets;
new signs and parking meters on Thayer Street;
widening of sidewalks in front of City Sports and Blue State Coffee;
outdoor furniture at the Brown Bookstore and Granoff Center;
new trees planted along the street;
a miniature park on Thayer Street at the Brown Bookstore;
new trash containers, cleanup of Fones Alley, and a new trash compactor.
Thayer Street has long been one of the City's most popular commercial districts, attracting thousands of tourists, visitors, and area residents with its restaurants and retail establishments that border the Brown University campus.
"I am pleased to take part in this collaborative public and private effort to improve one of the busiest commercial districts in Providence," Taveras said. "The City has conducted a comprehensive planning study of the area in cooperation with neighborhood stakeholders, and now we are making their suggestions a reality to improve Thayer Street for all who live, work, and visit College Hill."