Brown University has created a $3-million endowed fund to provide discretionary support for the dean of medicine and biological sciences. The Dean Stanley M. Aronson Fund for Research and Innovation honors Dr. Stanley Aronson, the founding dean of what is now the Warren Alpert Medical School of Brown University.
PROVIDENCE, R.I. [Brown University] — In establishing an important new source of financing for innovation in medical education and research, Brown University honors the man central to creating the medical school in the first place: Dr. Stanley M. Aronson.
Brown Chancellor Thomas J. Tisch formally announced the Dean Stanley M. Aronson Fund for Research and Innovation at 3:30 p.m. Saturday, May 24, 2014, during a ceremony at the Warren Alpert Medical School one day before the school's 40th class of new physicians graduates. Aronson is the school's founding dean.
"Dr. Aronson is an adored giant of in the worlds of medicine and medical education — and also in the life of Brown and Rhode Island," Tisch said. "To have this important fund named in his honor is a wonderful and fitting tribute."
The fund is endowed with $3 million. Proceeds from the fund will allow the medical dean to make strategic investments in faculty, educational programs, and research facilities that would not otherwise be possible.
"Every dean builds on the work of previous deans," said Dr. Jack A. Elias, dean of medicine and biological sciences at Brown, "but Stanley Aronson was asked to build a medical school from the ground up. Nothing compares to that. Stan is immensely special to me, and I'm thrilled that this fund honors him."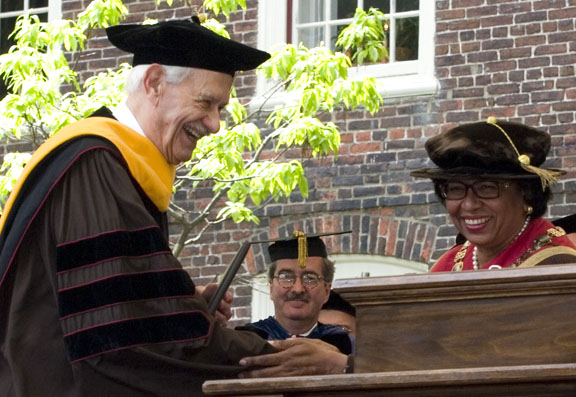 Aronson, who served as dean in relatively lean years from 1970 to 1981, said he was pleased that Elias — and deans in the future — will have a significant additional resource to meet the needs of students and those who will benefit from their training.
"This is a wonderful thing that will give him a wider range of creativity in research, teaching, and certainly in the care of the sick in Rhode Island," Aronson said.
Aronson and his wife Gale frequently meet with current students and medical school alumni in their Providence home. He serves on the board of Home and Hospice Care of Rhode Island, an organization he helped to found. Recently Butler Hospital announced the Aronson Chair for Neurodegenerative Disorders, recognizing his pioneering work in that field during his medical career.
Beyond medicine, Aronson is widely known in Rhode Island for his weekly columns in the Providence Journal, which he has been writing for decades.
Despite his status as a sage educator, physician, and humanitarian, as well as pundit, he said he dares not forecast the future of medical education or the kinds of innovations the new fund might help to support.
"We are at a turning point in the mission, the purpose, the responsibility of those in academic medicine," Aronson said. "There are going to be some very dramatic changes."
But now, in Aronson's name, the dean of medicine and biological sciences at Brown has additional resources to be flexible and innovative as those changes unfold.