It started small, with LED light bulbs, rolled through a food waste project at the Ratty, and is headed for Sunday's Earth Week Community Fair on Simmons Quad. It's Earth Week, a series of events that are fun and aimed squarely at awareness of sustainability issues. Full schedule online.
PROVIDENCE, R.I. [Brown University] — Brown students will celebrate Earth Day this evening by collecting a big mess — all in the name of a cleaner planet.
As students finished an Earth Day meal of seasonally inspired, locally sourced food at the Sharpe Refectory, Brown EcoRep volunteers collected the scraps left behind on students' plates. All those food scraps were weighed and sent to a compost facility for disposal.
The motivation behind this rather unsavory exercise is twofold, says sophomore Haily Tran, coordinator of Brown's student-run Earth Week celebration: Raise awareness among students about food waste and explore composting at the Ratty.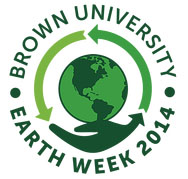 Brown Dining Services currently diverts food waste from the dining hall to a local pig farmer. Pre-consumer waste (organic matter generated in the production and preparation of meals) and post-consumer waste (the food that is left on the tray or plate after a meal) are mixed together and converted to feed.
The evening's event, Tran says, aimed to see if composting might be a viable option for diverting food waste. "We can see how much it costs and how much time and effort our volunteers had to spend setting things up and cleaning up. That way we'll have specific details about what we've tried and what we've found out."
But whether composting ends up being a long-term option or not, Tran hopes the event will help students think about the food they put on their plates. Through a variety of sustainability efforts, Brown now diverts away from the incinerator about 40 percent of the total waste it generates. A significant chunk of the other 60 percent, Tran says, is food waste.
"The other side of this is we want students to actually see the food they're wasting," She said. "We want to educate students so maybe they take less food that they end up wasting."
The evening's event was planned in coordination with Green Event, a student group that works with Brown Facilities Management to offer guidelines for more sustainable event planning on campus. "We've piloted our program at about 50 on-campus events so far," said Arisa Lohmeier, Green Event coordinator. "Since the beginning of the school year we've collected over 500 pounds of compost."
The Earth Day event is part of a series of events throughout the week arranged by EmPower, an umbrella organization of student environmental groups. The festivities began Monday, with students handing out plants and energy-efficient LED light bulbs to staff, faculty, and fellow students on the College Green. The rest of the week holds a canning workshop, a screening of the urban farming documentary Growing Cities, and more. A complete list of Earth Week events is online at brownearthweek.com.
The week's marquee event happens on Sunday, April 27. The Earth Week Community Fair in the Simmons Quadrangle will feature live music, a bike safety workshop, and the burial of an eco-time capsule to be exhumed in 2030. Brown student groups as well as nonprofits and businesses from throughout Rhode Island will be on hand with information on sustainability efforts throughout the Ocean State.
"We're aiming for engaging activities for everybody to have fun," Tran said, "but also to learn about sustainability efforts both on and off campus and in the nonprofit and for-profit worlds. That's really what the whole week is about."