<p>A new program at Brown University gives students free access to two downtown arts venues. "I'm With the Band: Free Art for Students" offers free tickets to students to attend performances at AS220's 95 Empire and Trinity Repertory Company.</p>
PROVIDENCE, R.I. [Brown University] — For Brown University students, experiencing some of Providence's renowned art scene is now as easy as saying, "I'm With the Band."
The University has joined with AS220's 95 Empire and Trinity Repertory Company to launch "I'm With the Band: Free Art for Students." The University will underwrite the cost of tickets to both venues to give students free access to some of the arts and culture opportunities that downtown Providence has to offer.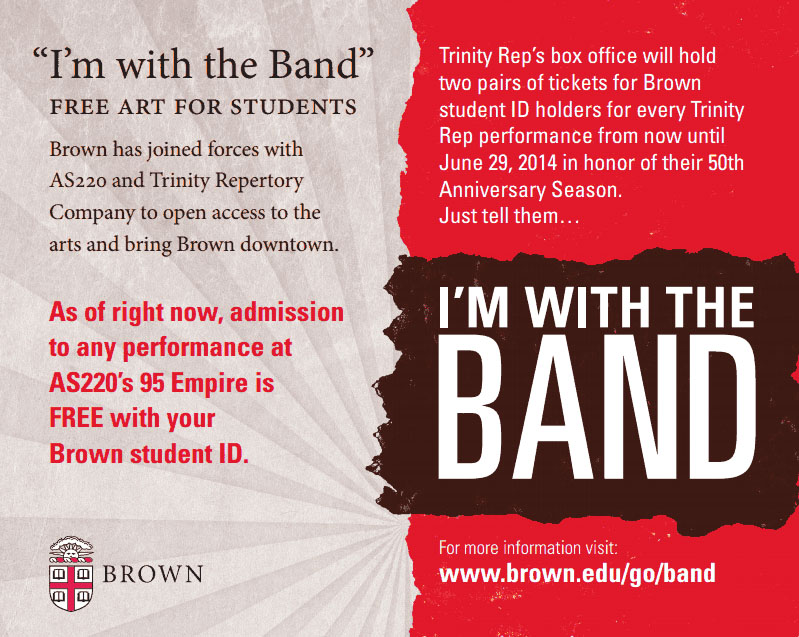 Effective immediately, Brown students can gain free admission to any ticketed event at 95 Empire by showing a Brown ID. 95 Empire is the theater and live arts program at AS220 that hosts a wide range of events in theater, dance, film, literary arts, sound art, and beyond. Information about upcoming events can be found by calling 401-831-9327 or by visiting as220.org/95-empire/about/.
"95 Empire and Brown share a strong commitment not only to creating artistic opportunities, but also to fostering lasting community ties," said Ric Royer, program director at 95 Empire. "The program provides another way for the University's students to explore Providence's creative vibrancy and also see AS220/95 Empire as a home base for both seeing and even presenting shows."
Trinity Repertory Company will hold two pairs of tickets at the box office for Brown student ID holders for every performance from now until June 29, 2014, in honor of their 50th anniversary season. Tickets are first-come, first-served. The Trinity Repertory box office is located at 201 Washington St., and is open Tuesday through Sunday from noon to 8 p.m. One ticket will be available per Brown student ID. Once the four pre-paid tickets are claimed, rush/student rate tickets will be available for any remaining open seats for each performance.
"We are delighted to keep deepening our partnership with Brown University, in an ongoing effort to make our two communities one," said Curt Columbus, the Richard L. Bready Artistic Director at Trinity Rep. "Trinity's brand of theater acknowledges the audience, puts them in a room with us, and asks them to share their opinions and ideas after the show. Having Brown's student community in our audience — with their desire for the acquisition of knowledge and broad range of points of view — will only enrich the theater-going experience for everyone. Besides, who doesn't like to see amazing theater with incredible actors ... for free?"
A full schedule of Trinity Rep shows is available by calling 401-351-4242 or by visiting http://trinityrep.com. John Steinbeck's The Grapes of Wrath is currently on stage through Oct. 12, 2013.
"There are so many exceptional offerings throughout Providence and Rhode Island. This program is part of our ongoing effort to encourage Brown students to explore art, theater, and the cultural diversity of our city and state," said Brown President Christina Paxson. "We're grateful to Trinity and AS220 for moving this partnership forward and for making it easy and affordable to experience their range of programs and performances."
More information about the "I'm With the Band" program is available at brown.edu/go/band.