For six weeks each summer, the Brown Refugee Youth Tutoring and Enrichment Summer Camp (BRYTE) works with local refugees, ages seven to 14, on math and literacy skills. The goal is to diminish summer learning loss, while also preparing newly arrived refugees for what to expect when they start school. Campers also meet other kids who are navigating life in a strange new country.
PROVIDENCE, R.I. [Brown University] — On an overcast mid-July day the classrooms on the second floor of the Sgt. Cornel Young Jr. Elementary School are teeming with activity. While many children around the city are home for summer vacation, it's math hour at the Brown Refugee Youth Tutoring and Enrichment (BRYTE) Summer Camp, and the 55 campers, ages 7 to 14, are hard at work. In one classroom, a group of 11- and 12-year olds works on a lesson on symmetry, each taking turns to draw dotted lines down the centers of various shapes. Down the hall, the 7-year-olds compete in a math race, pairing off to see who can be the first to write an odd number or draw a triangle on the whiteboard.
Started three years ago with a handful of campers and counselors in the basement of St. Michael's Church in Providence, the camp is an off-shoot of the BRYTE program that takes place during the academic year and pairs Brown student tutors with students in refugee families for one-on-one language instruction. The camp, which works each summer with the Dorcas International Institute of Rhode Island and the Providence Public School Department to find campers and space, takes that same model and moves it into a larger classroom setting. Many of the camp counselors are Brown students who work as BRYTE tutors during the school year. Their goal is to minimize summer learning loss while also better preparing newly arrived refugee students, many of whom speak little to no English when they come to the United States, for school.
"Many of the (refugee) students, when they arrive in the United States, are placed in school based on their age, so they are in a level that is very different from where they actually are, or by level, which then puts a 12-year-old in with 7-year-olds — both of which are hard situations for the students," said Sophie McKibben, a second-year Brown student who coordinated this year's camp with Sabine Adrian, who graduated from Brown in May and stayed in Providence to help.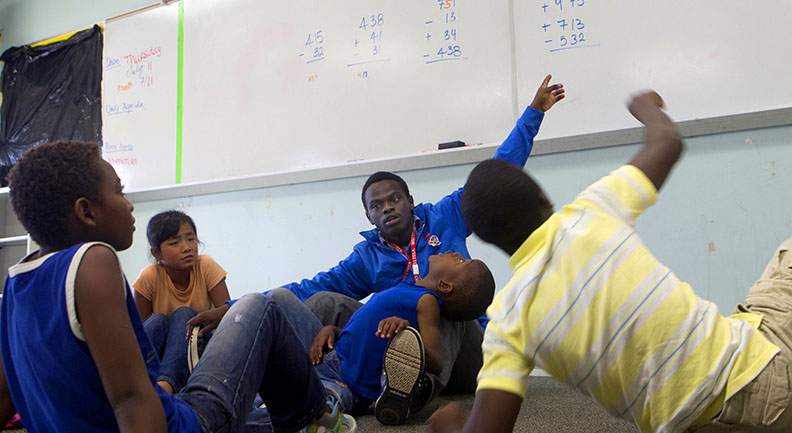 The campers, who come from Eritrea, Nepal, Burundi, Burma, Senegal, and several other countries, are all screened for literacy skills at the start and end of camp. Working with local teachers, counselors undergo intensive training in the spring to learn teaching methods and to make sure that their curriculum adheres to common core standards. Their hard work pays off, with test results indicating that nearly all of the campers not only avoid learning loss, but advance in their skills over the summer months.
Benefits aren't just academic
"For many of the refugee students, they often feel somewhat isolated in the school setting. This camp being made up of all refugees provides them with a place where they can feel secure. The feeling of the camp is that the students walk around the spaces and participate in the activities with a feeling of safety and an ability to participate that I don't think they always feel during the course of the academic year," said Alan Flam, director of advising and community collaborations at the Swearer Center for Public Service, which oversees the BRYTE program.
Another component of the counselors' work is building relationships with campers' families to give them the tools to guide their children through that transition to school. "That connection to the families is so essential. It's something that's missing from a lot of other programs and something that BRYTE does very well," said Cathy Fox, an ESL teacher in Central Falls who works with counselors to develop the summer curriculum. Fox says that relationship-building aspect was what drew her to get involved with the program three years ago.
Veneranda Baguma, a refugee from the Democratic Republic of the Congo, whose three children, Jeremie, Aimee, and Fortune, are attending camp this summer, said she appreciates the opportunity the camp provides. "I am grateful because here at home there is no place for the kids to play. It's not safe outside and inside there's no room. It's also good because they are learning English and math. We are old and don't benefit from learning as much. But they are learning and it's good, because this is their country now."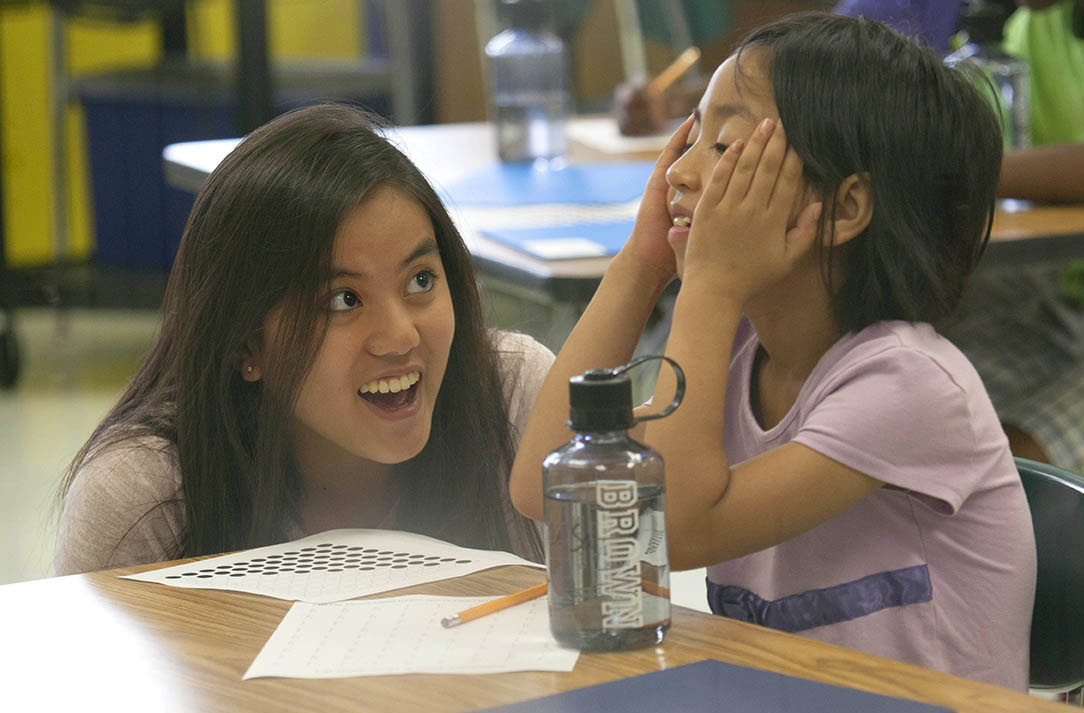 Learning is Fun
Five days a week for six weeks, campers gather at the South Providence elementary school, breaking off into their classrooms by age when they arrive. Mornings begin with a literacy class, followed lessons in math. After lunch, the afternoons are filled with anything from an arts and crafts project to a dance class or a science project on planting beans and measuring their daily growth. While the emphasis is on learning, counselors also try to keep the atmosphere as camp-like as possible, with many of the lessons integrating games and ways to get the campers up and moving.
"At camp, they learn that learning can be really fun and they can be with kids their own age and level. I think that positive learning environment really helps them grow," McKibben said.
Class time is just part of the week's schedule. Every Tuesday, campers go swimming at the YMCA. On Thursday afternoons, buses roll up to take campers on a field trip. One week this summer, older and younger campers journeyed to the RISD Museum of Art and the Providence Children's Museum, respectively, and another week, the whole group took a trip to the landfill in Johnson for a lesson on recycling. Other trips have included blueberry picking, a visit to see the police horses in Roger Williams Park and a Paw Sox game.
"Those cultural experiences, which continually give them opportunities to learn and interact positively, are so important, and they're opportunities that they might not get if they weren't involved in a program like BRYTE," Fox said.
As the camp has grown in size each year since its start, so, too, has the number of counselors. Last year saw the creation of a junior counselor program, which brings in local high schoolers from the refugee community to assist. This summer, each of the eight classrooms is led by both a Brown senior counselor and a junior counselor. Rhode Island Youth Works 411, a branch of the Rhode Island Department of Labor and Training, partnered with the camp this year to provide the junior counselors' summer pay and offer them interview skills and job search training.
Adrian, a camp coordinator, said the junior counselors bring a unique perspective to the program.
"The campers really identify with the junior counselors in a different way than the Brown counselors because they do share that experience of being resettled here and learning English here."
There is perhaps no one who can identify more closely with the campers than Mechack Niyomukiza, a 16-year-old junior counselor who came to Rhode Island from Tanzania speaking no English at all. He was placed in fourth grade and that summer he took part in the BRYTE camp.
"I was scared going into fifth grade because I know it was the last step before middle school and I didn't know any English. But at camp, they taught me how to sound out words and read and when I got to fifth grade, it helped me out a lot," Niyomukiza said.
Niyomukiza, who is now headed into ninth grade, became particularly close with one of the counselors that first year, and their families now get together for dinner occasionally. When he applied to be a junior counselor, his hope was that he could similarly connect with other refugee students.
"Seeing how the BRYTE camp helped me, and knowing that there are a lot of kids who are just getting into the United States and going into different grades not knowing English, I wanted to help them like they helped me."
Jean-Jacques Yves Sibomana, a fourth-year Brown student and senior counselor who came to the United States as a Rwandan refugee, had similar motivations for getting involved.
"I heard about BRYTE during my first year at Brown. Knowing what it felt like when I first got here, and thinking about what the kids are going through, I wanted to give back."
Yves Sibomana, who teaches third-grade level literacy and second-grade level math to the campers, said that while it's rewarding to see the students progress academically over the summer, his favorite part about being a counselor is even more basic: when they come to camp and are able to forget, at least temporarily, about the some of the stresses associated with being a stranger in a new country.
"The best part is just seeing the kids enjoying themselves, just seeing them be kids."