U.S. Sen. Sheldon Whitehouse and U.S. Rep. Jim Langevin braved heavy rain Friday, June 7, 2013, to visit two high-tech brain science-related labs at Brown.
PROVIDENCE, R.I. [Brown University] — To learn more about some of the basic and translational research going on at Brown in different areas of brain science, U.S. Sen. Sheldon Whitehouse and U.S. Rep. Jim Langevin toured labs in Barus and Holley and in Metcalf Laboratory on Friday, June 7, 2013.
At Barus and Holley they visited with Arto Nurmikko, professor of engineering, who explained his lab's recent work to develop a rechargeable wireless implantable brain sensor. The sensor can transmit neural signals directly from a subject's cortex without the subject having to be connected to any cables that might limit freedom of movement. The device, should it receive approval for use in humans, could become the next generation device for brain-computer interfaces, such as the investigational BrainGate system.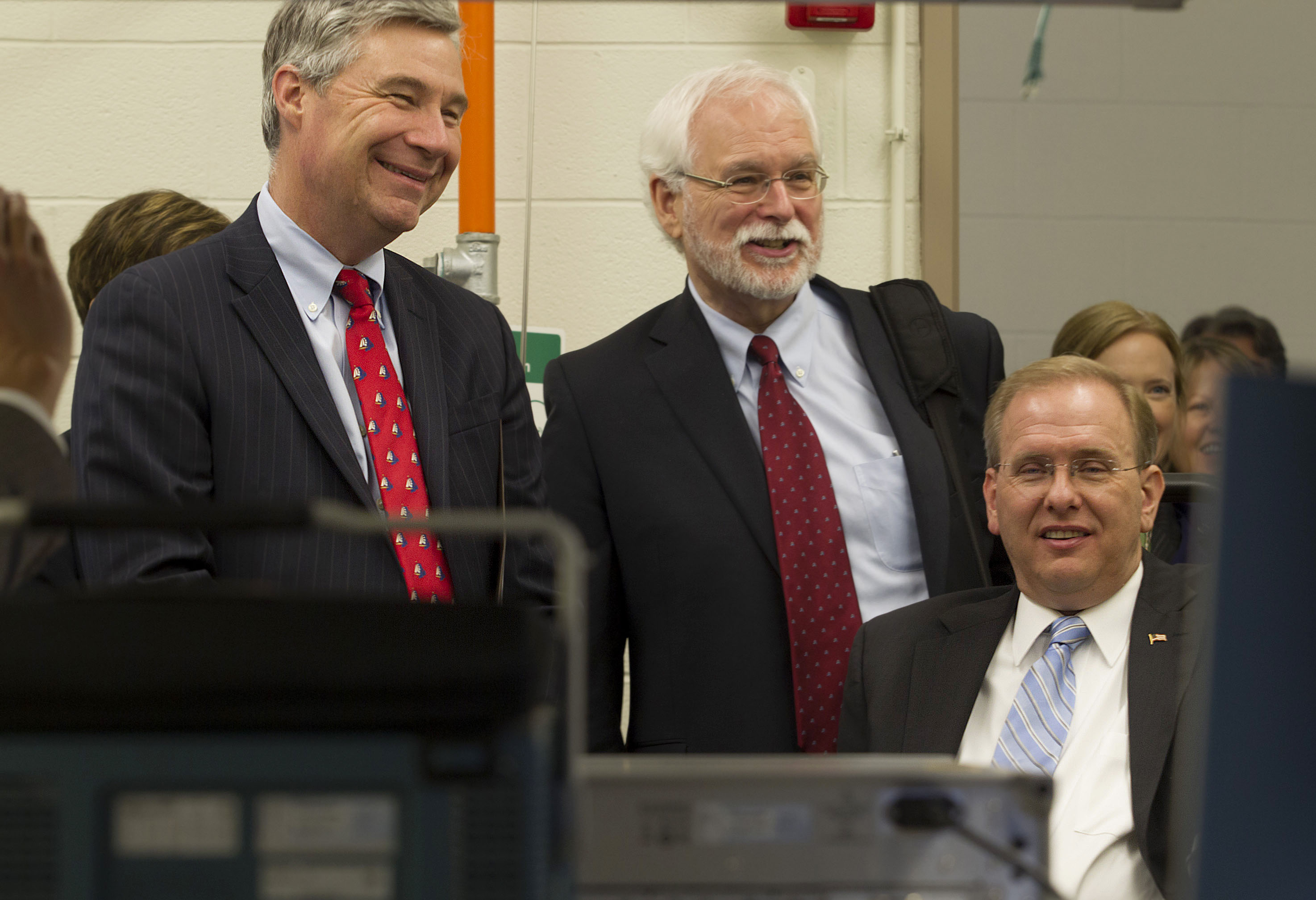 From Nurmikko's lab, the members of Congress headed a few blocks west to Metcalf Laboratory, home of the Virtual Environment Navigation Lab. There Whitehouse and Langevin each put on the lab's virtual reality helmet to navigate through a simulated hedge maze and other environments.
Researchers led by William Warren, professor of cognitive, linguistic, and psychological sciences, perform such experiments in the VEN lab to study how people use visual information as they move through an environment and how people interact among crowds. They also conduct studies using motion capture markers to precisely measure gait in patients who have undergone surgical repair of the ACL in their knees.
In all, Brain Science at Brown and its affiliated hospitals involves more than 100 researchers who cover a gamut of interests ranging from basic studies of biology and behavior to the development and delivery of clinical therapies for conditions such as Alzheimer's disease and depression.