Brown conferred six honorary doctorates today at its 245th Commencement ceremonies on the College Green. President Christina Paxson greeted each candidate with a formal citation and conferred the degrees in Latin. (Texts follow here.)
PROVIDENCE, R.I. [Brown University] — Six people who have distinguished themselves through their efforts in the arts, sciences, letters, scholarship, and public service received honorary degrees today from Brown University during the University's 245th Commencement ceremonies:
Honorary degrees are awarded by the University's Board of Fellows and are conferred by the University president — in English and in Latin — during Commencement exercises on the College Green. The president recognizes the achievements of each candidate by reading a formal citation, the texts of which follow here.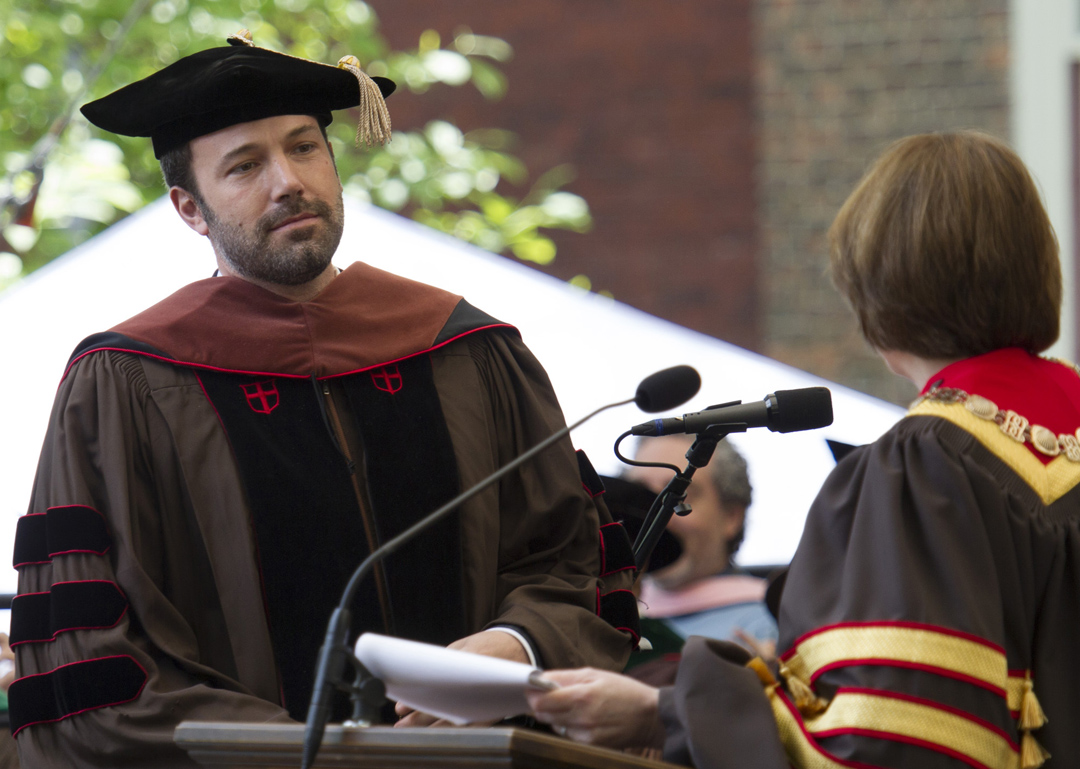 Benjamin Affleck  Actor and director
Doctor of Fine Arts (D.F.A.)
Biographic notes
Acclaimed actor, director, producer, writer, and humanitarian, you have built one of the most eclectic and intriguing bodies of work in film today. Since your first Academy Award for the screenplay for Good Will Hunting, you have expanded your repertoire to portray a host of diverse characters and aspects of American life. As a storyteller you have brought your deep love for your home town of Boston vividly to the screen. You have been heralded as a talented producer and an astute director, and that promise came to fruition last year with the success of the Academy Award-winning film Argo. Through your depiction of this fascinating piece of American history, you both entertained and encouraged viewers to think critically about our international relationships. Outside of Hollywood, your establishment of the Eastern Congo Initiative, the first U.S.-based advocacy and grant-making initiative working exclusively with the people of that war-torn area, has set positive change in motion, supporting maternal and child health, higher education initiatives, and community-based economic development to build a safe and sustainable future. For your admirable work to improve the lives of those hit hardest by deprivation and war and your contributions to the world of film, we honor you with the degree of Doctor of Fine Arts, honoris causa.
Tu, o vir praeclare, magna cum gloria partes egisti et fabulas docuisti, magno cum studio gentibus orbis terrarum opem atque auxilium tulisti. Coronam tibi dedit Collegium Histrionum tum primum ob fabulam Good Will Hunting, et nunc quidem tibi sunt opera histrionia varietate iucunditateque maxime praecellentia in quibus multas personas et res Americanas egisti. Quam in his apparet quantopere patriam Boston ames! Te socii peritum et callidum fabulas docere iam pridem agnoscunt, quae sententia est confirmata cum data est tibi corona et ob Argo. Qui hanc actionem scaenicam illorum eventorum Americanorum spectaverunt omnino oblectati sunt atque animo studiose volutabant quem ad modum gerantur res inter gentes. Praeterea operam rebus dedisti vel non scaenicis, nam Consilium de Congo Orienti condidisti ut illa civitas in posterum valeret. Quin hoc est primum consilium Americanum quod opes pro illis populis bello afflictis petit. Aucta sunt propter hoc non solum salus matrum liberorumque sed etiam consilia scholarum alendarum atque res novae intra civitatem ad publicas opes pertinentes. Quia populos egestate belloque maxime subactos diligenter adiuvas et multum profuisti scaenicis rebus, idcirco te Doctorem in Artibus Elegantibus salutamus, honoris causa.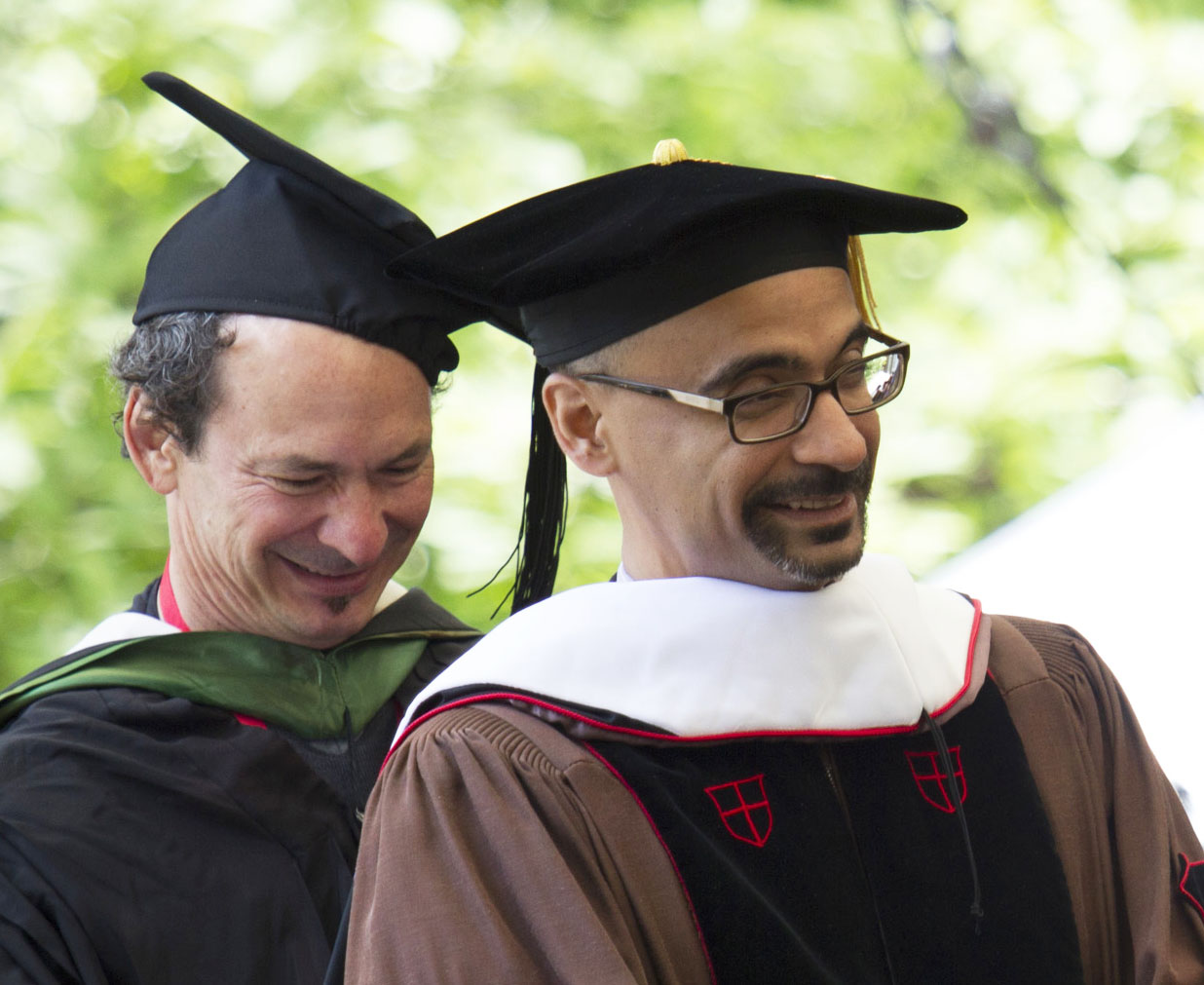 Junot Díaz  Author and editor
Doctor of Letters (Litt.D.)
Biographic notes
Writer, educator, activist, your words — both written and spoken — illustrate the immigrant experience in America and the challenges facing those whose identities are shaped by exposure to multiple cultures. As a Pulitzer Prize winner, a National Book Award finalist, and a recipient of a prestigious MacArthur Fellowship, you have demonstrated the impact that prose can have on our understanding of our neighbors and ourselves. In your capacity as a creative writing professor at M.I.T., the founder of the Voices of Our Nations Arts Writing Workshop, and an adviser to Freedom University in Georgia, you have explored innovative ways of bringing people back into conversation with the arts and academia. Your steadfast support for a path to citizenship and achievement for young undocumented immigrants has given a voice to the experience of those who were brought here in search of a better life, much like yourself. For your outstanding contributions to literature and learning, your compassion, and your belief in the power of education for all, we honor you with the degree of Doctor of Letters, honoris causa.
Ut scriptor, magister, adiutor, tuis verbis scriptis dictisque bene explicavisti vitas advenarum in nostra patria et difficiles res vincendas ab illis quorum mentes moresque cultibus gentium variorum formati sunt. O donate praemiis egregiis, praesertim Pulitzer et MacArthur, demonstravisti quantum fortia verba efficiant ut vicinos nostros et nosmet melius intellegamus. Expetivisti autem novas vias quibus homines ad studium artium liberalium revoces et iuvenes peregrinos praecipue adjuvisti ut, sicut tu, vitam meliorem in hac patria habeant. Propter tua merita in litteris praestantia, tuam benevolentiam, et tuum ardorem omnes docendi, te in Litteris Doctorem salutamus, honoris causa.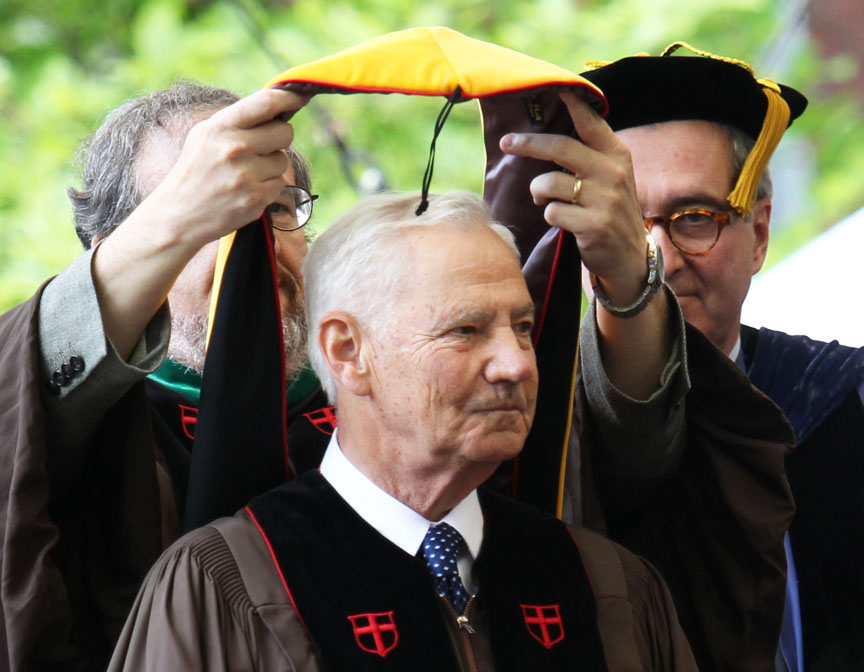 Stanley Falkow  Bacteriologist
Doctor of Science (Sc.D.)
Biographic notes
Pioneering microbiologist, influential teacher and mentor, and Brown Graduate School alumnus, you are considered the father of molecular bacterial pathogenesis. Your desire to study in detail the attributes of microbes that do not cause disease has changed the way we think about bacteria in the human body and how we approach prevention and treatment of some of the most common ailments, including whooping cough. Each stage of your career has featured discoveries that helped build the foundation of infectious disease research today. Your groundbreaking work has illustrated the ways in which bacteria survive antibiotics by swapping resistance genes; how microbes and host cells interact to cause disease on the molecular level; and how particular genes can be isolated and used to learn about the individual steps of disease development. Perhaps even more important is the fact that you freely share your love of science and research with others and have dedicated a portion of your time to training generations of microbiologists and infectious disease physicians. For your influential contributions to medicine, public health, and the teaching profession, we honor you with the degree of Doctor of Science, honoris causa.
Tu qui primus minutissima animalia investigavisti, O magister et rector auctoritate gravissime, alumne Universitatis Brunensis summis gradibus, pater haberis illorum quaerentium qua ratione homines bacteriis in morbum cadant. Quod naturam salubrium animalium parvissimorum praecipue exploravisti, cogitationes medicorum de omnibus bacteriis in corpore humano mutavisti ut novis modis morbos frequentissimos, in his pertussim, melior curent. Tantam scientiam novam invenisti ut nostra principia morborum quaerendorum praeferres. Hoc autem est gratissimum et honestissimum, quod non modo tuum ardorem quaerendi scientiam cum aliis libenter communicavisti sed etiam ad medicos futuros educandos te dedisti. Propter res gestas pro medicina, salute, docendo, te iure Doctorem in Scientia salutamus, honoris causa.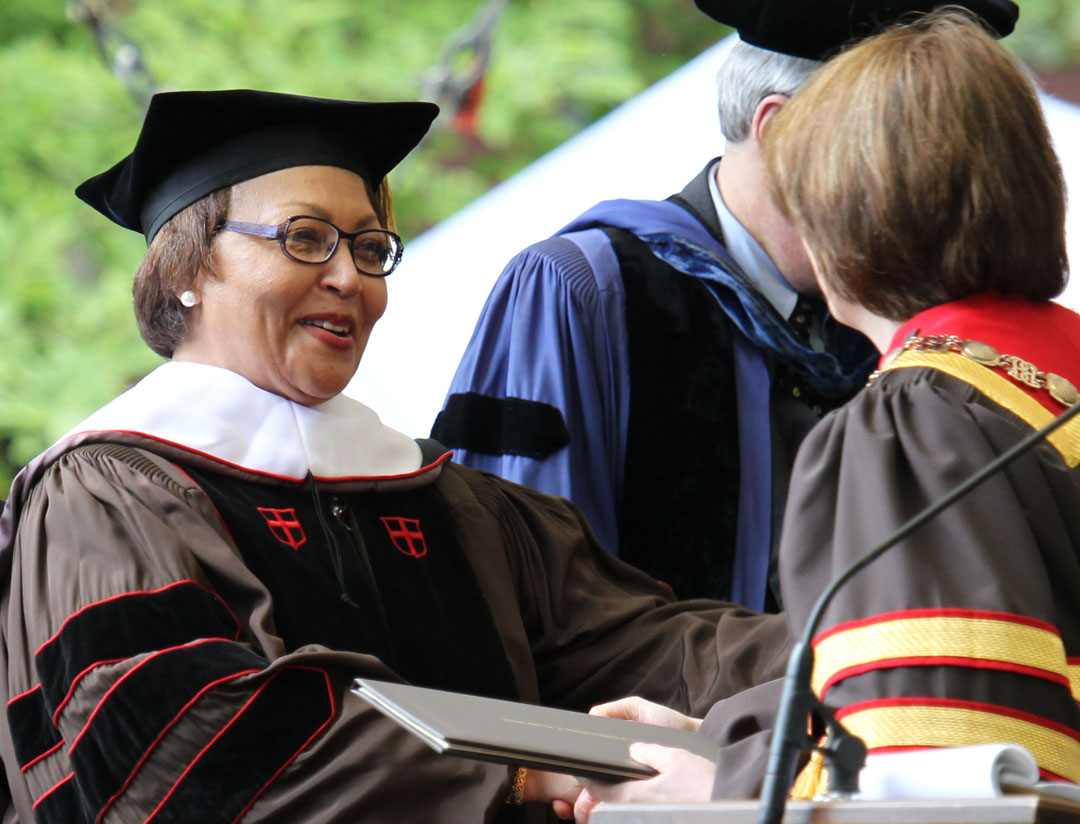 Beverly Wade Hogan  President of Tougaloo College
Doctor of Humane Letters (L.H.D.)
Biographic notes
Educator, public administrator, community leader, and humanitarian, you have charted a personal and professional course of civic leadership and lifelong learning. A native of Mississippi, you have been profoundly dedicated to the growth and welfare of your home state, applying your knowledge and compassion to issues of mental health, women's safety, low-income housing, and economic development. As the first woman and African American to serve in high-ranking state government positions, you helped break down institutional barriers, begin productive conversations about economic and social justice, and improve the lives of your fellow citizens. Your steadfast leadership as President of Tougaloo College is lauded as Brown and Tougaloo celebrate the first fifty years of a vital partnership, unparalled in American higher education. Under your guidance Tougaloo has established new programs encouraging its undergraduates to engage in hands-on research, to study social responsibility and international affairs, and to participate in a breadth of community-based programs. For the passion you bring to public service, your trailblazing approach to issues of racial and gender equity, and your devotion to teaching and learning, we honor you with the degree of Doctor of Humane Letters, honoris causa.
Tu, o magistra, adiutrix rerum publicarum, dux communitatis et humanitati dedita, mare vitae privatae publicaeque Officio et Philosophia comitibus navigavisti. Nata es in Mississippi, et patria tua laboribus tuis crevit floruitque. Valetudinem mentis et salutem feminarum tua scientia benevolentiaque protexisti et praeterea domos opesque omnibus civibus suppeditare petivisti. Tu prima de Africanis-Americanis feminisque pervenisti ad honores altos, et adiuvisti rumpere claustra cohibentia ingenio praeditos, et nisa es vitas civium facere meliores ut nullus careret rebus necessariis ad vitam beatam vivendam. Praeses praecellens Collegii Tougaloo, te laudamus et hoc celebramus quod quinquaginta annos Universitas Brunensis et Collegium Tougaloo societate singulari coniuncta sunt. Te duce, Tougaloo discipulos hortatum est ut ipsi quid intellegere velint inquirerent, necessitatibus civium moribusque populorum operam darent, et laborum domesticorum participes essent. Pro ardore rerum publicarum, studio doctrinae, consiliis novis de omnium civium aequalitate, te Doctorem Litterarum Humanarum salutamus, honoris causa.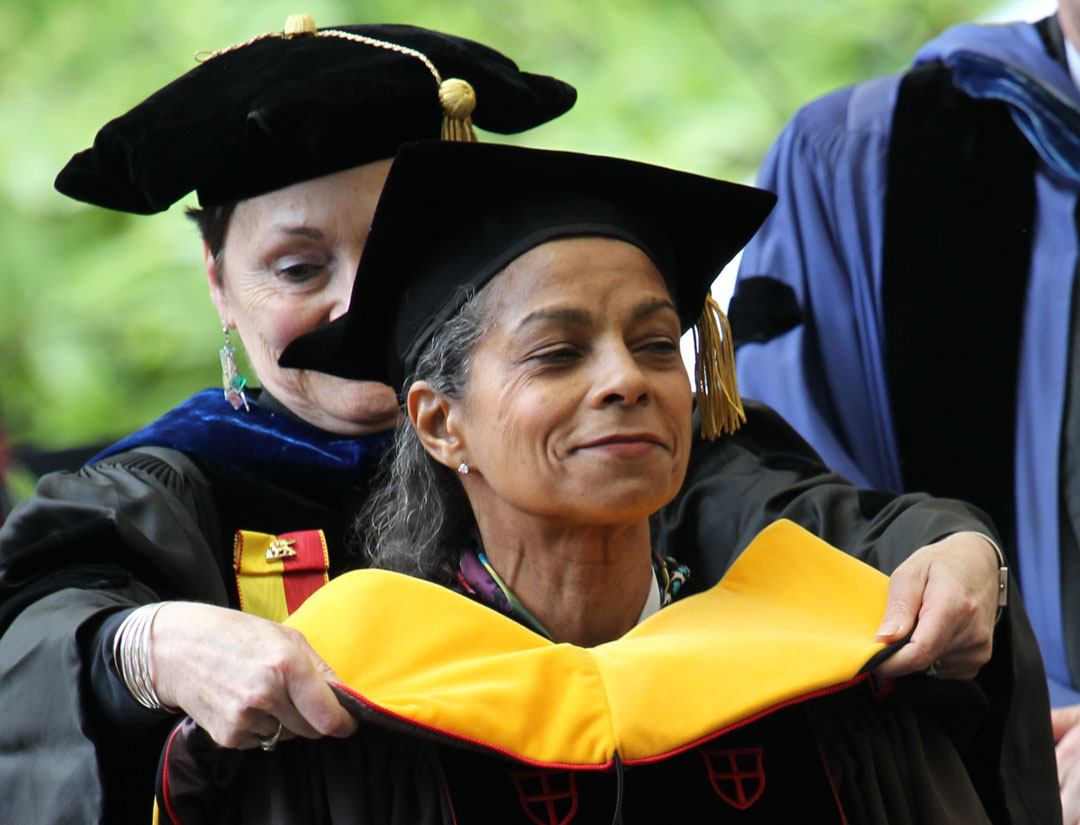 Risa Lavizzo-Mourey  Physician and foundation president
Doctor of Medical Science (D.M.S.)
Biographic notes
Medical practitioner, professor, policymaker, and philanthropist, your influence upon public health in the United States is immense. As president and CEO of the Robert Wood Johnson Foundation, the largest nonprofit entity dedicated solely to health and health care, you have implemented transformative programs to address the nation's childhood obesity epidemic, the shortage of highly trained nurses, the social factors that impact health among the most vulnerable populations, and the rising costs of health care. The depth of your medical knowledge and the strength of your leadership have brought change directly into the communities that need it most. You are widely praised not only for your ideas and your conviction to see them through, but also for your collaborative nature, your compassion, and your intrepid spirit. In recognition of your efforts to make healthy choice available to all and to re-imagine the ways in which we can approach health care in this country, we honor you with the degree of Doctor of Medical Science, honoris causa.
Tibi, sive medicinam ipsa exerces sive alios doces, o quae rei publicae cum consulis tum bene facis, maxima est in salutem populi Civitatum Foederatarum potestas. Nam societatem Robert Wood Johnson, quae amplissima est earum societatum, quae lucrum non captant et quibus curae tantum sunt salus medicinaque, sic praesides et dirigis ut consiliis tuis reformatus sit modus quo in civitate nostra et puerorum obesorum numerus minuatur et nutricum doctissimarum augeatur, atque quo homines iniquitate rerum in anceps tracti sanentur impensaeque in medicinam factae quasi infrenes compescantur. Tu saepe laudaris non modo ut verborum et rerum capax, sed etiam quod agitans artes humanas cum sociis tuis nequaquam trepidas. Ut declaremus quantum in civitate nostra omnibus corpora et mentes sanare moliaris, te Scientiae Medicae Doctorem salutamus, honoris causa.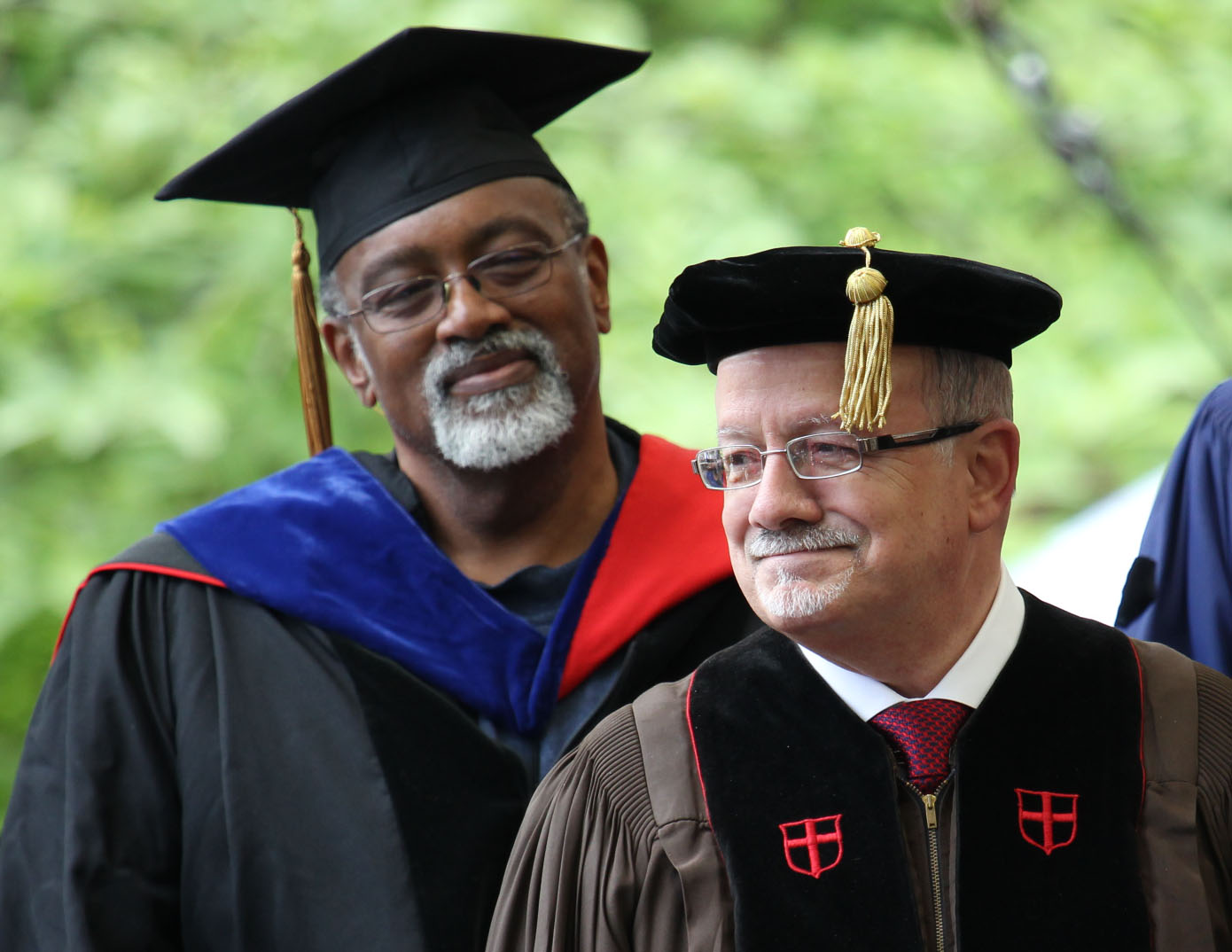 Eduardo J. Padrón  president of Miami Dade College
Doctor of Humane Letters (L.H.D.)
Biographic notes
Civic leader, teacher and champion of higher education, you are among the most decorated and influential college presidents today. Having arrived in the United States at the age of 15, a refugee from Cuba, you recognized the importance of education and quickly seized upon the opportunities available for higher learning. Throughout your career as an economist, professor, and president, you have maintained a commitment to combining open access to education with the high standards of academic excellence. Under your direction, Miami Dade College has put into practice innovative teaching and learning strategies and support systems to ensure the success of students from all walks of life. The College has also become a vital participant in the city's artistic renaissance and economic development. In recognition of your outstanding leadership, your innovative thinking, and the excellent example you continue to set for generations of students, we honor you with the degree of Doctor of Humane Letters, honoris causa.
Civium princeps, magister eruditioni dedite, inter praesides collegiorum auctoritate gravissimus emines. Profugus iuvenis ex insula Cuba ad oras nostras vectus es et opes quas Eruditio suppeditat cernens ideo eas cito et cum omni opera petivisti. Ut vir doctus in rebus oeconomicis, ut professor et deinde ut praeses collegii tu non solum eruditionem omnibus qui eam peterent praebuisti sed etiam ab omnibus discipulis magistrisque excellentiam assidue postulavisti. Te gubernante, Collegium Miami Dadonis constituit et novas rationes docendi ac discendi et subsidia ut omnes discipuli ubique nati studiis excellant. Collegium item urbem Miami redintegrare adiuvit. O egregie princeps, quia praecipue bonum exemplum discipulis te praebuisti, te Doctorem Humanarum Litterarum salutamus, honoris causa.