Students, teachers and parents at Jorge Alvarez High School recently came together for Decision Day, a celebration of the seniors' college enrollment plans and the college advisor who helped them along the way. It was also a special day for Julio Reyes, a recent Brown graduate and member of the College Advising Corps.
PROVIDENCE, R.I. [Brown University] — For Decontee Roberts, attending college is more than a mere continuation of her education. As the Jorge Alvarez High School senior stood before a group of the school's juniors and seniors, she recounted the sacrifices her parents made to bring her family to the United States from Liberia when she was a child and how that experience motivated her to work hard in school.
"My mom and dad put their life on the line for me. My dedication to school was my opportunity to pay them back," Roberts said.
That dedication paid off. In the fall, Roberts will attend Clark University as a pre-med major. She hopes to one day return to Liberia to practice medicine.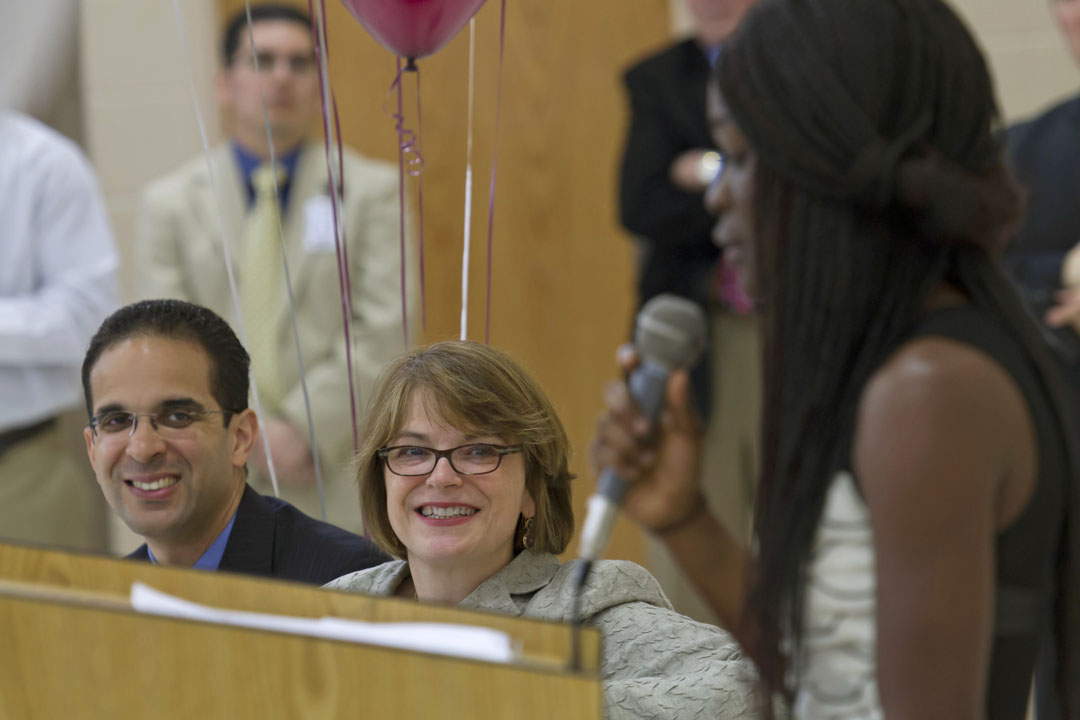 Though she earned her acceptance to college on her own, Roberts acknowledged to her classmates that she didn't do it alone. In thanking those that had helped her along the way, she gave special recognition to one person in particular: Julio Reyes, a recent Brown graduate who has been working as a college adviser at Alvarez for the last year.
"When it came to applying to college, I felt like I was ahead," Roberts said. "It was because of (Reyes) that I was successful."
Listening intently to Roberts, many of her classmates likely had similar thoughts running through their heads. Gathered in the school's cafeteria, the students had come together for Decision Day, a celebration of the seniors' upcoming graduation and their commitment to continuing their educations after high school. It was also a day to celebrate all the people that helped them get to that point, and for many of them, Reyes was an integral part of that process.
A member of the Brown Class of 2012, Reyes joined the National College Advising Corps after graduation. He, along with 11 other college advisers, work full-time at urban public high schools across the state and at the Community College of Rhode Island (CCRI) to help students increase their college awareness, preparation, and enrollment. Housed at the Swearer Center for Public Service, Brown's Corps, which was founded in 2007, is now one of 19 institutional partners around the country. To date, the program's Brown chapter has served more than 14,000 Rhode Island high schoolers and 800 students at CCRI.
Reyes said he made the decision to join the College Advising Corps because he can relate to many of the students.
"I'm a first-generation college student from a low-income family. Learning about this program reminded me of my experience applying to college and how there was no one to guide me through the process."
Reyes, like all of the college advisers, wears many hats in his job. A typical day may include editing college essays, helping students fill out applications and financial aid forms, or assisting with NECAP and SAT preparation. He's been known to chase students down to remind them about impending application deadlines and drive those without cars to visit local campuses. After school, he can often be found giving students extra help with subjects they're struggling with, a duty that is above and beyond what he's expected to do. Still, he says the relationship he's built with the students makes the work well worth it.
"Working with the students, seeing them grow and trust me to help them is the best part of the job," Reyes says.
Students were quick to offer examples of how Reyes had aided them in the college application process.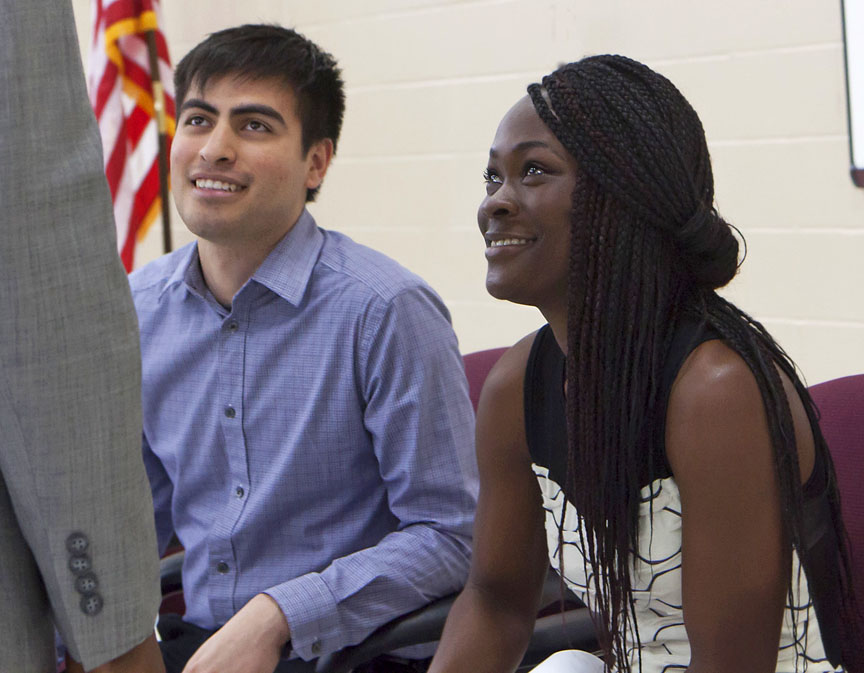 Roberts says that by working with Reyes on her writing, she was able to improve her SAT scores by almost 200 points. "When I got my scores back, I couldn't believe it," she says with a laugh.
"Having Julio there took a lot of the stress away," said Lovetta Saye, a senior headed to Salve Regina to study pre-dentistry in the fall. Saye admits that she initially didn't realize all that the college application process involved. "I don't think I would have been able to do it without Julio. Having someone there to break it down made it a lot easier."
Others said that it was the emotional support that mattered most.
"Knowing that Julio was Spanish, that he spoke two languages like a lot of us and realizing that we had that connection really made us closer," said Hiralmi Rodriguez, the class salutatorian, who will be attending Rhode Island College to study either business or accounting in September.
Valedictorian and incoming Rhode Island College freshman LeeShonel Ayala agrees. "To have someone want us to do good and prosper made me feel good."
Alvarez Principal Jesse Rivers agrees that Reyes's presence has had a significant impact on the students, as well as their families. "Julio has helped us tremendously. The college application process can be difficult especially for students who have never witnessed the process. Julio walks the students and parents through the steps necessary to present our students as viable candidates for a particular college or university. I will surmise that without Julio working in conjunction with our counselors a good percentage of our students would fail to apply (to college) out of sheer frustration."
In total, the Alvarez High School class of 2013 submitted 260 applications to colleges around the country. Fittingly, it was Reyes who stood at the podium on Tuesday to announce the institutions where the students would end up, a testament to both his and the students' hard work.
Students stood to loud cheers from their classmates as the names of their chosen schools were read: the University of Rhode Island, College of the Holy Cross, Roger Williams University, and Bryant University among them.
Earlier in the program, students heard words of congratulations from Providence Mayor Angel Taveras and Brown University President Christina Paxson. When Taveras, telling his own story of being the second person in his family to go to college, asked how many students were in a similar position, many hands shot up.
"What you're doing is awesome in so many ways," Taveras said. "You're setting an example for those coming after you and showing what is possible when you pursue an education."