A strategic planning committee charged with reimagining the University's campus is using a powerful animated visualization tool based on data that describe campus use. Bottom line: Programs of research and instruction across 40 academic departments at Brown are tightly integrated and collaborative. No department can stand apart.
PROVIDENCE, R.I. [Brown University] — There's little doubt that the Brown community will grow in the coming decades. The question before campus planners is how to manage that growth in ways that support the University's academic mission and values while respecting the interests of its neighbors, city and state.
How have they gone about answering it? Data. Lots of data.
As part of the University's strategic planning effort, the Committee on Reimagining the Brown Campus and Community has been gathering information about how community members use the campus. More than 2,500 students, faculty, and staff completed the MyCampus survey, which collected responses about preferred spaces, regular patterns, modes of travel, and thoughts for improvements. Faculty filled out surveys designed to find out how and with whom they collaborate in their research, teaching, and service. A detailed analysis of undergraduate course enrollments — the first ever done at Brown — evaluated the extent to which students move between academic units.
The idea is to use those data to inform space decisions great and small, from the potential location of new buildings to more effective classroom configurations.
"One of the things we're trying to do in campus planning is to respect our past and reimagine the future," said Russell Carey, executive vice president for planning and policy and co-chair of the committee. "We're doing this based on evidence and data that helps guide our decisions in the best possible manner."
The overwhelming theme that emerged from the data is a sense of connectedness. With the help of planning consultants Sasaki Associates, the committee produced visual representations of how students and faculty interact with all of Brown's 40 academic departments. "What we see are huge spider webs of connectivity," Carey said. "There are no departments that stand apart. They share students; they share research collaborations."
That connectedness was clearly evident in the undergraduate enrollment analysis, which showed that Brown students are taking full advantage of the open curriculum. Students are taking classes all over the intellectual map, across the humanities, social sciences, physical and life sciences. It's not uncommon for students to take classes in both mathematics and history, in theater arts and computer science, in biology and Slavic languages. That might not be particularly surprising for students in their first two years. But the discipline hopping persists for students in their third or fourth years, the research showed. Even when many are settling into their concentrations, they continue taking classes all across campus.
"The data affirm everything we hoped was true about the curriculum," Carey said. "The students are using it the way that it was intended. It was really great to see that so clearly in the data."
That sense of connectedness was echoed in the faculty surveys. Research collaborations across departments and across disciplines are common, the surveys showed.
"The implications for space planning are profound," Carey said. "What we don't want to do is create a campus where students' choices of courses are limited by where they're offered. We also need to create space that fosters the research collaboration faculty told us is important to them."
That means new classroom space with capacity to enhance group discussion and collaboration. It also means creating more informal space throughout campus where students and faculty can mingle, converse, and collaborate. These types of things were especially important to faculty, said Iris Bahar, professor of engineering and co-chair of the committee.
"One thing that surprised me from our surveys was that faculty are quite satisfied with their office space," she said. "What they wanted were communal spaces that really don't exist for them right now."
The data will also guide big decisions about where new facilities are placed. A key recommendation from the committee is to make sure that the College Hill area of campus remains the core of undergraduate instruction. That has implications for the new building at the School of Engineering, for which planning is underway. From an undergraduate perspective, engineering has long been a curricular cornerstone. From a research perspective, the data collected by the committee show that engineering is an important nexus of faculty collaboration in the physical and life sciences.
It makes sense that new engineering space be placed adjacent to existing facilities," Carey said.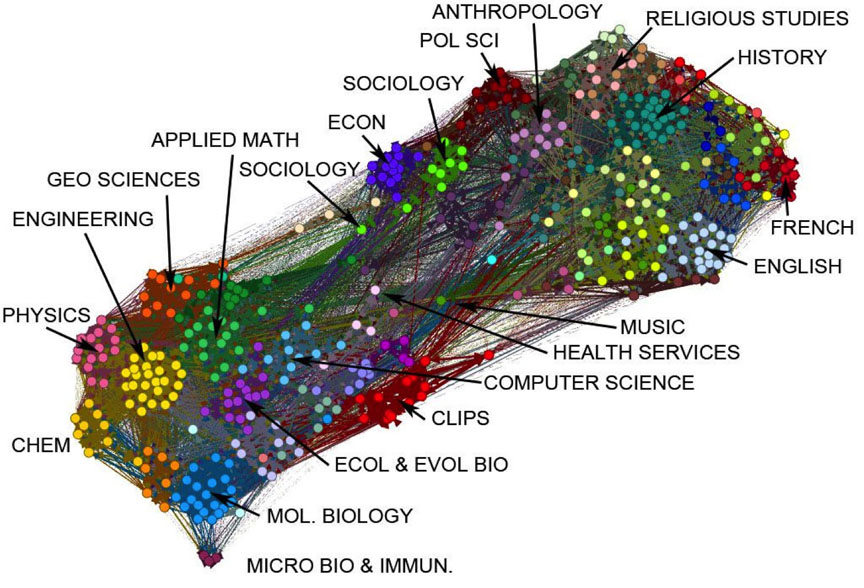 That's not to say that all the growth of campus must be confined to College Hill. The committee also noted opportunities to grow in the Jewelry District. Brown has already made a substantial commitment there, investing $200 million over the last decade in neighborhood enhancement, acquisitions and renovations, including the facilities that house the Warren Alpert Medical School, Continuing Education, and the Laboratories for Molecular Medicine. Good candidates for continued growth in the Jewelry District include research activities related to the Alpert Medical School, technology research that might benefit from being close to incubator space for commercial ventures, and administrative functions.
The key, Carey said, is making sure all of these decisions are made in an informed way that reflects the University's aspirations and priorities.
"The Brown campus is an enduring and evolving asset that supports our mission of teaching, learning and research," Carey said. "The choices and investments we make today will help determine how effectively we are able to fulfill our mission well into the future. This exercise allows us to make well-informed choices."