Noon Friday, March 15. The Ides. All across the United States, medical students who will graduate this spring tore open envelopes to find out where they would be heading for their residencies. More than 100 young doctors got the news in Providence.
Somewhere amid the balloon drop, the cupcakes, the flash mob, and the flash bulbs of beaming parent photographers, were simple sheets of paper detailing the future of more than 100 young doctors and the future of medicine in Rhode Island and the United States.
Match Day, when graduating medical students find out where they will serve their residencies, is a wildly festive occasion in the Warren Alpert Medical School of Brown University and around the country. Students all received their envelopes at high noon and then opened them with anticipation they haven't experienced since opening medical school or undergraduate acceptance letters.
President Christina Paxson stopped by to offer her congratulations and experience her first Alpert Medical School Match Day celebration.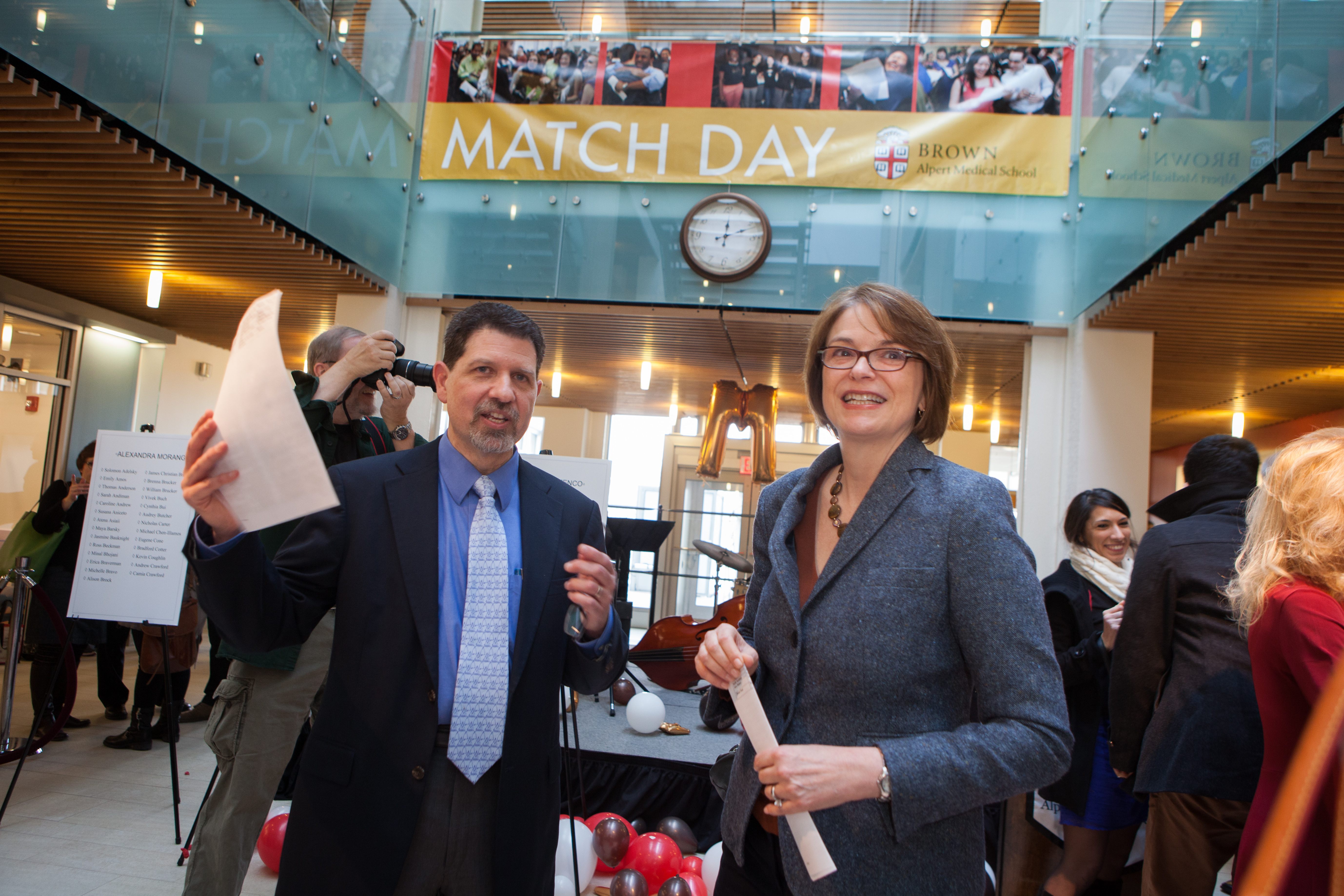 "This is the culmination of medical school," said Dr. Phil Gruppuso, associate dean for medical education in the Alpert Medical School. "By this point in medical school you basically know you are going to get your degree. There's no mystery about that. This is the day you find out the next step."
Match Day's drama and joy derive from the emotion of learning one's future — many students reported getting their first choice — but given the importance of doctors and health care in society, the numbers describing the M.D. Class of 2013 matter, too.
Thirty-five students matched to the primary care-associated residencies of internal medicine and family medicine.
Among specialties, the most popular are surgery and pediatrics (11 each), psychiatry (10), and ob/gyn (9).
Fourteen students matched to residencies in Rhode Island.
Another 23 students matched to residencies elsewhere in New England.
Among those staying in New England was Dustin Dezube who matched to a residency at Massachusetts General Hospital/Harvard Medical School in internal medicine.
"I am super-psyched, that's my top choice," said Dezube, whose family was on hand to cheer him on. Part of the appeal for Dezube was the quality of MGH's program in medicine and hematology/oncology, but he also said he's happy to stay close to home in Boston.
Match Day also provided the desired homecoming for Sara Tribune, who hails from Mississippi and is headed to her top choice of Tulane University School of Medicine for internal medicine.
"They have a wonderful primary care program, and they work with underserved populations, and it's close to home," she said. "I hope to work in rural areas of Mississippi providing outpatient primary care while working at a larger teaching facility, because I like to teach."
The students will only be students for a couple more months until Commencement. Then they'll be professionals — still learning, of course, but also living their professional dream of being doctors.