For 11 years, the Swearer Center's Winter Break Projects have brought students back to Providence early for an intensive week-long immersion in social issues affecting the local community. Living together in a downtown church, the students spend their days visiting local organizations and talking to community members about how they might effect change. For many of the participants, the experience is an introduction to community service work during their time at Brown and beyond.
PROVIDENCE, R.I. [Brown University] — The temperature dipped below freezing and ice caked the surrounding sidewalks, but the Beneficent Church on Weybossett Street glowed warmly from within. It was a Tuesday evening in mid-January, and while many Brown students were still at home enjoying their final days off before returning for the spring semester, 35 students had come back to Providence a week early to take part in the Swearer Center's Winter Break Projects, an intensive six-day immersion in social issues affecting the local community. The program is now in its 11th year.
Calling the church home for a week, the students are divided into six groups that tackle different issues, visiting advocacy organizations and nonprofits and gaining first-hand knowledge from community members. By night, the groups converge at Beneficent, where they live, eat, and sleep, to discuss the day's events. They meet in the evening with community leaders like Providence Mayor Angel Taveras, who spoke to the group on the session's second evening about some of the issues facing the city and took questions from students.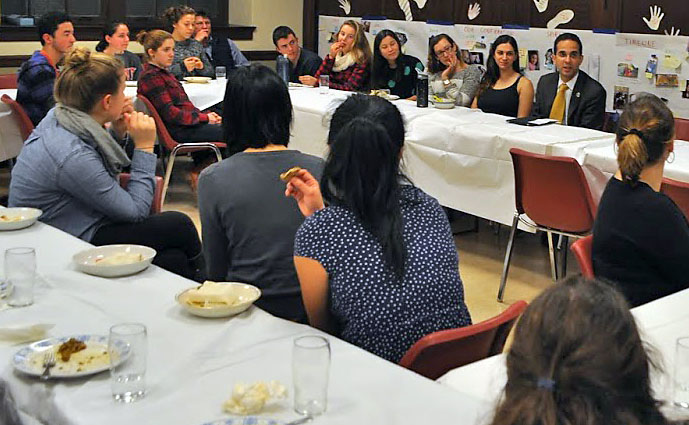 On that chilly Tuesday evening, the students in the "Refugee Communities in South Providence" group were on dinner duty, working on a special menu with some guest chefs: two families from the local Eritrean community, whom group leaders Sabine Adrian and Rebecca Wolinsky tutor through the Swearer Center's Brown Refugee Youth Tutoring and Enrichment (BRYTE) program. The smells of curry and lentils filled the air, as a grandmother prepared dough for bread. The older children stood shoulder-to-shoulder with the Brown students, chopping vegetables and stirring pots on the stove, as the younger ones took part in a game of tag in the adjacent community room. Brown students, their cheeks rosy from the cold, trickled in to the church from their busy days out in the city. Some huddled in small groups, talking about their days. Others rested in a room down the hall that had been turned into a makeshift dorm, sleeping bags and suitcases lining the walls.
"For me, the Winter Break Projects is really special because we just get to hang out with the people that are meaningful to us and to the Providence community," said Wolinsky, as she helped with dinner. "The idea behind the projects has to do with social activism, but I think I can speak for Sabine and myself that we wanted to lead the refugee project because it's really about building meaningful relationships with community members."
Connecting with Providence communities and thinking about the issues that are affecting them is what Winter Break Projects are all about, according to Alan Flam, director of advising and community collaborations at the Swearer Center. "We intentionally don't call these projects service; we call these investigation projects, because we really want students to come to think about the community, to think about the issue, to meet people who are approaching this work from a range of perspectives, from people who are most impacted by the issue, to service providers, to policymakers to politicians, to think about that whole web of what it really means to try to create some kind of social change," Flam said.
For many of the participants, most of them in their first or second year at Brown, Winter Break Projects are their introduction to the city's social issues and the various avenues for getting involved. According to Flam, up to 80 percent of Winter Break Projects participants continue with community work after the week is over.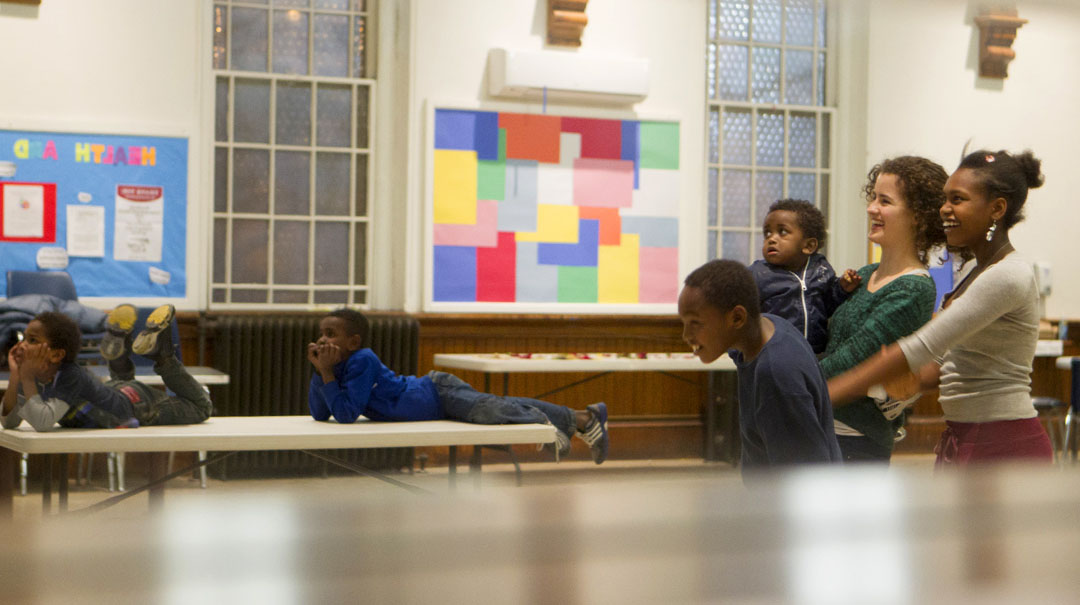 Some have even taken that work a step further, turning their week-long education into service-oriented programs that continue today. Flam tells the story of a particularly cold week when the students, concerned about the city's homeless, turned Beneficent Church into an emergency shelter, cooking meals and setting up the community room with cots. At the end of the week, students returned to campus and created Housing Opportunities for People Everywhere (HOPE), a group aimed at building solidarity with homeless people in Providence. Similarly, the Providence Student Union, an education advocacy movement led by Brown and high school students that started at Hope High School and has spread to schools throughout the city, was born out of a past project.
It's that long-term impact that sets the Winter Break Projects apart from other service projects that college students typically engage in over the holidays, said junior Amelia Friedman, student coordinator of this year's program. "There are a lot of winter break programs where you go to New Orleans and work on a house or go to the Dominican Republic and work in a clinic, and that's such great work and you learn so much, but once you leave that connection is lost. And here, coming into Providence and staying in Providence, that's building a relationship that can evolve over a long period of time," Friedman said.
This year's projects examined a range of issues, from labor and immigration and environmental activism to the social determinants of health in Providence and the city's education system. Student project leaders, all of whom have community-based knowledge and connections to their issue area, work hard to plan a week of activities for their group that will expose them to many facets of the community. The groups' days are typically packed with visits to local schools, shelters, and health clinics and meetings with advocacy groups, community members, and city officials that all help suggest how the students might be able to help.
Mia Stange, a junior taking part in the labor and immigration project, took part in Winter Break Projects because as a public health concentrator working with the Brown chapter of Health Leads, a national nonprofit organization that works to transform how health care is delivered, she wanted to know more about the immigrant clients she works with.
"I realized I didn't have a working knowledge of what it means to be undocumented in Rhode Island, what I could offer my clients, what I couldn't offer them, and how it all plays out. My hope is that what I learn during Winter Breaks will help me gain a larger depth of working knowledge when I go back to public health," Stange said.
The activities of her group, including meetings with the labor organization Fuerza Laboral and the Providence Youth Student Movement (PRYSM), which advocates for the Southeast Asian community, opened her eyes to some of the issues, such as wage theft, that the immigrant population faces, Stange said.
"I've been thinking about the trope that ignorance is bliss, and the more I'm learning about these injustices, the angrier I'm getting and the more I'm unable to sit back and not do anything. It's made me think about the role I play as a college student. There's no way I'm going to change the face of immigration reform or change labor laws, but is there a way to make my voice heard and lend my hand to the struggle?"