Students in "SOC1870A – Investing in Social Change: The Practice of Philanthropy" get a real-world immersion into the strategic giving process, taking on the challenge of awarding $45,000 in grants to local community organizations. This semester, for the first time, the class has partnered with United Way of Rhode Island, with employees from the nonprofit offering guidance and community connections as students navigate the complexities of the philanthropic world.
PROVIDENCE, R.I. [Brown University] — How would you make a difference with $15,000?
It may sound like a daunting question, but it's one that students in a sociology class at Brown are working hard to answer. "SOC1870A – Investing in Social Change: The Practice of Philanthropy" immerses students in the philanthropic process in a very real way.
Since its inception in 2007, the class has charged students with awarding up to $45,000 in grants to local nonprofit organizations during each of the five semesters that the class has been held. Using funds provided by donors Marty Granoff and Win and Anita Himsworth, three teams of six students operate much like a foundation would, researching social issues, designing a grant strategy, soliciting proposals and, at the end of the semester, awarding funding to a local organization of their choosing. To date, the class has awarded $175,000 to organizations around the state.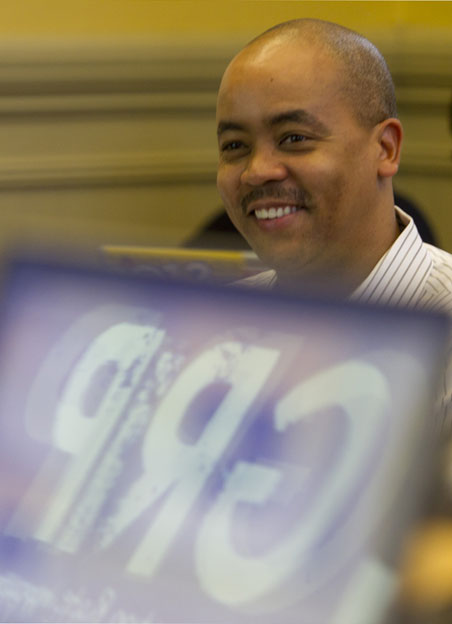 This semester, students focused on three social issues — graduation rate improvement, housing and homelessness, and fiscal stability — ultimately awarding $15,000 grants to Providence After School Alliance (PASA), Rhode Island Coalition for the Homeless, and Crossroads Rhode Island.
Navigating the complexities of the strategic giving process is not something the students take lightly, according to Ann Dill, associate professor of sociology, who teaches the class with Roger Nozaki, associate dean of the College and director of the Swearer Center for Public Service.
"To be interested in the topic, it's a particular form of the larger question of how do you make change happen? Many students are interested in that larger question and want to approach it from as many different angles as possible — and this is a particular angle," Dill said. "But those who are interested enough to take this approach, I think, have an intrinsic desire to make change happen. And the fact that it does involve a fairly substantial amount of real money kicks it over the top."
Paige Warren-Shriner, a senior who took the class this semester, agrees that the decision weighed heavily on her and her classmates. "There was certainly pressure to ensure our funding has a significant impact," she said. "While this was in part due to the fact that it wasn't our own money we were giving away, the satisfaction that comes with feeling like you fully understood the problem and found a feasible solution was a more important motivator. We invested a huge amount of time in working with the community and really understanding the problem and wanted to see positive results."
The three teams that made up this semester's class did extensive research on their chosen focus area, localizing it to the Providence community and figuring out the best strategy for maximizing the impact of their grant.
Dill said she and Nozaki try to toe the line gently between helping students along the process and letting them learn on their own.
"We feel an accountability not just for the money but to the community. This is part of an ongoing set of relationships that the Swearer Center and the University have with the community, and we're very aware of that," she said. "But we hold back as much as we can, because it is a process that the students have to go through on their own. They have to own it."
While groups do much of the work independently, they do benefit from additional guidance thanks to a partnership this semester with United Way of Rhode Island. Two fundraisers and two grant managers from the organization, along with Alan Flam and Janet Isserlis from the Swearer Center, act as a "board" for the class, attending group presentations, connecting students with organizations, and generally acting as a support system to answer questions and provide feedback to help each group to its final decision.
"It's a pleasure to work with Brown University and their students," said Anthony Maione, president and CEO of United Way of Rhode Island. "We're supporting Brown University, a highly valued partner, in their efforts to deliver a high-quality and relevant educational experience to their students. And, from our perspective, we're helping to cultivate a new generation of philanthropic leaders, who will positively impact communities and individual lives for years to come. This is a great example of what it means to live united."
Nozaki said the partnership gives the class "context and credibility" both in the real-world experience it offer to students and in the recognizable name that it lends to the project as students approach organizations around the state to solicit grant applications.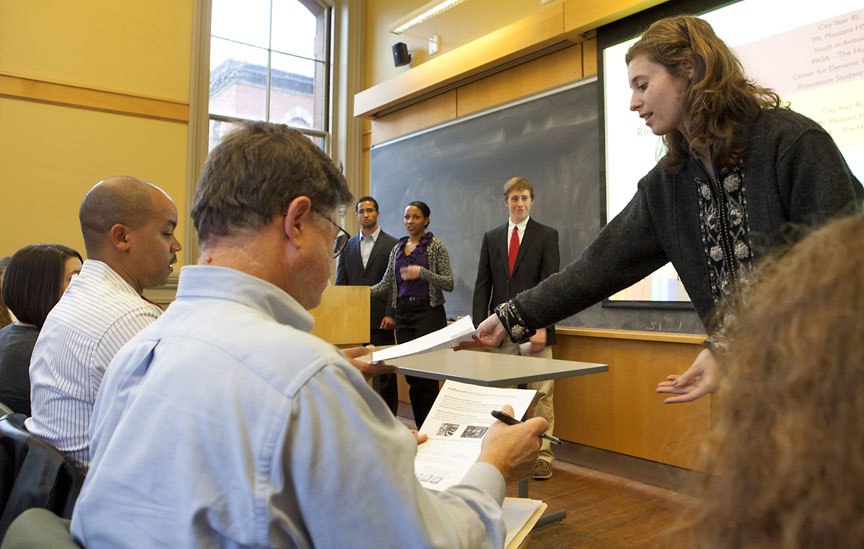 In the first week of December, the class gathered to practice the final presentations that they would give to the board a few days later. The colorful Powerpoint presentations projected on the wall were the culmination of a semester's worth of hard work. One group reviewed almost a dozen applications from local organizations before settling on one. Another group was clearly torn between two organizations, weighing factors such as the sustainability potential of the programs each was proposing. Each team laid out the rubric they were using to measure how each organization met the goals that the students were trying to achieve with their grant. The students talked about site visits they made to several of the organizations and meetings they set up with administrators to follow up on questions they had about the application.
Each organization that was awarded a grant will use the funding for the support or creation of programming that advances its mission.
Providence After School Alliance's (PASA) grant will support the development, expansion, and tracking of extended learning opportunities for youth at the Hub, PASA's high school-focused initiative, with the goal of increasing attendance and graduation rates at Providence schools. Funds will provide training for and observations of the Hub's providers, connect the Hub's digital tracking platform and PASA's youth program management tool, and specific youth development training on attendance, behavioral, and other barriers to graduation.
Rhode Island Coalition for the Homeless will use its $15,000 to support staff members who will strengthen the awareness and engagement of community members and elected leaders about the need for rental assistance in the state of Rhode Island. The ultimate goal is an increase in affordable housing and a reduction of homelessness in the state.
The grant awarded to Crossroads Rhode Island will be used to integrate financial literacy into the curriculum of all existing adult education programs at the organization. The modules will increase the comprehensiveness of training and support for adults at Crossroads, increasing the chances for their longer-term financial stability.
Through their group projects, their lessons on theory, and visits of alumni speakers who share their own experiences working in philanthropy, students quickly learn that strategic giving is both a rigorous and complex process. Still, it's the combination of theory and practice that students say is valuable in learning what philanthropy is all about.
"It would be easy to use a theory of change or approach that was entirely theoretical but not feasible in the Providence community because we liked the idea conceptually, but when you're forced to speak with community members and really understand the context of our grant, the theoretical part becomes secondary," Warren-Shriner said.
Many students come to the class with aspirations to enter the philanthropic sector after graduation or are curious about how funding works.
Andrew Kim, a senior who took the class last year and was a teaching assistant this semester, says he enrolled in the class because he thought learning how the donor side of funding works would be beneficial in his future career as a neurosurgeon working to provide medical education to doctors in low-income countries. Kim says despite being surprised by how complex the funding process is, he learned much that will benefit him down the road.
"This is the most real class I have taken in my life," he said. "I am now more open than ever to a vast number of paths for the future — whether medicine, philanthropy, business, policy, or a combination thereof — and this is in the best way possible."