Brown University, Care New England, and Lifespan announced today that Dr. Steven Rasmussen has been selected as the new chair of the Department of Psychiatry and Human Behavior. The hiring is the third in a series establishing the clinical leadership of brain science research and treatment across the Alpert Medical School and its affiliated hospitals.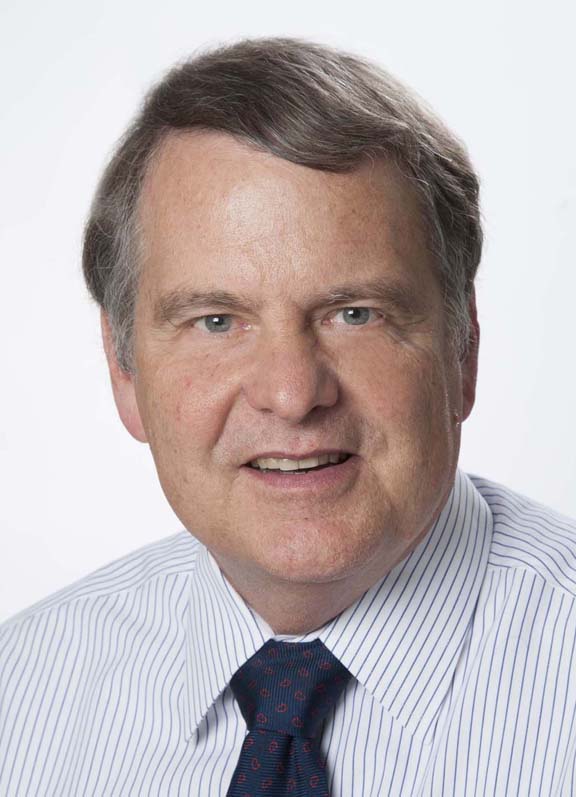 PROVIDENCE, R.I. [Brown University] — Dr. Steven Rasmussen, a clinician and scientist widely known for his research in developing circuit-based neuromodulatory treatments for psychiatric disorders, will serve as the new chair of the Department of Psychiatry and Human Behavior at The Warren Alpert Medical School of Brown University beginning Jan. 1, 2013. Brown announced the appointment, made jointly with Lifespan and Care New England on Monday, Nov. 26, 2012.
As chair of the department, Rasmussen is also appointed the Mary E. Zucker Professor of Psychiatry and Human Behavior.
Rasmussen's appointment marks an important milestone for brain science research and clinical care at Brown and the hospitals including the Providence VA Medical Center because it completes a series of three key hires of academic chairs and clinical chiefs over the last two years. Rasmussen joins Dr. Karen Furie, chair of neurology, and Dr. Rees Cosgrove, chair of neurosurgery, as leaders in a collaborative brain health initiative in Providence.
"In his work at Brown and Butler Hospital Steve has become a national leader in his field," said Dr. Edward Wing, dean of medicine and biological sciences at Brown. "As chair he will be a crucial part of the team that is working to further strengthen brain science research and treatment within the academic medical center of Brown, Care New England, Lifespan, and the VA. Dr. Rasmussen will coordinate research and education in psychiatry and brain science across the Brown teaching hospitals and the main campus. He has already been key to developing academic collaborations across the diverse departments, hospitals, and centers at Brown University during his three-year tenure as interim chair of psychiatry."
In 29 years at Brown University and Butler Hospital, Rasmussen has collaborated with Rhode Island Hospital neurosurgeons to develop, study, and implement precise treatments such as gamma knife surgery to treat obsessive-compulsive disorder and deep brain stimulation to treat depression. Rasmussen's successes at the cutting edge of new therapies illustrates the power of a physician-scientist operating in an academic medical center to translate research into benefits for patients, said John Donoghue, director of the Brown Institute for Brain Science.
"Steve is a widely recognized scientist, clinician, and leader in psychiatry," said Donoghue, the Henry Merritt Wriston Professor of Neuroscience and Engineering. "He has advanced innovative new circuit-based treatments for patients with debilitating psychiatric disorders. As part of our new clinical leadership in brain science, he'll be able to guide research-driven discoveries from the lab to the patient, not only within his department but also across the Institute. I am exceptionally pleased that he has been selected."
Last month Donoghue and Rasmussen helped to dedicate the new Center of Excellence for Neurorestoration and Neurotechnology at the Providence VA Medical Center, where Donoghue is the director and Rasmussen is co-leader of the research focus area on neuromodulation. The center will provide support for Rasmussen and several colleagues from Butler, Rhode Island Hospital, and the VA who study whether a variety of promising new electrical and magnetic brain stimulation technologies can treat problems including chronic pain, depression, and post-traumatic stress disorder.
Rasmussen, a Brown graduate (A.B. 1974, M.M.S. 1977, M.D. 1977), has spent his entire academic career at Brown and has served as interim chair of the department since 2009. He said his new appointment will allow him to advance several priorities for the highly regarded department, which earned more than $40 million of external research support in the last academic year.
"Top among our priorities is the continuing development of a close working relationship between the basic brain science and public health faculty on campus and the faculty in psychiatry," Rasmussen said. "The bridges that psychiatry has created between the campus and hospital faculty will pave the way for other clinical departments. Strengthening the ties will benefit the entire University community, as well as improving the health status and economic climate of Rhode Island."
Rasmussen won the new appointment after a competitive national search, conducted jointly by Brown, Lifespan, and Care New England.
Dr. Patricia Recupero, president and CEO of Butler Hospital where Rasmussen has been medical director since 1998, said Rasmussen has had a profound impact at Butler and across the country on the treatment, teaching, and research of brain-based illnesses.
"A pioneer in the field of psychiatry and brain science, Steve's research at Butler led to worldwide recognition of obsessive compulsive disorder and related illnesses as serious, widespread disorders," Recupero said. "A man of sterling qualities and character, Steve brought together clinicians and researchers from across the campus and hospitals in shaping the development of brain science and in advancing the diagnosis and treatment of major psychiatric illnesses."
In his new position, Rasmussen also gains an affiliation with Lifespan, where he will also see patients and participate in research. Lifespan President and CEO Dr. Timothy Babineau said he is excited for Rasmussen to join the Lifespan team.
"Steve has long been a vital part of the rich medical and scientific fabric of Providence," Babineau said. "His appointment is a critical one — it is the final step to support the growth of the Norman Prince Neurosciences Institute, bridging psychiatry with neurosurgery and neurology, and will further strengthen our collective role as a leader in the neurosciences. I am looking forward to our new partnership, which will allow all three institutions — Brown University, Care New England, and Lifespan — to collaborate more effectively and efficiently and to continue to improve patient care, outcomes, and quality of life for this growing patient population."