Summer doesn't mean a slower pace at Brown. With less than three months to complete their work, construction crews were working full-steam ahead, making improvements to several residence halls and the athletics complex.
PROVIDENCE, R.I. [Brown University] — It's a different campus from the one students left behind in May. Facilities management was hard at work over the summer months, wrapping up several major projects including residence hall renovations and improvements at the athletics complex.
In total, the work around campus created more than 300 construction jobs over the summer, including 38 jobs through Building Futures, an initiative that aims to help low-income workers move into careers in the construction trade through an apprenticeship program.
One of the most significant projects was completion of the first phase of a $67-million project that includes residence hall conversions and renovations to be finished next summer. In total, 1,000 beds were renovated over the summer, 85 of them new additions. The residence hall improvements will continue throughout the academic year and into next summer as well.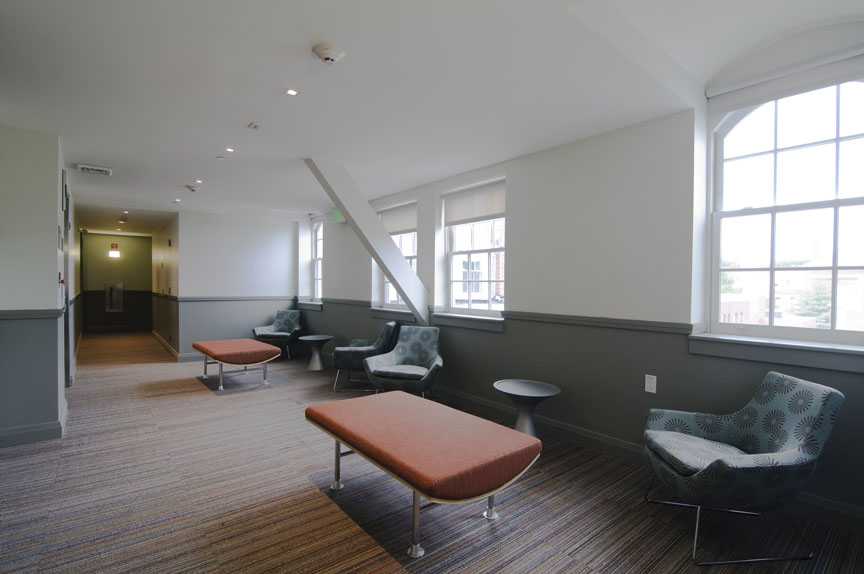 "At Brown, the primary goal is always education, and these ongoing enhancements to the residence halls will certainly add to the quality of the undergraduate program," said Margaret Klawunn, vice president for campus life and student services. "With the renovation of bedrooms and the addition of study spaces and common areas, these improvements will foster a more collaborative living environment and further intellectual engagement within the campus setting."
The residence hall work was done with energy-efficiency in mind, including LED lights, energy-saving thermostats and heating valves, and low-flow toilets, showers, and sinks. Miller and Metcalf Halls, two of the residence halls currently undergoing a complete renovation, are currently on track to acheive gold LEED certifications.
"Brown has been a busy place over the summer and we've made significant progress," said Michael McCormick, assistant vice president for planning, design and construction. "It's exciting to bring new life to buildings that have long been a part of the Brown landscape, making them more energy efficient while also enhancing the student experience."
Residence hall projects completed this summer include:
Keeney Quad — This summer, renovation of all bedrooms and courtyards was completed. All rooms were outfitted with new furniture, and three lounges were added to the top floor of the building. Next summer, all bathrooms and corridors will be upgraded, two elevators will be added, and all mechanical systems will be upgraded.
Miller and Metcalf Halls — Renovation of the entire structure is halfway completed, with another 145 beds scheduled to be finished by the beginning of the second semester.
Andrews Hall — Over the summer, all bedrooms, lounges, and corridors were renovated. Next summer, a lower-level dining hall will be tranformed into a student common area and 24-hour study space. The intent is for this space to become the heart of a new first-year residential complex on the Pembroke Campus that will include Miller, Metcalf, Andrews, Emery, Whooley, Morriss, and Champlin Halls.
315 Thayer — This former apartment building was given a complete overhaul that preserved the historic character of the building but created new living spaces to accommodate 59 suite-style private bedrooms.
Wayland Hall — The Offices of Residential Life and Campus Life, which formerly occupied the first floor of this building, were moved and the space was converted into student rooms, adding 34 beds.
Next summer's plans include the renovation of rooms and corridors in Hope College and the bathrooms of Hegeman Hall, which saw a renovation of its bedrooms a couple years ago.
In addition to the residence hall work, Facilities Management oversaw nearly $15 million in improvements to the athletics complex. A new roof was put on Pizzitola Sports Center, while the Meehan Auditorium roof was recoated. The Olney-Margolies Athletics Center (OMAC) received new flooring and wall surfaces. A temporary pool building, built to house aquatics sports while the new Fitness and Aquatics Center was being constructed, was dismantled. Outdoors, a new women's field hockey field was laid down, new lights and artificial turf were installed at Stevenson Field, and a new parking lot was constructed behind OMAC.