Brown University's Graduate School will celebrate its graduates, and several individual honorees, at its Commencement Convocation Sunday, May 27, 2012, on Lincoln Field.
PROVIDENCE, R.I. [Brown University] — At its 244th commencement May 27, 2012, Brown University expects to award more than 720 graduate degrees. Recipients of graduate degrees will be honored at the Graduate School Commencement Convocation at 10:15 a.m. on Lincoln Field.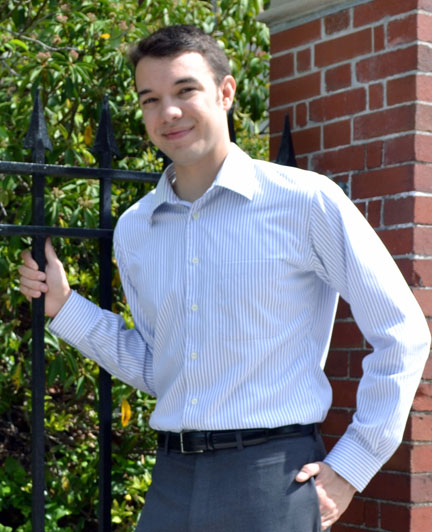 "Graduate students are an important part of the University's intellectual community, comprising one-quarter of the student population," said Peter M. Weber, who will preside over his second convocation as dean of the Graduate School. "Through training in methods, research, and teaching, those who entered as students depart as colleagues and contributors to their fields."
Honorees during the festivities — graduating students, alumni, faculty, and staff — will be recognized for work ranging from studies of ancient culture to research in modern science.
Christopher Kenneth Geggie, who will receive the Master of Arts in classics, is this year's graduate student orator. Geggie was selected by the Graduate Student Council's nominations committee to deliver an address titled "Nothing Without Great Labor."
Geggie received a Bachelor of Arts in both Latin and ancient Greek from Wabash College, Crawfordsville, Ind. At Brown, his studies focused on ancient bilingualism and Athenian political propaganda. His thesis explored myths as conceptual metaphors in fifth-century B.C. Athenian funeral orations for the war dead. An active member of the Graduate Student Council, he served as vice president for administration among other roles. He served on the University's Public Safety Oversight Committee as well as the Campus Life Advisory Board's Subcommittee on Alcohol and Other Drugs.
The Horace Mann Medal, first awarded in 2003 at the Graduate School's centennial, will be presented to Chao-Han Liu, a radio scientist and an international leader in solar terrestrial physics and global change research. Liu is Distinguished Scholar of Academia Sinica, where he served as vice president from 2006 to 2011. He was chancellor of the University System of Taiwan for four years and president of the National Central University in Taiwan for 12 years. This year he earned election as a foreign associate of the U.S. National Academy of Engineering, which cited his contributions to ionospheric research and international leadership in atmospheric remote sensing.
Four doctoral students, one each in the life sciences, the humanities, the physical sciences, and the social sciences, will receive the Joukowsky Outstanding Dissertation Prize:
Christian G. DuComb, Theatre and Performance Studies: From the Meschianza to the Mummers Parade: Racial Impersonation in Philadelphia
Breann L. Brown, Molecular Pharmacology and Physiology: The E. coli mqsRA Operon Defines a Novel Family of Toxin:Antitoxin Modules;
Sirui Tan, Applied Mathematics: Boundary Conditions and Applications of WENO Finite Difference Schemes for Hyperbolic Problems;
Hussein Banai, Political Science: Democracy in Context: Between Universal Ideals and Local Values.
Gail Cohee, director of the Sarah Doyle Women's Center, will accept the Wilson-DeBlois Award, given annually to an individual who has made outstanding contributions to graduate students and the Graduate School.
Earlier this month at the University Awards Ceremony, applied mathematics graduate student Jeffrey W. Miller received the President's Award for Excellence in Teaching. His interests include using technology to restructure courses and make information more accessible and exciting to students. He has developed numerous videos with soundtracks as teaching tools.
Also at that awards ceremony, Efstratios Papaioannou, associate professor of classics, received the Graduate School Faculty Award for Advising and Mentoring. He studies postclassical Greek literary and cultural history, especially late antique and Byzantine writing in its social context.