People who keep exotic pets need to know more than what to feed them. Are the animals wild-caught or captive-bred? Can they become vectors for exotic diseases? Are they endangered or likely to pose unusual problems? Three Brown students are developing reliable information sheets on pets from spiders to constricting snakes.
As freshmen in a conservation medicine class, Melanie Berger, Jane Chen, and Justin Dittmeier just wanted to pass the course. They got much more than that: After the class ended, their teacher Katherine Smith, research assistant professor of biology, recruited them to join her in the first nationwide effort to rank exotic pets.
The trio, now sophomores, have their fingerprints all over PetWatch, a website launched this week that guides consumers in their decisions about exotic pet ownership. The site was created by EcoHealth Alliance (formerly Wildlife Trust) and is similar in thinking to Seafood Watch, which allows consumers to learn the status of fish they're considering for dinner. Smith conceived the PetWatch project and has been a consulting scientist on it since 2007.
Smith sought the students' help with researching and writing education sheets. The sheets, 14 of them, are primers for people interested in purchasing an exotic pet. They include basic information on the animals, their status in the wild, how to handle them, and other useful tips. There is a sheet on non-native pets, which outlines the threat that exotic pets can have if released in the wild. Another tells potential buyers that exotic birds marketed by legitimate sellers will have leg bands and those bands will indicate whether the bird was captive-bred or wild-caught. Other sheets offer tips on spiders, constricting snakes, venomous snakes, shipping a pet, and the risks of giving an exotic pet as a surprise gift.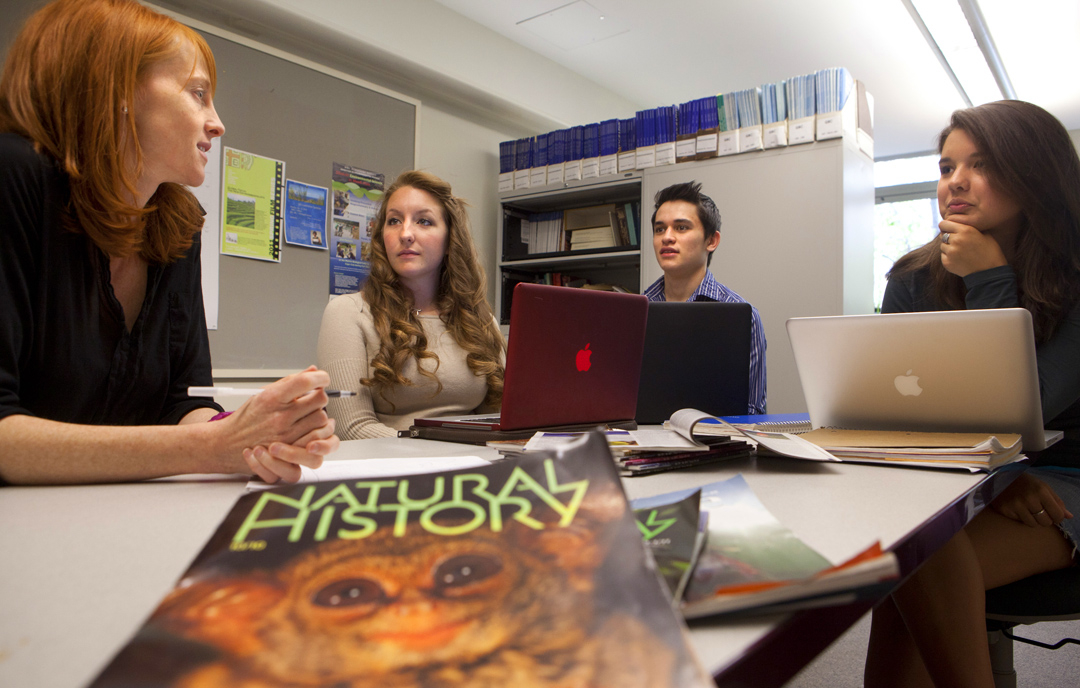 "We want the sheets to educate people and to include information to deal with problems they may have with their pets," Smith said. "This is a scientific project at its core."
The group traded ideas in January on which topics to cover and culled the list based on animals likely to be owned as pets or exotic animals that have been in the news.
"We just wanted them to be relevant and informative and not just include information that people already know," said Chen, from White River Junction, Vt., who is interested in how emerging and zoonotic diseases, including malaria, affect health care networks and systems.
"It's unbiased scientific information that was well researched," added Dittmeier, of Glenwood, N.J., who is interested in emerging diseases and how they can spread.
One sheet deals with how popular children's pets, such as hamsters, guinea pigs and gerbils, can give people a nasty-sounding virus called lymphocytic choriomeningitis. The students said there are few cases of diseases jumping from exotic pets to humans, but it is important that owners be aware.
"We're not trying to tell people it will happen," said Berger, of Castleton-on-Hudson, N.Y., who plans to become a veterinarian. "We're just saying there is that possibility."
Smith said the students were ideal for the project because each brought a different field of interest to the table, and they worked well together. "I specifically targeted those three," she said. "They seemed like a perfect union of students for this project."
In recognition of their work, the students attended an exclusive gala for donors last week. Armed with iPads, the three explained the new website's features, answered questions and mingled with the real stars of the occasion.
"There was a tortoise walking around on the floor that I had a chance to feed, while other guests held bearded dragons and looked at finches," Berger said.