September 12, 2012
401-863-1638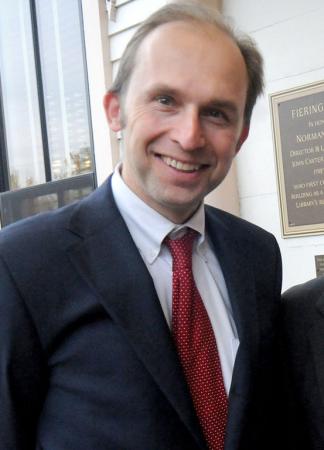 Ted Widmer, director and librarian at the John Carter Brown Library since 2006, has accepted a position as assistant to the president for special projects. He will also be a senior adviser to Secretary of State Hillary Clinton.
PROVIDENCE, R.I. [Brown University] — Ted Widmer, the Beatrice and Julio Mario Santo Domingo Librarian and Director of the John Carter Brown Library, has accepted a position as an assistant to President Christina Paxson for special projects. He will also be a senior adviser to Secretary of State Hillary Rodham Clinton.
Provost Mark Schlissel announced Widmer's new position in a message to the Brown faculty Wednesday.
"The John Carter Brown Library is one of the scholarly world's great treasures, and its collections are crucially important to scholars of the Americas," Schlissel said. "Under Ted's leadership substantial parts of those resources have become digitally available to scholars everywhere."
During Widmer's tenure at the JCB, from 2006 to the present, the library became one of the leading institutions in the world in the practice of digital librarianship. The library put thousands of books and maps online in high-resolution on thoughtfully designed websites, making the treasures of the JCB freely available around the world. This approach to digital materials, which originated with the "Remember Haiti" project of 2010, was welcomed by scholars in underserved areas and greatly expanded use of the library's collections. Widmer was particularly active in deepening the library's relationship with the developing world. He worked to save Haiti's oldest library in the aftermath of the January 2010 earthquake and to deepen the JCB's relationships with sister institutions throughout Latin America. He also was an early supporter of the World Digital Library, led by the Library of Congress.
Widmer also advanced the JCB's mission in other ways. He conceived the forthcoming John Carter Brown Library series of books with Oxford University Press and presided over a thriving fellowship program, including the 50th anniversary reunion conference in June 2012 and the opening of a new residence for fellows at 79 Charlesfield St. A number of significant gifts supported the library's academic mission on the Brown campus and beyond. During Widmer's tenure, a $1.5-million donation established the George S. Parker Curatorship of Maps. Another $1-million gift created the Hodson-Trust Fellowship for nontraditional scholars, and a series of gifts from David Rumsey and John Carter enabled the JCB to define and pursue its leadership role in the digital landscape.
"Ted has made lasting contributions during his time at the JCB," said Brown President Christina Paxson. "I am delighted that although he will have part-time duties in our nation's capital, he has agreed to join my team at this important moment. His depth of knowledge about the University and its storied history, together with his expertise as a writer and a scholar, will be exceedingly valuable as we approach the 250th anniversary of Brown's founding."
"I'm grateful to everyone in the JCB community for the privilege of serving this great institution these last six years," Widmer said. "The JCB matters to the world more than ever, thanks to our growing global reach and a collection that constantly deepens. I will be working on some new assignments, and I'm pleased that one of them includes working with President Paxson at a most exciting time at Brown."
After consulting with senior members of the JCB's Board of Governors, Paxson has asked Harriette Hemmasi, University librarian, and Joseph Meisel, deputy provost, to provide day-to-day oversight of the JCB's staff and operations until a new JCB director is hired.
"Harriette and Joe have been working with Ted on various aspects of management of the library over the last several months and, as a consequence, they know the library and the staff very well," Paxson said. "I am grateful for their willingness to step in."
The search for Widmer's successor at the JCB will begin as soon as possible. Schlissel will chair the search and will work with the JCB board to identify a successor.
Editors: Brown University has a fiber link television studio available for domestic and international live and taped interviews, and maintains an ISDN line for radio interviews. For more information, call (401) 863-2476.