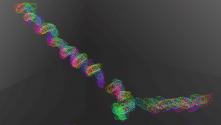 July 21, 2014
Using a new technique to track the swimming motion of a single bacterium, researchers have discovered that the movement of the bacterium's body — not just thrust from the flagellum — allow movement through fluids. The finding could shed new light on the evolution of cell body shape.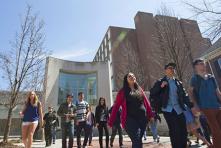 July 18, 2014
The architecture firm KieranTimberlake will design a new building for Brown's School of Engineering. The facility will provide new lab space for the School's expanding research efforts. Construction is scheduled to begin in 2015.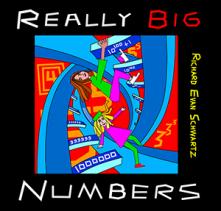 July 31, 2014
A new children's book written and illustrated by a Brown mathematics professor Richard Schwartz takes readers on a visual journal through the infinite number system. Schwartz hopes Really Big Numbers will help inspire a love of math in young readers.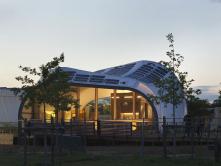 July 15, 2014
The 2014 Solar Decathlon has drawn to a close. The RISD/Brown/Erfurt team brought home top ten finishes in four events, along with an experience they'll never forget. Techstyle Haus, their one-of-a-kind solar home, now heads for its final stop — an arts retreat in France where it will serve as housing for visiting artists.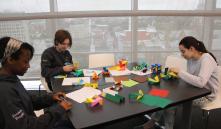 July 24, 2014
From Thomas Jefferson's own cipher to the algorithms that enable digital image editing, math offers an almost limitless menu of experience. Thirty-one 10th- and 11th-grade girls plunged in at
GirlsGetMath@ICERM
camp this month.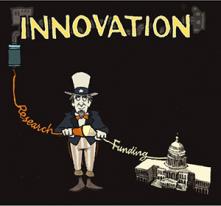 July 31, 2014
On July 31, 2013, more than 160 university leaders including Brown University president Christina Paxson called for Congress and the President to support federal research funding. Today, one year later, they renewed that call.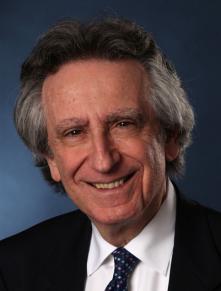 Questions for Dr. Eli Adashi
July 22, 2014
Sexually active gay men face a lifetime ban on blood donation in the United States. In a newly published commentary, Dr. Eli Y. Adashi argues it is time for the United States to replace the outdated and discriminatory ban with a modern, fair, and sensible approach.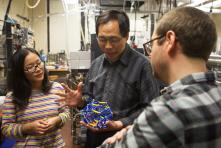 July 9, 2014
The discovery of buckyballs — soccer-ball-shaped molecules of carbon — helped usher in the nanotechnology era. Now, Lai-Sheng Wang's research group and colleagues from China have shown that boron, carbon's neighbor on the periodic table, can form a cage-like molecule similar to the buckyball. Until now, such a boron structure had only been a theoretical speculation. The researchers dubbed their newfound nanostructure "borospherene."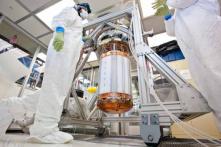 July 17, 2014
LUX-ZEPLIN, a dark matter search experiment co-founded by Brown physicist Rick Gaitskell, is among the "next generation" of dark matter searches endorsed by DOE and NSF. The new detector will build on the work done by the LUX experiment, which is currently operating deep underground in South Dakota. Construction on the supersized detector is scheduled to begin in 2016.