April 17, 2012
401-863-1638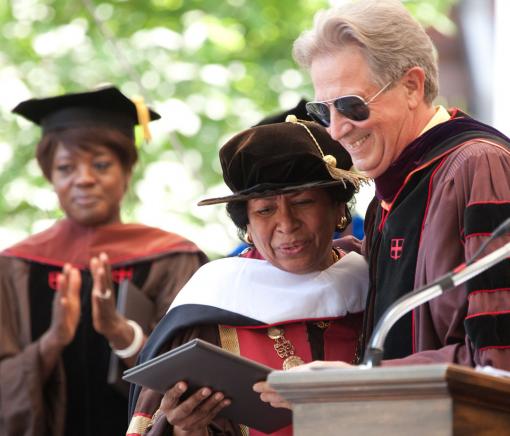 During its 244th Commencement, will confer nine honorary doctorates:
Carolyn Bertozzi
, biochemist;
Viola Davis
, actress;
John Lewis
, civil rights leader;
Marilynne Robinson
, writer;
Sebastian Ruth
, musician;
Diane Sawyer
, journalist;
Gene Sharp
, political theorist;
Ruth J. Simmons
, 18th president of Brown University; and
Wei Yang
, engineer. [
Editors: This updates the honorary degree release distributed April 17. The degree for President Simmons was an unannounced Commencement surprise.
]
PROVIDENCE, R.I. [Brown University] — Nine people who have distinguished themselves through their efforts in the arts, sciences, letters, scholarship and public service will receive honorary degrees from Brown University at Commencement on Sunday, May 27, 2012:
Honorary degrees are awarded by the University's Board of Fellows and are conferred by the University president — in English and in Latin — during Commencement exercises on the College Green.
None of the recipients will speak at the Commencement ceremony; that honor has been reserved since the University's earliest days for two members of the graduating class. Several of the honorands will, however, participate in Commencement forums and other public presentations during Commencement Weekend. Information about times and places for these and other Commencement presentations will be available from the Office of Media Relations and on the University's 2012 Commencement webpage.
Editors: This version (May 27, 2012) updates the honorary degree release distributed April 17. The degree for Simmons was an unannounced Commencement surprise.
Carolyn Bertozzi Chemist and immunologist
Doctor of Science (Sc.D.)
Text of citation
Carolyn Bertozzi, the T.Z. and Irmgard Chu Distinguished Professor of Chemistry and professor of molecular and cell biology at the University of California–Berkeley, is regarded as the developer of bioorthogonal chemistry, a field that has developed a large and important array of new research and clinical techniques. Bioorthogonal reactions are nontoxic and do not interact with biological functions, yet they take place within complex living systems and at a speed that can deliver real-time information about biological and cellular processes. Using bioorthogonal techniques, researchers and clinicians can, for example, selectively tag or label biological molecules and observe precise biochemical reactions to understand the function of proteins, the activity of viruses, or a cascade of interactions on the molecular level.
Originally from the Boston area, Bertozzi completed her undergraduate degree in chemistry at Harvard University in 1988, then moved to California to continue her studies. She completed her Ph.D. in chemistry at the University of California–Berkeley in 1993. After postdoctoral work at the University of California–San Francisco in cellular immunology, she joined the Berkeley faculty in 1996. She focuses on translating bioorthogonal chemistry into new approaches for in vivo imaging, disease biomarker identification, and biotherapeutic development. Several of her inventions have been commercialized for diagnostic and therapeutic applications.
She and her work have received many honors. She was elected to membership in the National Academy of Sciences in 2005 at the age of 39 — one of the youngest chemists ever to receive that honor. Bertozzi is a fellow of the American Academy of Arts and Sciences and the German Academy of Sciences Leopoldina, the world's oldest academy for the natural sciences. Her awards include the Lemelson-MIT Prize, Ernst Schering Prize, MacArthur Foundation "Genius Award," and the American Chemical Society's Award in Pure Chemistry among many others.
Students and colleagues at Berkeley have honored her as a teacher as well. She has received the UC Berkeley Distinguished Teaching Award, the Donald Sterling Noyce Prize for Excellence in Undergraduate Teaching and Outstanding Graduate Student Instructor Awards. Bertozzi participates in high-school outreach programs, including the Catalyst Program sponsored by the Camille and Henry Dreyfus Foundation, and in programs that promote the participation of women in science.
Viola Davis Actress
Doctor of Fine Arts (D.F.A.)
Text of citation
Audiences across the United States and internationally have admired Viola Davis for her work in film, television, and the theater — most recently for her celebrated, Oscar-nominated portrayal of Aibileen Clark in The Help. In little more than 15 years as a professional actress, Davis has given her audiences a substantial list of performances: appearances in 23 films, more than 40 episodes of television dramas, seven Broadway and off-Broadway productions, and a cascade of awards and nominations.
Nearly a native of Rhode Island, she moved with her family from South Carolina to Central Falls when she was two months old, the second-youngest of six children. She attended public schools, including Central Falls High School, where she had her first significant involvement in the arts, particularly the craft of acting for the stage. While at Central Falls, Davis entered the TRIO Upward Bound program, a federally financed effort to provide students from low-income, disadvantaged backgrounds a better opportunity to attend college.
Davis continued her studies at Rhode Island College, where she was a theater major, graduating in 1988. She worked at Trinity Repertory Company, appearing in August Wilson's Joe Turner's Come and Gone during the 1988-89 season, and studied theater for four years at the Juilliard School with support from the Rhode Island Foundation. She returned to the Rhode Island College campus to receive an honorary Doctor of Fine Arts degree in 2002.
Davis began her acting career on the stage. Her 2001 portrayal of Tonya in King Hedley II brought her a Tony Award and a Drama Desk Award for the best featured actress in a play. She won her second Tony Award in 2010 for her role as Rose Maxson in the Broadway revival of August Wilson's Fences. (She was the second African American woman to win the award, after Phylicia Rashad.)
Her television credits include episodes of more than two dozen shows from NYPD Blue (her first, in 1996) to Providence, Law and Order, CSI, Jesse Stone, Without a Trace, and United States of Tara (2009), which brought her a nomination for the NAACP's Image Award for outstanding supporting actress in a comedy series.
John Lewis Civil rights leader and U.S. Representative
Doctor of Laws (LL.D.)
Text of citation
Honored for his courage and leadership in the Civil Rights Movement, John Lewis has dedicated his life to protecting human rights, securing civil liberties, and building what he calls "The Beloved Community" in America. His dedication to the highest ethical standards and moral principles has won him the admiration of colleagues on both sides of the aisle in Congress. Minority Leader Nancy Pelosi has called him "the conscience of the U.S. Congress."
He was born to sharecroppers on Feb. 21, 1940, near Troy, Ala. He grew up on his family's farm and attended segregated public schools in Pike County. As a young boy, he was inspired by the activism surrounding the Montgomery bus boycott and the words of the Rev. Martin Luther King Jr., which he heard on radio broadcasts. As a student at American Baptist College, Lewis organized sit-ins at segregated lunch counters in Nashville, Tenn. In 1961, he volunteered to participate in the Freedom Rides, which challenged segregation at interstate bus terminals across the South. He was beaten severely by angry mobs and arrested by police for challenging the injustice of Jim Crow segregation in the South.
In 1963, Lewis was named chairman of the Student Nonviolent Coordinating Committee (SNCC), which he helped form. At the age of 23, as an acknowledged leader in the Civil Rights Movement, he helped organize and delivered the keynote address at the historic March on Washington in August 1963. On March 7, 1965, Lewis and Hosea Williams led more than 600 peaceful protestors across the Edmund Pettus Bridge in Selma, Ala., on a march to Montgomery to demonstrate the need for voting rights in the state. The marchers were attacked by armed police in a brutal confrontation that became known as "Bloody Sunday." News broadcasts and photographs helped hasten passage of the Voting Rights Act of 1965. Despite physical attacks, serious injuries, and more than 40 arrests, Lewis maintained his lifelong dedication to nonviolent change.
Lewis continued his work for civil rights after leaving SNCC in 1966, focusing on voter education and voter rights. As director of the Voter Education Project, he led efforts that added nearly 4 million minority voters to the rolls, transforming the nation's political life. In 1977, President Jimmy Carter appointed Lewis to direct more than 250,000 volunteers in ACTION, the federal volunteer agency.
Lewis's career in public office began in 1981 with his election to the Atlanta City Council. In November 1986, he ran successfully for the U.S. Congress, elected to represent Georgia's Fifth District, a position he has held ever since. The Fifth District includes the entire city of Atlanta and parts of three counties (Fulton, DeKalb and Clayton). He serves as the Democrats' senior chief deputy whip, is a member of the House Ways and Means Committee, a member of its Subcommittee on Income Security and Family Support, and chairman of its Subcommittee on Oversight.
Marilynne Robinson Writer and educator
Doctor of Letters (Litt.D.)
Text of citation
Novelist and essayist Marilynne Robinson is a 1966 graduate of Brown University (A.B., English, magna cum laude, Phi Beta Kappa). She has written three highly acclaimed novels: Housekeeping (1980), Gilead (2004), and Home (2008).
Her first novel, Housekeeping, was a great success when it appeared in 1980, although its eventual reception in the market was not clear at the outset. A writer friend read it and loved it, Robinson told the Paris Review in 2008. His agent read it, loved it, and offered to represent it "although it could be difficult to place." An editor at Farrar, Straus and Giroux was happy to publish it, "but it probably won't be reviewed." But an early review in the New York Times sent the work on its way. It won the PEN/Ernest Hemingway Award for First Fiction, the Richard and Hinda Rosenthal Award from the Academy of American Arts and Letters, and nomination for the Pulitzer Prize. But more than 20 years would pass before her second novel, Gilead, would appear. It too was well received, winning the National Book Critics Circle Award and the Pulitzer Prize.
Robinson received her Ph.D. in English from the University of Washington in 1977. She has been a frequent lecturer and workshop leader at universities in the United States and the United Kingdom. She presented Yale University's Dwight H. Terry Lectures in 2009, titled Absence of Mind: The Dispelling of Inwardness from the Modern Myth of the Self, which led to her 2010 volume of essays of the same name. She delivered Oxford University's Esmond Harmsworth Lecture in American Arts and Letters. Robinson now teaches at the University of Iowa Writers' Workshop.
In addition to the PEN/Hemingway Award and Pulitzer Prize, Robinson has been honored with the Orange Prize for Fiction (2009), the Louisville Grawemeyer Award in Religion, and fellowship in the American Academy of Arts and Sciences. Her novel Housekeeping was included in The New York Times Books of the Century and listed as one of the 100 greatest novels of all time by the Guardian Observer (U.K.).
Sebastian Ruth Musician and educator
Doctor of Music (Mus.D.)
Text of citation
Violist and violinist Sebastian Ruth is pioneering new opportunities for urban youth and developing a range of possibilities for professionally trained musicians that extends far beyond the concert hall. He is the founder and artistic director of Community MusicWorks, a nonprofit organization that uses music education and performance to enrich the lives of youth and families and to strengthen the local community — all of it from a storefront in the West End of Providence, R.I.
Ruth founded Community MusicWorks in 1997 after his graduation from Brown. The proposition — placing a classical string quartet in an urban storefront and offering free musical instruction to the community — may have seemed quixotic at first, but the idea has taken a firm hold and attracted national attention. As a student at Brown, Ruth worked with education reformer Theodore Sizer and other mentors on a project that explored the relationship between moral education and music. As community educators, Ruth and fellow members of the Providence String Quartet, the resident ensemble at MusicWorks, continue to pursue and examine a vision that uses music as a tool for nurturing the community, in much the same way as public libraries, health clinics, youth recreation programs, and neighborhood organizations. The quartet lives in the neighborhood it serves.
Community MusicWorks provides long-term loans of instruments for its students, who range from primary grades through high school. Members of the Providence String Quartet provide instruction, close mentoring, and an extensive exposure to music that now includes artists-in-residence, commissions for new musical works, and fellowships for conservatory-trained young musicians.
The Community MusicWorks model is spreading. Ruth serves on the board of the International Musical Arts Institute and on the advisory board of Music Haven, a nonprofit in New Haven, Conn., that is modeled after Community MusicWorks. He and his colleagues have been recognized for their work. Community MusicWorks received the 2010 National Arts and Humanities Youth Program Award from First Lady Michelle Obama. Strings Magazine named Ruth among the 25 most influential people in the string music world for 2012, and Ruth received a MacArthur "Genius Award" in 2010.
"As organizations inspired by Community MusicWorks take root in New Haven and Boston," the MacArthur Foundation wrote in its announcement, "Ruth is creating rewarding musical experiences for often-forgotten populations and forging a new, multifaceted role beyond the concert hall for the twenty-first-century musician."
Diane Sawyer Broadcast journalist
Doctor of Letters (Litt.D.)
Text of citation
Diane Sawyer is among the best-known broadcast journalists in the United States. As anchor of ABC's flagship "World News" program since December 2009, Sawyer has reported from locations around the world: from Afghanistan with Gen. Stanley McChrystal and President Hamid Karzai; from Tucson after the shooting of Rep. Gabrielle Giffords; from Japan after last year's earthquake, tsunami, and nuclear emergency.
Early in her career, after three years at WLKY-TV in her native Louisville, Ky., Sawyer served as part of the Nixon-Ford transition team and assisted President Nixon with the writing of his memoirs in 1974 and 1975. She entered national network news with CBS in 1980 as the first female correspondent on "60 Minutes" and co-anchor of the "CBS Morning News." She was State Department correspondent for CBS and helped cover the national nominating conventions in 1980, '84, and '88.
Sawyer moved to ABC early in 1989, first as co-anchor of "Primetime" and in 1999 as co-anchor of both "Primetime" and "Good Morning America." When she took over the anchor chair at "World News" in December 2009, "Good Morning America" had recently celebrated its third consecutive Emmy Award for outstanding morning program.
In more than four decades of reporting, Sawyer has covered pivotal historical events in the United States and abroad: the World Trade Center attacks, wars in Iraq and Afghanistan, Hurricane Katrina, and the collapse of the Soviet Union, during which she made her way into the office of Boris Yeltzin. Her documentary work has brought important issues to viewers and has been recognized with some of the most prestigious awards in U.S. journalism, including duPonts, Emmys, Peabodys, and the Lifetime Achievement Award from the Investigative Reporters and Editors Association. In 1997, Sawyer was inducted into the Television Academy Hall of Fame.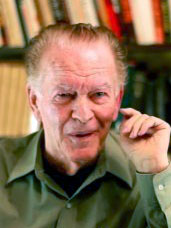 Gene Sharp Political theorist, scholar of nonviolent struggle
Doctor of Humane Letters (L.H.D.)
Text of citation
In an academic and professional career spanning more than six decades, Gene Sharp has articulated and advanced the cause of nonviolent action for change. His ideas and writings and his close study of Gandhi and dictatorships have informed nonviolent struggles for freedom around the world.
A social sciences graduate of Ohio State University (B.A., 1949, with honors in political science, debate, and sociology), Sharp continued his studies at Ohio State, earning his Master of Arts in sociology in 1951. He concentrated in sociological theory with additional work in inter-group relations, social psychology, and anthropology. He wrote his master's thesis on the sociology of nonviolence.
From 1951 until 1955, Sharp was in New York City conducting independent studies on the history of nonviolent action and the life and work of Gandhi. That work led to his first book, Gandhi Wields the Weapon of Moral Power: Three Case Histories, completed in 1953 and published in 1960 with a foreword by Albert Einstein. Also during those New York years, Sharp was arrested for civil disobedience to military conscription during the Korean War, for which he spent nine months in prison.
In 1955, he became assistant editor of Peace News in London. Later, he was a lecturer at the Institute for Philosophy and the History of Ideas of the University of Oslo and a research associate at the Institute for Social Research in Oslo.
From 1960 to 1964 he undertook doctoral studies at St. Catherine's College, Oxford, His D.Phil. from Oxford, awarded in 1968, focused on theories of the nature of political power and the history, methods, and dynamics of nonviolent struggle.
In 1965 he became a research associate at the Center for International Affairs at Harvard University, a position he held for nearly 30 years. He also was professor of political science and sociology at the University of Massachusetts–Dartmouth. In 1983, Sharp founded the Albert Einstein Institution, a nonprofit organization that supports research and policy studies on strategic nonviolent action and has consulted with resistance and pro-democracy groups in Burma, Thailand, Tibet, Latvia, Lithuania, Estonia, Belarus, and elsewhere. He continues as senior scholar at the Albert Einstein Institution in Boston and professor emeritus of political science at the University of Massachusetts–Dartmouth.
In several books in English and writings in almost 50 languages, Sharp has provided both the theory and strategies for toppling dictators and achieving democratic change. Media reports have linked his work to movements from Bosnia and Burma to the Arab Spring. "I think if my work had an influence, I'm happy for that," he told Al Jazeera. "I don't claim that and I don't have hard evidence, and I claim very little for myself. Other people have been doing this kind of work, and doing this writing. The people who actually do the struggles are the ones who deserve the credit, not me."
Ruth J. Simmons 18th President of Brown University
Doctor of Humane Letters (L.H.D.)
Text of citation
Announced as Brown University's 18th president in November 2000 and installed in July at the start of the next academic year, Ruth J. Simmons gave the University a broader scope and more ambitious vision, established a coherent and unifying strategic plan, led it confidently through the worst economic conditions in a generation, and leaves the University well prepared to realize its potential in the 21st century.
Simmons's impact on the University was substantial and sudden. Within months of taking office, the broad outlines of her vision for the University became clear: a substantially larger and better supported faculty, a major new commitment to financial aid, expanded academic programs including an array of new seminars for first-year students, a larger and more selective graduate school, enhanced international programs and collaborations, major new investments in medical education, even a comprehensive plan to revitalize and develop the historic College Hill campus while planning for expansion beyond College Hill. Simmons placed all of that before the Brown Corporation, the University's governing body, at its February 2002 meeting — the second Corporation meeting of her presidency. She received an enthusiastic reception. The Corporation endorsed her proposals, asked for a more finely detailed plan, and immediately approved what had been a University goal for more than a decade: the moral and financial commitment to need-blind undergraduate admission.
"President Simmons gave us a new idea of what is possible," said Rajiv Vohra, dean of the faculty at the time. Virtually every corner of the University — from dining services to Graduate School, University police to Faculty Executive Committee — had a role to play in that new idea. The University's achievements across a very broad front appeared in regularly published progress reports on the Plan for Academic Enrichment, and the "new idea of what is possible" inspired unprecedented commitments of support from alumni, parents, and friends.
Committed to the academic model of research, investigation, informed argument and open, respectful discussion, Simmons was able to deal with complex, challenging, and potentially divisive issues. Her initiation of a three-year inquiry into the University's earliest roots in a Colonial society that tolerated and profited from slavery became a model for institutional discussion of difficult questions. Slavery and Justice, the steering committee's final report, led to a number of University responses, including an investment in schools on behalf of the children of Providence and the decision to commission a memorial for the Front Green.
Simmons has remained a popular, iconic presence throughout her presidency. "Ruth's leadership at Brown has been monumental. From the moment of her arrival in Providence, Ruth has inspired our community to raise our sights while providing the wisdom, direction, and leadership to achieve our highest aspirations," said Chancellor Thomas J. Tisch, when Simmons announced her intention to step down at the conclusion of the current academic year. "She has paid careful attention to every critical facet of the University, from renewing our commitment to shared governance, to reaffirming our essential role in tackling even the thorniest issues through respectful and informed civil discourse."
Wei Yang Engineer and President of Zhejiang University
Doctor of Science (Sc.D.)
Text of citation
Wei Yang, president of China's Zhejiang University, is an internationally celebrated engineer and materials science researcher, educator, and administrator. He is a Ph.D. graduate of Brown University.
Born in Beijing, Yang was educated in the United States and China (B.S., Northwestern Polytechnic University, 1976; M.S., Tsinghua University, 1981; Ph.D., Brown University, 1985). Four years after earning his Ph.D., Yang was promoted to a full professor of engineering at Tsinghua University, the youngest person ever to achieve that rank.
In addition to continuing an active and very productive career as a research engineer in fracture mechanics, mechatronic reliability, and micro/nanomechanics (11 books and 211 technical papers in internationally refereed journals), Yang has served in a number of national and international positions as an educator and administrator. He became director of the Failure Mechanics Laboratory of the Chinese Ministry of Education in 1993. For seven years (1997–2004), he headed the Department of Engineering Mechanics at Tsinghua, also serving for a time as executive dean of the Aerospace School. From 2004 to 2006, he served as director-general of the Academic Degrees Committee of the State Council of China and also headed the Directorate of Graduate Education. He began as president of Zhejiang University, one of China's largest and oldest universities, in 2006.
As head of the Chinese Academy of Sciences Technological Science Division, Yang has had extensive international scientific experience. He has served as regional editor for several journals in the field of composite materials and has been on the editorial boards of the International Journal of Fracture, Fatigue & Fracture of Engineering Materials & Structures, and the Archive of Applied Mechanics, among several others. Early in 2009, Yang became widely known for a stern and dedicated fight against scientific misconduct, dealing strictly with researchers found to have engaged in misconduct and proactively developing training programs to support scientific integrity. Organizations and journals, Nature among them, praised his zero tolerance policies.
Yang has supported and worked for collaborations with universities in the United States, Germany, the Netherlands, Singapore and elsewhere. His own postgraduate students — more than 40 of them — have extended his international reach. More than 10 of them hold engineering faculty positions in the United States and Europe. He has been honored extensively for his efforts, including the 2009 Brown University Engineering Alumni Medal.
Editors: Brown University has a fiber link television studio available for domestic and international live and taped interviews, and maintains an ISDN line for radio interviews. For more information, call (401) 863-2476.