As the Merce Cunningham Dance Company's international Legacy Tour nears an end, 16 Brown students will perform in a "MinEvent," bringing the choreography of the great American dance master to College Hill.
When senior Lizzie Feidelson '11.5 takes the stage in the Family Weekend Dance Concert, her movements will honor two legacies: one of the late renowned choreographer Merce Cunningham and one even more personal — of her grandmother. Even better, the two are intertwined.
Coinciding with the Merce Cunningham Dance Company's (MCDC) two-year international Legacy Tour celebrating Cunningham's profound artistic achievements in modern dance, Feidelson and 15 other Brown students will perform a "MinEvent" on the 30-by-30-foot dance floor in the intimate Ashamu Dance Studio. A MinEvent is an abbreviated version of Cunningham's signature, site-specific choreographic collages, called "Events," which he often created for unconventional performance spaces. The work here is one of a handful taking place around the country at universities and conservatories this fall, as the Legacy Tour concludes and the MCDC officially dissolves.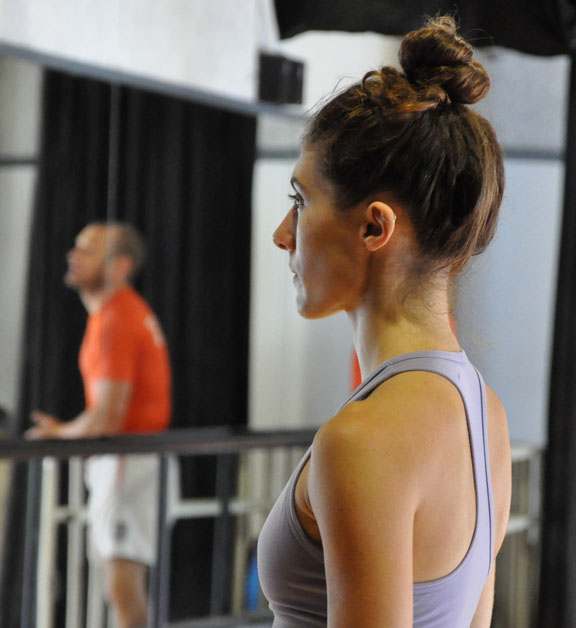 A lifelong dancer, Feidelson spearheaded the effort to bring Cunningham's choreography to College Hill. In addition to her experience interning at the Cunningham Dance Foundation and taking classes at the Merce Cunningham Studio in spring 2010, Feidelson had a more personal reason. Her grandmother, Marianne Preger-Simon, danced in Merce Cunningham's original company when it formed in 1953. Feidelson, a Brookline, Mass., native, even vaguely remembers meeting the famed choreographer when she was about 10 years old. Preger-Simon will be in the audience Sunday afternoon watching her granddaughter.
"Throughout my evolving interest in dance, my grandmother has always been an amazing and supportive presence. But she's always delighted in Merce's choreography above all other dance forms and styles," said Feidelson, a double concentrator in literary arts and modern culture and media. "It simply makes me really happy to be able to perform the kind of dancing that I know she'll truly enjoy seeing."
Supported by several departments and the Creative Arts Council's Lawton-Fitt Artist-in-Residence Fund, Brown licensed a Cunningham work and brought former MCDC member Daniel Squire to campus for two weeks this fall. Squire danced with MCDC from 1998 to 2009 and still teaches at the Merce Cunningham Studio in Greenwich Village. In addition to staging the MinEvent for the Brown students, Squire led classes in technique and dance history on campus, sharing anecdotes about what it was like to work with Cunningham and providing students with personal insight and a context for approaching the work.
"Dance is passed on through the oral tradition," said Julie Strandberg, director of dance in the Department of Theatre Arts and Performance Studies. "Even though there are ways of recording dances — video tape, notation — there is still information that only dancers can pass on to each other. Working with Daniel, who worked intimately with Merce Cunningham, makes each of these Brown student dancers one degree of separation from one of the great creative giants of the 20th century."
Collaboration and chance
In the spirit of Cunningham's legendary collaborations with cutting-edge artists, including composer John Cage and visual artist Robert Rauschenberg, theMinEvent" at Brown is both collaborative and interdisciplinary, involving several departments at both Brown and the Rhode Island School of Design (RISD). Sets are being created by Brown visual art students, costumes have been designed and constructed by RISD apparel students, and another MCDC veteran, Stephan Moore, will perform a live, improvised score. Moore, currently a graduate student in Brown's Multimedia and Electronic Music Experiments (MEME) program, performed more than 250 concerts with the MCDC between 2004-2010, serving as its sound engineer and music coordinator and as a touring musician.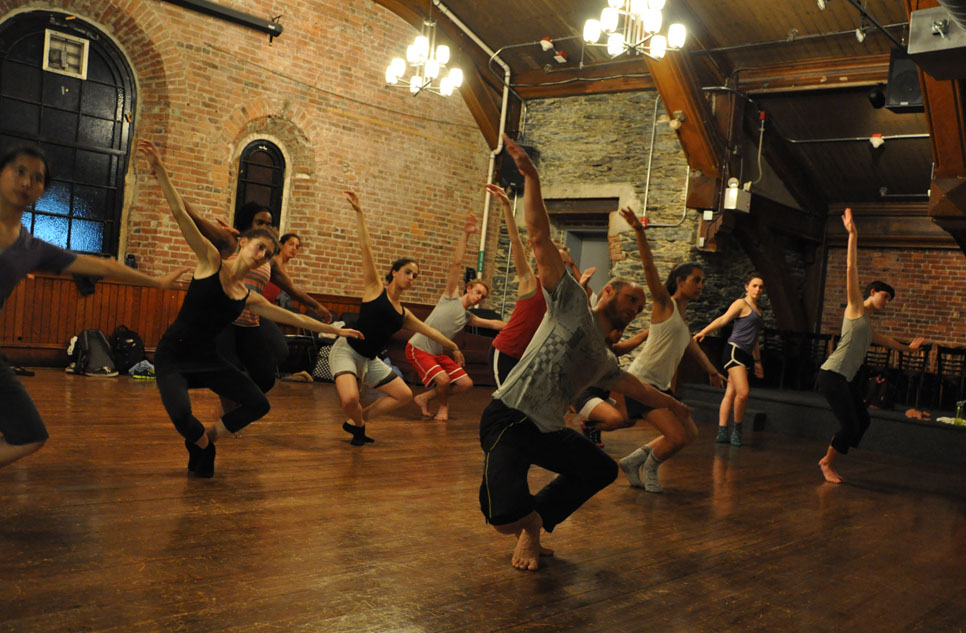 Moore's score will be heard by the Brown dancers for the first time during their final dress rehearsal this week, carrying on a signature of Cunningham's work — the notion that choreography, score, scenic design, and costumes should be created independently and come together at the final rehearsals or first performance. Beginning with early collaborations in the 1940s and 50s, Cunningham and Cage worked separately on the choreography and the musical composition, allowing what Cunningham called "a feeling of freedom for the dance," which led to large discoveries in his work.
This weekend's MinEvent performances, featuring two men and 14 women, will each include portions of five Cunningham works: Loosestrife (1991), Un jour ou deux (1973), Scramble (1967), Roaratorio (1983), and Canfield (1969). But the performances will differ slightly, thanks to another Cunningham signature: chance procedure. Cunningham often used chance — throwing dice or flipping a coin — to help him discover possibilities beyond his imagination. Similarly, Squire flipped coins to determine each dancer's facings, cues, and order in particular sections.
Squire said it was gratifying to teach both the techniques and methods that he learned directly from Cunningham. "He's had a huge influence on the way a lot of people think about dance and the possibility of performance and space," Squire said. "It's just had such a huge effect on the way a lot of artists and disciplines work, so how could it not be important to teach?"
Having Squire in residence has not only given Brown student dancers in-depth access to the work of a master in the field of modern dance, the Family Weekend Dance Concert also presents a timely opportunity for the Brown and Rhode Island communities to experience and engage with Cunningham's work in the months before his company officially disbands.
"With the company and the Merce Cunningham Studio dissolving, universities will have a huge role in the way students and young dancers come into contact with Merce's work in the future," Feidelson said. "At this point, whether or not students are exposed to Merce's work depends in large part on universities making a concerted effort to incorporate his work into their curriculum. The fact that Brown and RISD students are studying Cunningham at this time represents a crucial starting point in creating a viable and living future for this work."