As classes begin, this year's first-year, transfer and Resumed Undergraduate Education students are settling into living and learning on College Hill.
PROVIDENCE, R.I. [Brown University] — It's been a busy couple of weeks for Brown's newest students. Arriving on College Hill from 47 states and 64 countries, Brown's 1,723 incoming undergraduates (see more demographic info here) have said goodbye to loved ones, moved into residence halls, traveled through the Van Wickle Gates, attended Convocation and navigated a busy schedule of Orientation events. And now, they're in the throes of shopping classes as they begin their journey through the Open Curriculum.
It's a lot to take in — but these are not your average students. This year's cohort of first-year and transfer students have invented life-saving medical devices and logged thousands of hours volunteering in their communities. They've advocated for political change and overcome daunting obstacles. They've lived in mountain yurts and worked in the commercial fishing industry. They've won numerous athletic competitions and given hundreds of valedictorian speeches. And these are just a few of their many accomplishments. 
While each new Brown student has their own unique story and successes, some common inspirations connect them: a fierce intellectual curiosity, a commitment to changing the world for the better and a desire to give back to the people and communities who've helped them along the way.
Here are a few of their stories — profiles of six students who are sure to each make an indelible mark on Brown's unique academic community.
Leo Stevenson
Isabel Riches
Sherenté Harris
Maria Teresa Conchas
Eve Glenn
Noah Hoffman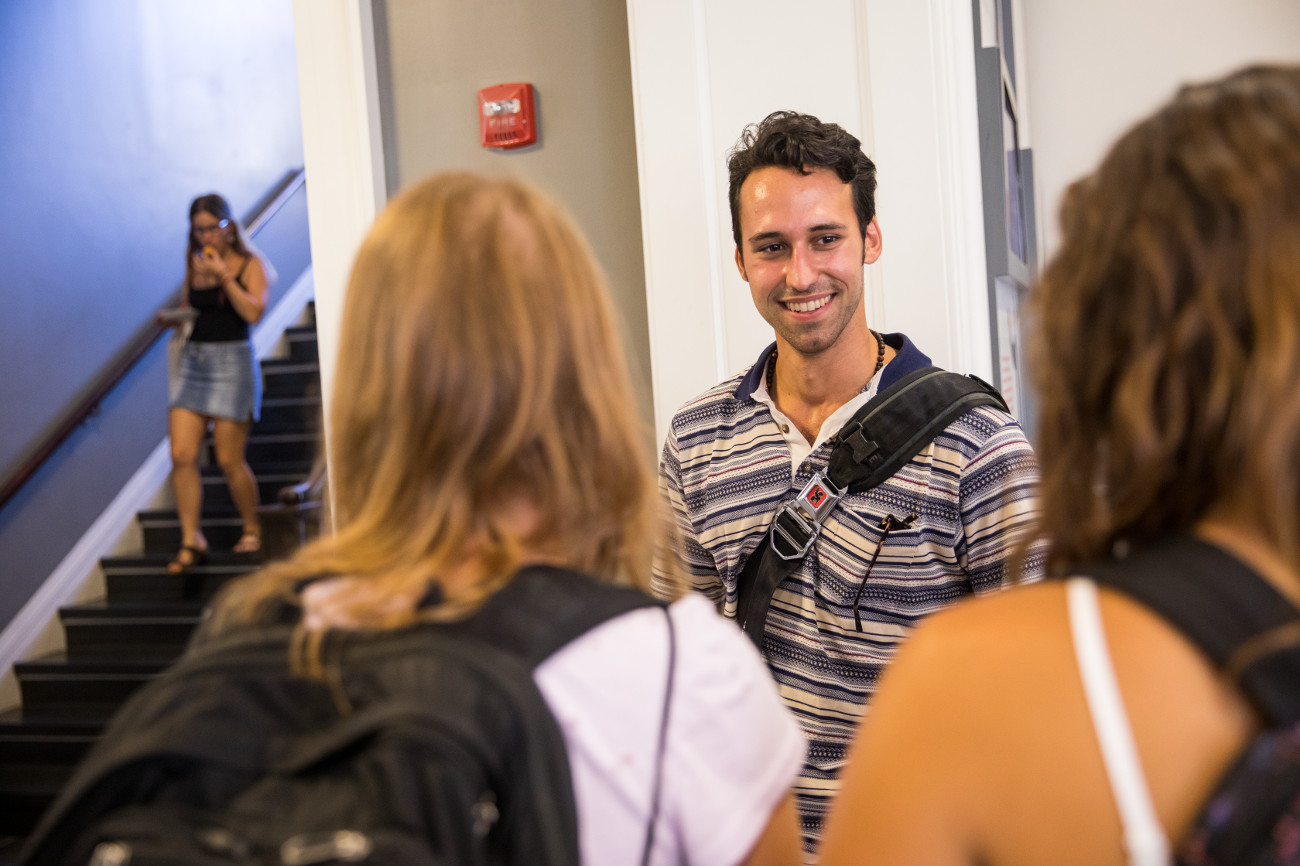 Leo Stevenson
New York, New York
Leo Stevenson was in high school when he first discovered his love for philosophy. Despite not having a particular interest in geopolitics, he said it was an international relations class that first piqued his interest.
"I remember loving the codifications of different schools of thought and different levels of analysis," Stevenson said. "I liked how those distinctions allowed for such divergent and simultaneous ways of interpreting events."
Now as a junior transfer from Middlebury College, Stevenson hopes to delve deeper. He plans to combine a concentration in philosophy with classes in literary studies, gender studies and intellectual history. 
"I'm most fired up by the places where philosophy meets other disciplines," Stevenson said. "I find it more pressing when it's clear how a philosophical stance will affect real actions, and I find that there's frequently more self-awareness of method and purpose in those less-categorizeable academic spaces."
The interface of philosophy with disparate disciplines is something Stevenson learned firsthand last spring. During a semester off from classes, he worked with Editing Nature, a Yale University project that looks at the ethics of genetic engineering. The project aims to bring a variety voices to the table — ethicists, policymakers, indigenous groups and scientists — to discuss the responsible use of genetic technologies. 
With that cross-disciplinary experience in his mind, he comes to Brown looking for more. 
"That's a lot of why I chose Brown," Stevenson said. "It seems like there's a huge amount of interdisciplinary collaboration and cross-pollination here, and I think that's where the most impactful thinking happens in the humanities."
Even before starting the semester, Stevenson started getting a feel for the Brown experience. During the last week in August, he took a hiking trip in New Hampshire's White Mountains through Brown Outdoor Leadership Training, in a program designed specifically for sophomores, transfer students and Resumed Undergraduate Education students. After taking last semester off from classes, Stevenson says the trip helped to get him back in the academic swing of things. 
"I felt like I needed a little full-time structured intimacy to get back into the feeling of being in a college community," he said. "And it's hard to pass up a chance to hike in the White Mountains."
Now he's concentrating on making Brown his new intellectual home.
"I'm mostly looking forward to meeting people and hearing about their work," he said. "I've got a lot to do in the way of finding advising across different disciplines, meeting professors and finding students doing work I want to learn about. It's all exciting!"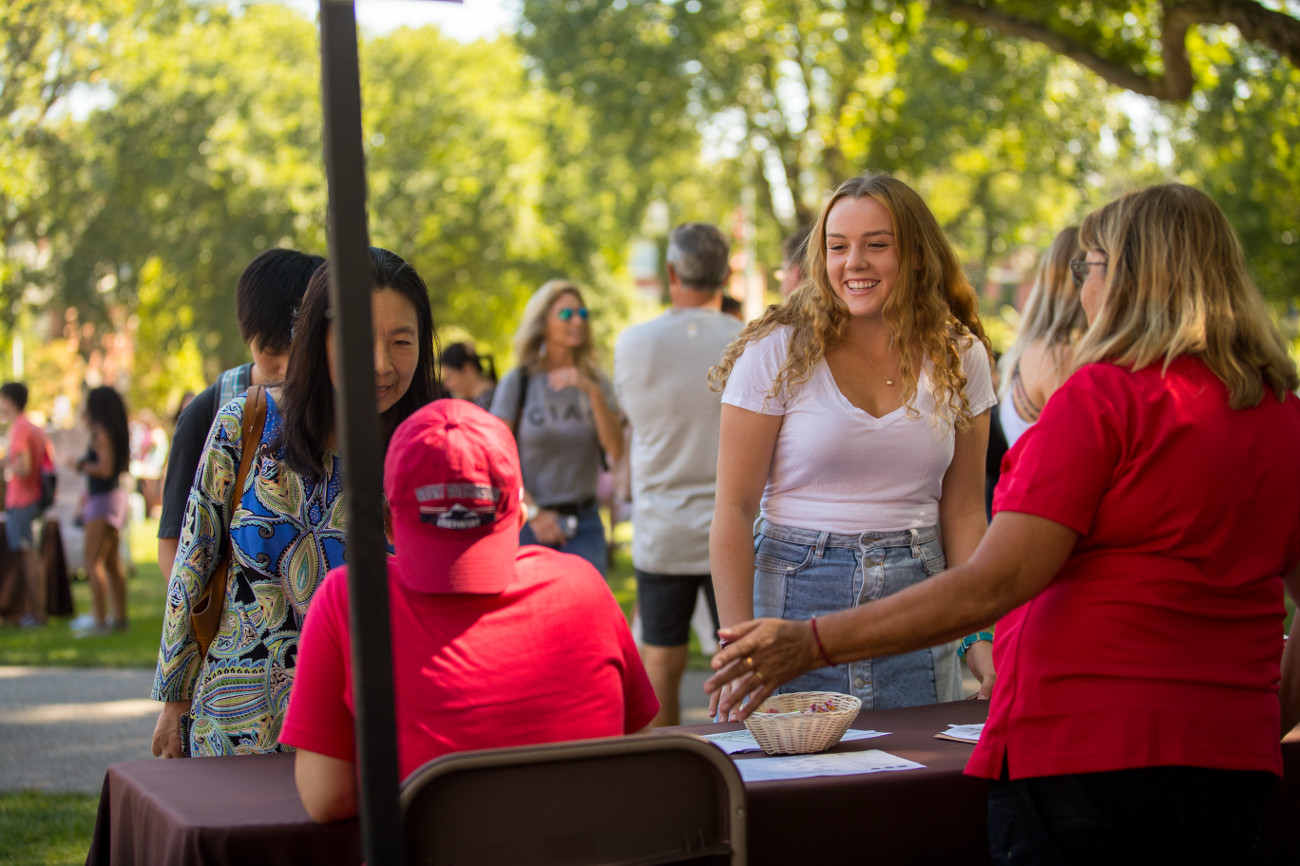 Isabel Riches
Laguna Beach, California
Two years ago when Isabel Riches' younger sister was diagnosed with Type 1 diabetes, Riches knew she needed to do something. Both sisters were heavily involved in high-level competitive water polo, yet her sister couldn't safely wear her continuous blood glucose monitor during practice or games. This safety concern concentrated Riches' pre-existing interest in medicine.
"Diseases like diabetes, especially when they affect people who are so young, become part of their identity," Riches said. "I felt like I just had to build a bridge between the sport my sister loved and her illness."  
After researching methods to attach blood glucose monitors and available accessories, Riches built her first cushiony protective "collar" prototype out of a yoga mat. From there she researched other waterproof foam materials and explored different designs.
Riches, with her sister's help, tested the fit and durability of several prototypes during water polo practice before settling on a design. She also made prototypes for other athletes in her sister's diabetes support group. 
"When my sister was named all-tournament most valuable player at the 2017 water polo Junior Olympics national championships, I was so happy that she was living her best life and succeeding even with her implanted glucose monitor," she said. 
Riches filed for and received a provisional patent for her support collar. She is currently exploring options for a non-provisional patent while considering potential liability issues. 
In addition to playing on her high school's varsity water polo team and for several U.S. Junior Olympics teams, this spring Riches joined Great Britain's junior national water polo team — she has dual citizenship thanks to her father — and won her first international championship in May.
At Brown, Riches will play on the varsity water polo team, investigate her pre-med options and dive into her interest in musical theatre. 
"I want to make a difference in the world," she said. "With Brown's community supporting my intellectual independence, I can explore who I might be as a doctor and as a person."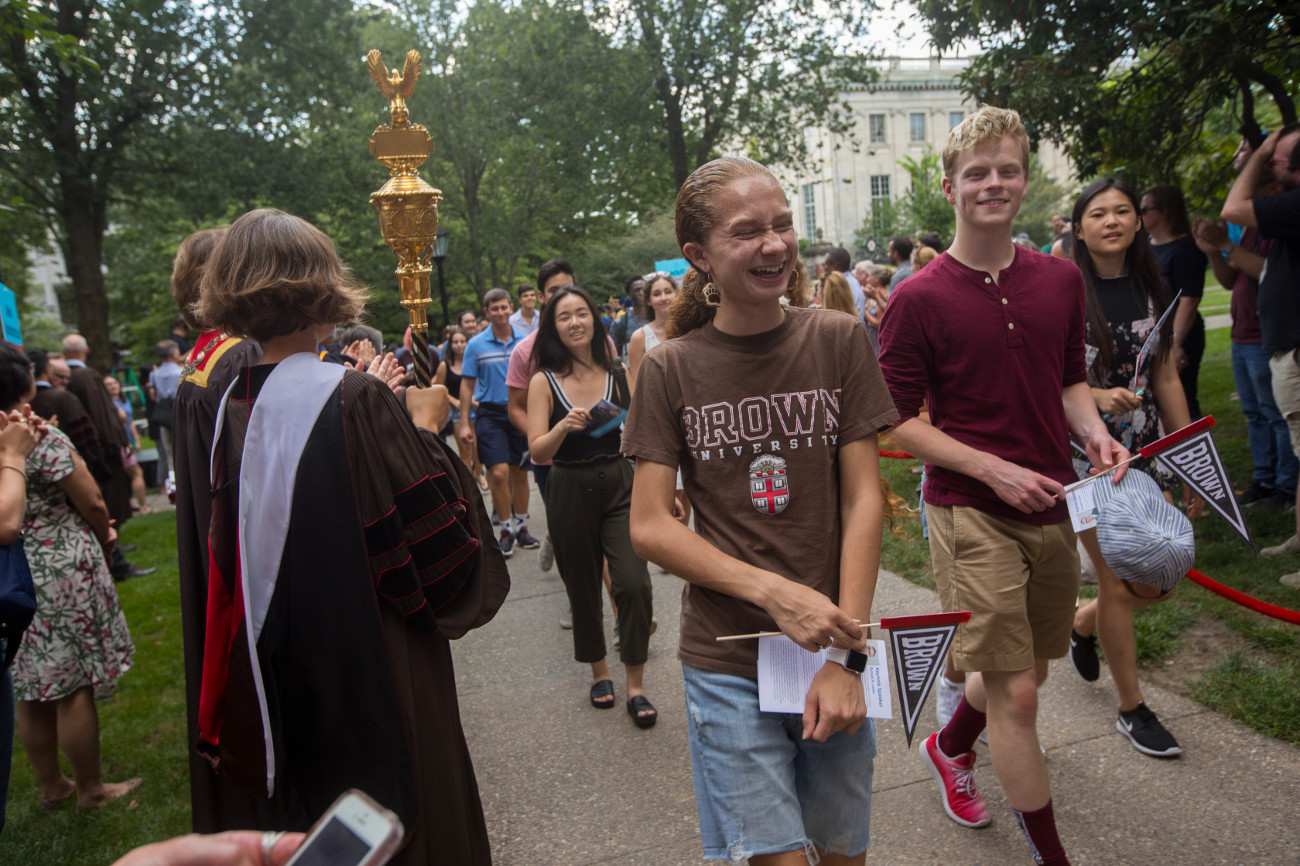 Sherenté Harris
Charlestown, Rhode Island
Like many members of the Narragansett tribe, Sherenté Harris learned how to dance at powwows before he could walk. "When you're a child, your mother carries you into the circle, bouncing you to the beat of the drum," Harris said.
 
It's no wonder, then, that Harris gravitated toward dance early in life, and even less surprising when considering his family history. Harris' father is a world champion in Eastern War dance, a heavy, hunched-over dance typically associated with men in Northeastern Native American tribes. His mother has traveled internationally as a champion in Fancy Shawl, a traditionally female dance that demands grace, upright posture and attention to detail. 
 
At first, Harris followed his father's example, practicing Eastern War dance and entering competitions. But soon after coming out as two spirit — an indigenous term used to describe someone with a multi-gender identity — the teen found his true passion in Fancy Shawl dancing. After a year of practicing the fast-paced dance, Harris wanted to take part in competitions but was unsure whether he'd be accepted. Nonetheless he signed up to compete at an upcoming powwow.
 
"I was well aware going in that I might face a lot of backlash," Harris said. "I was expecting to get completely kicked out of the powwow."
 
What happened instead surprised him: After hearing the powwow committee's decision not to let Harris compete, judges walked out in protest. The incident prompted calls for more two-spirit acceptance in indigenous communities across the United States and led many tribes to change their competition gender policies.
 
Harris saw the experience as a chance to give contemporary indigenous culture more visibility among the non-Native Americans who had followed his story. These days, Harris is using art, rather than dance, to bring more awareness to Native issues. This week, he began studies in the Brown-RISD dual-degree program, where in the next five years he'll explore the intersection of drawing and indigeneity. He has plans to dig into the John Carter Brown Library's archives on the Narragansett tribe and to continue working to preserve the Narragansett language.
 
"The next five years are going to give me the opportunity not only to hone my artistic and academic skills, but also to reach out to Rhode Islanders who may be unaware of the issues indigenous people face, from poverty to alcohol and drug abuse to domestic violence," Harris said. "My acceptance into Brown felt like an acceptance for the whole Narragansett tribe."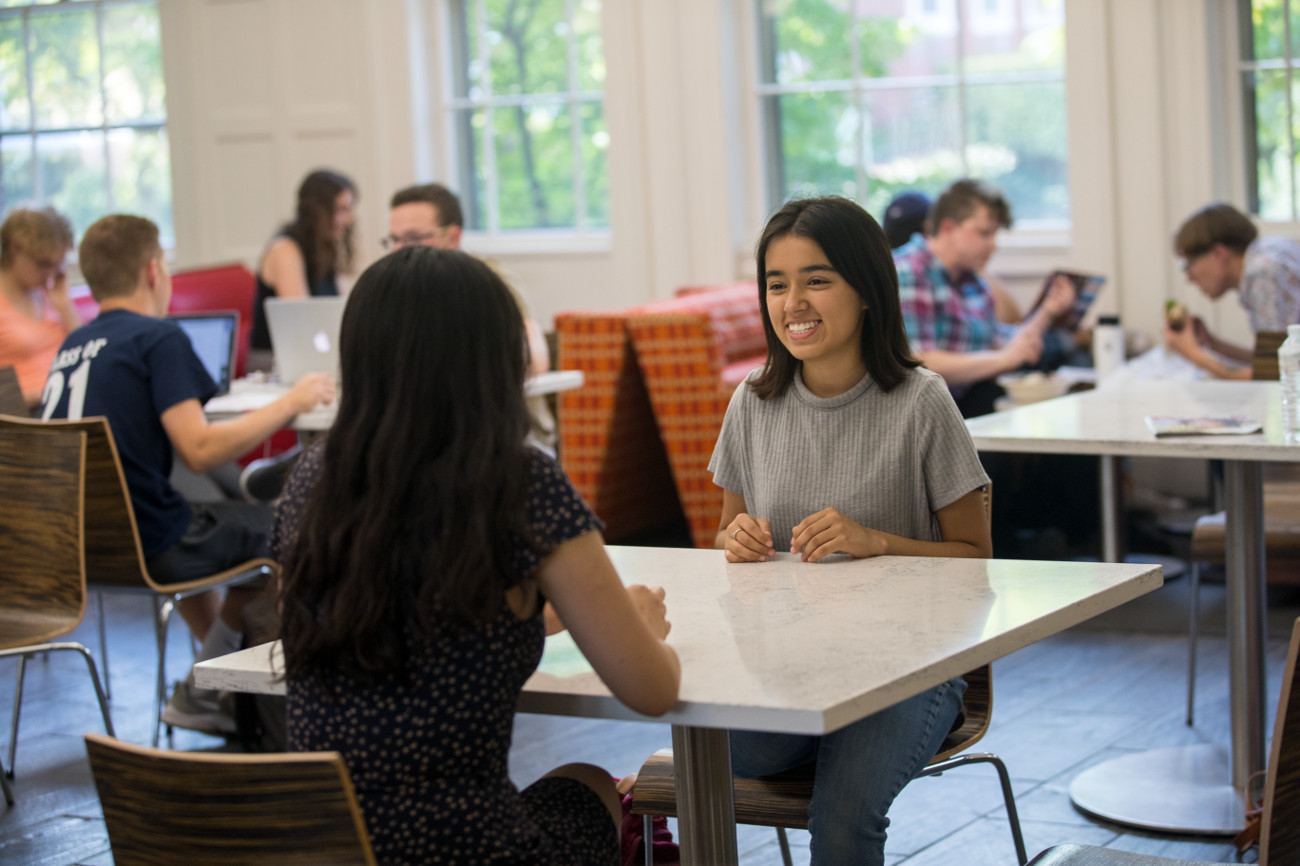 Maria Teresa Conchas
San Antonio, Texas
In some ways, Maria Teresa Conchas' path — to Brown and to a habit of complementing rigorous academic work with service that aims to empower others — began when she was just a fifth grader. That was when she decided to attend an all-girls school, San Antonio's Young Women's Leadership Academy (YWLA), which offers a demanding curriculum and emphasizes responsible leadership through participation in service learning.
"I really fell in love with the school's mission and connected to it," said Conchas, who eight years later graduated as YWLA's valedictorian. "I would like to do all that is within my power and my ability to improve the lives of others."
Conchas, who said her community work over the years led her to appreciate the collaborative nature of change-making, would like to improve the lives of women in particular. "For centuries, women have been marginalized and disenfranchised," she said. "It's time to level the playing field."
At Brown, that will likely mean pursuing studies in global public health and perhaps development studies, Conchas said. Her aim is to advocate for women's reproductive health and rights, particularly in communities of color. 
Conchas has been developing the leadership skills she will need through her participation in numerous academic and service organizations, and through a highly competitive national HERlead fellowship focused on cultivating the next generation of leaders. That experience inspired her to found a local chapter of Girl Up Club, a program of the United Nations that encourages girls to engage in projects that positively impact communities. 
Through Girl Up, Conchas and her YWLA classmates worked to destigmatize menstruation by creating menstruation stations in bathrooms, providing free sanitary products to students who had previously had to visit the school nurse and sign them out. Conchas' chapter also collected 11,000 sanitary pads and donated half of them to an area women's.
At Brown, Conchas is a Bonner Community Fellow at the Swearer Center and will partner for the next four years with the Brown Elementary Afterschool Mentoring program, working with students at the William D'Abate Elementary School in Providence. She is also interested in working with the Brown Center for Students of Color and is shopping English and comparative literature classes.
"Right now I just feel like a sponge, and I'm just absorbing everything," Conchas said during her first week on campus. "I'm really excited for the Bonner program. It's a fantastic community, being around people who care about community service, really value it and want to bring it to their college experience."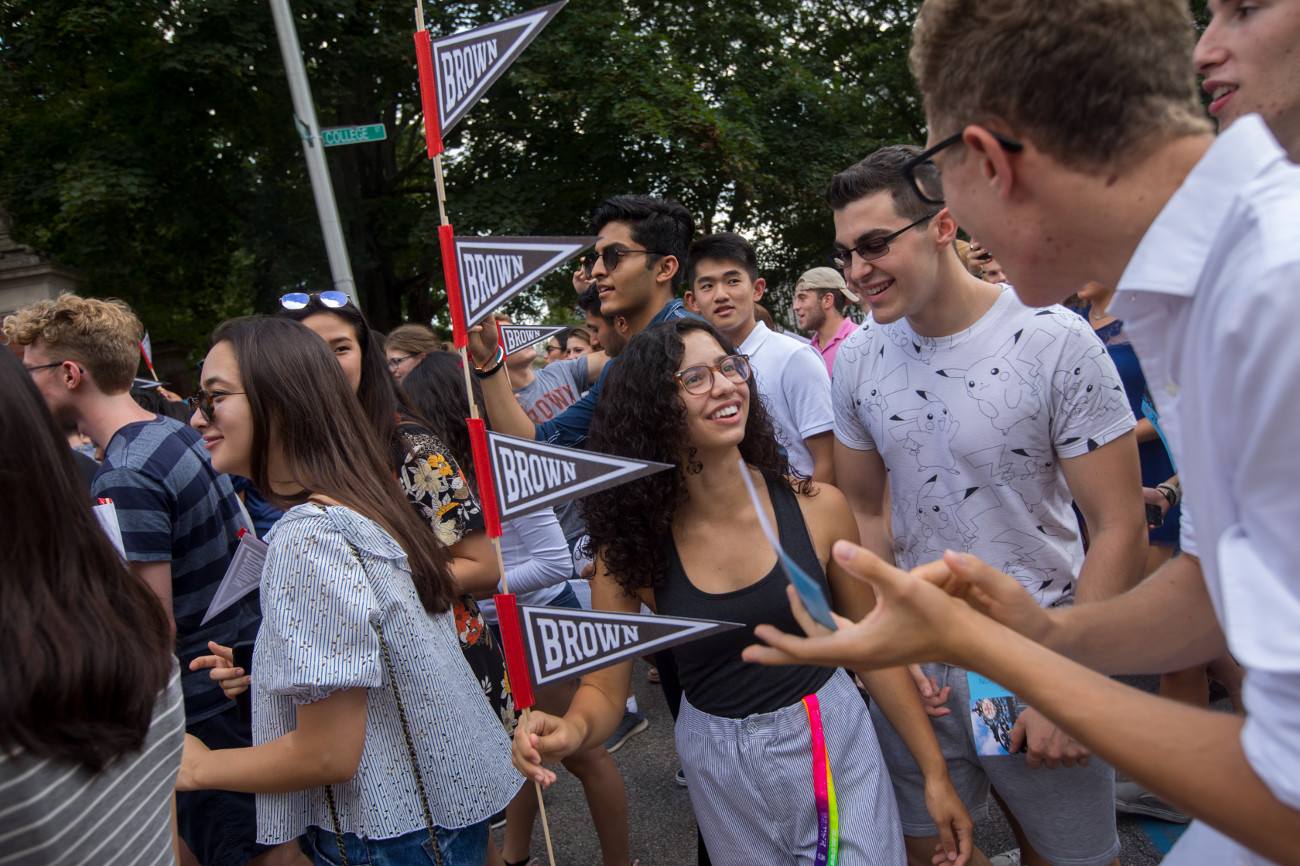 As a child growing up in a military family, Eve Glenn rarely stayed in once place for long. Before starting at Brown this fall, she moved between Japan, Germany, Florida and Colorado, ultimately attending four different high schools.
"I was really lucky to get to experience a lot of different cultures that normally people my age wouldn't be able to," Glenn said.
Her childhood exposure to a wide range of communities is part of what drew Glenn to Brown. She said she wanted to be part of a student body that mirrored the diversity of experience that she encountered growing up around the country and world.
"I came to ADOCH, and I was like, these are the people for me," she said. "Everyone had their own different story, but we were able find ways to connect."
Despite all the moving around, Glenn was able to delve deeply into her many interests and, in true Brown spirit, combine them toward the betterment of the others. As an award-winning competitive Irish dance stepper, she noticed that the smooth hard-soled shoes traditionally worn by dancers — the ones that make the dance form's trademark sound — often caused dancers to slip, fall and injure themselves. As a student passionate about science and engineering, she set out to find a solution. 
Ultimately, Glenn invented a friction compound that could be applied to the soles of the shoes, reducing falls and improving mobility.
When not competing as a dancer and coming up with inventions, Glenn put in countless hours of volunteer work — everything from tutoring and mentoring younger kids to helping out at her local United Service Organizations chapter — and consistently ranked first in her class.
For her many achievements, she was awarded Operation Homefront's 2018 Military Child of the Year, given to children in military families who exhibit exceptional scholarship, volunteerism, leadership and extracurricular involvement. Only seven students receive the award each year.
At Brown, Glenn plans to continue to pursue her interests in the sciences and in public policy. And while she's still undecided as to whether a military career is in her future, she plans to continue giving back to the community that has given her so much by volunteering at the Providence Veterans Administration Hospital. 
"I wouldn't have gotten here without the opportunities that the military gave me," Glenn said. "Above everything else, I identify first and foremost with being a military child."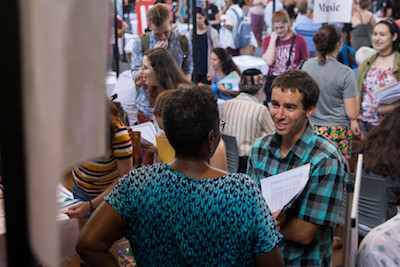 When Noah Hoffman graduated from high school in Aspen, Colorado, he decided to throw himself into competitive cross-country skiing rather than head to college. 
The decision paid off. 
Hoffman became the top distance racer in the country and ultimately competed in two Olympics —Sochi in 2014 and Pyeongchang in 2018.
With his competitive career coming to a close, Hoffman decided it was time to finally pursue a degree, so he applied and was accepted to Brown's Resumed Undergraduate Education program. Each year, the RUE program enrolls 24 undergraduates at Brown who have been out of high school for six years or more and have not yet completed a college degree. 
Hoffman applied to RUE program because he says it will enable him to have a more traditional college experience. Unlike many other programs for older students, RUE is a full-time, four-year program.
"To have the opportunity for a high-quality education that I passed on 11 years ago, to get to do it now, is really important to me," Hoffman said. "I'm grateful to be able to start out at the very beginning and to have four years to figure out what I want to do."
Though his program of study is still up in the air, Hoffman said he is looking forward to taking advantage of the Open Curriculum to try a wide array of courses that touch on public policy, economics and law. He ultimately hopes to use what he learns in classes like these to address social justice issues such as income and opportunity inequity.
"My life is defined by my privilege," Hoffman said. "I grew up in one of the most affluent communities in the U.S., in the wealthiest country in the world. I am white, male, straight and cisgender. I hope to effect change by finding a way to give more people opportunities like the ones that I've had."
While Hoffman says he's excited to explore the opportunities and pathways that the Open Curriculum offers, he said it's ultimately the community he hopes to make here that he's looking forward to the most.
"So far everyone has been incredibly welcoming," Hoffman said. "It seems like this community is really supportive of each other and really invested in every individual's success and I'm excited about that.
 
A total of 35,437 students applied for admission to Brown's undergraduate Class of 2022. The University admitted 2,718 students (7.7 percent), yielding a matriculating class of 1,657. (The addition of 10 incoming Resuming Undergraduate Education students and 56 transfers makes for the total of 1,723 first-year students.) Here's a breakdown of the new class:
Gender
868 women (52 percent) and 789 men (48 percent)
Diversity
42 percent of the class are students of color
10 percent of students are first-generation college students 
Financial aid 
43 percent of the class will receive need-based scholarship or grant aid
Academic interests
Among the most popular intended areas of concentration are engineering; business; entrepreneurship and organizations; computer science; biology; biochemistry and molecular biology; political science; economics; English; applied mathematics; and history.
Geography
Members of the class come from 47 U.S. states and 64 countries
15 percent of students were educated abroad
After the U.S., the top countries represented are China, India, Canada, the United Kingdom and South Korea