As Class of 2021 students begin their academic journeys at Brown, we asked five of them to tell us where they've been and what they hope for now that they're here.
PROVIDENCE, R.I. [Brown University] — Between moving into residence halls, learning how to navigate campus, shopping for classes, saying goodbye to families and getting used to the quirks of college life, it's been a big week for the 1,719 first-year students who comprise the Class of 2021.
Having ventured to College Hill from 68 countries and 49 states across the U.S. — more demographics here — they represent nearly every cultural background, socioeconomic group and religious belief, and they arrive at Brown with distinctive personal histories, perspectives and ambitions.
Despite their many differences, talk to any small group of them, and you'll inevitably find some common themes: a wide variety of academic interests, an intense love of learning and an authentic desire to make an impact on the world. Here are a few of their stories.
George Kubai
Sophia Skwarchuk
Nathaniel Goodman
Tanzina Choudhury
Melanie Anaya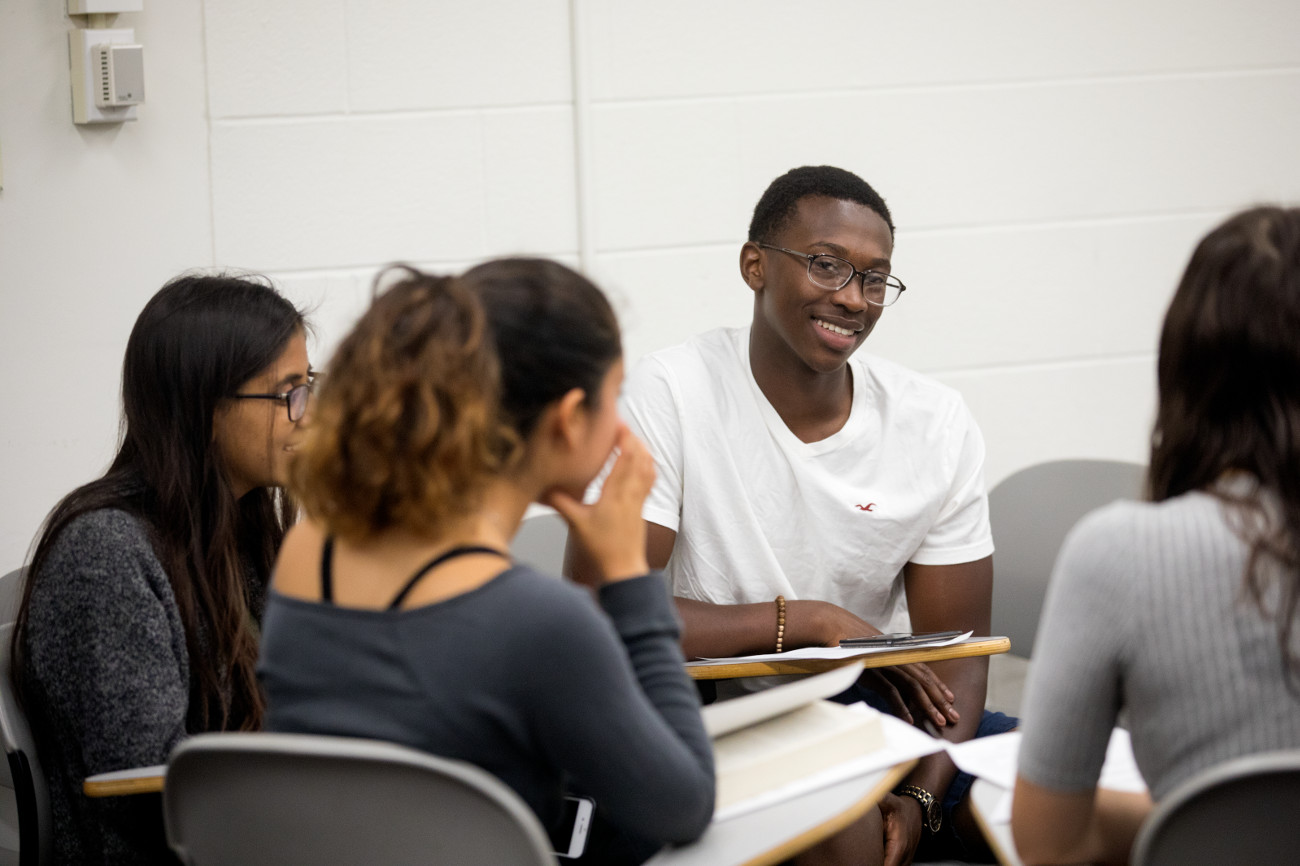 During his junior and senior years of high school, George Kubai immersed himself in the Tenacity Challenge, a Boston-area academic competition for African American and Latino high school students. Teams compete in rigorous quiz-bowl style competitions in science and math and take part in judged projects on history, literature and art.
For last year's history component, teams were asked to consider the question: How do you think Black Lives Matter has been effective or ineffective at bringing about social change? The big challenge: Team members had to go into their community and interview people on both sides of the issue.
For Kubai, who says he supports the goals and actions of Black Lives Matter, it was personally rewarding and interesting to interview the person who supported the movement. It was harder, but still interesting, he says, to interview the person who did not.
"I obviously disagreed with him and had my own opinions," he said. "But I respected his right to his. And I got to learn a lot about how he developed this view. It was really tough but very informative."
This kind of challenging, and at times very personal, academic inquiry is what Kubai hopes to undertake at Brown. While he has deep-seated interest in science — he is considering biomedical engineering as a concentration and medicine as a future career — he says he chose Brown because the Open Curriculum will allow him to engage deeply in the humanities and social sciences as well. He hopes what he gleans in these academic realms will give him a richer understanding of the societal problems he cares the most about — racism, classism, sexism — and empower him to help remedy them.
"I've always wanted to make a change in the world," Kubai said. "I was interested in Brown because here you aren't just taught to do this or that, but you are taught how to think and how to apply your thinking to the world. My goal is to find what I truly love. I have a lot of interests, but I want to find out: What really makes that fire burn in me?" 
As a high school junior, Sophia Skwarchuk wanted to do more to alleviate hunger in Montana than take part in the occasional food drive. So she applied — and was accepted — to the Governor's Youth Leadership Council to Fight Childhood Hunger, a group charged with devising innovative ways to combat the problem. 
That's when Skwarchuk came up with the idea for her app, Montana Eats, a database that would link those in need, as well as donors, to every food bank and emergency food resource in the state.
"When I was trying to compile information for the app, I really had to look all over the place to find these resources," she said. "And if it was hard for me, imagine how hard it would be for someone in a situation where they needed food quickly."
Skwarchuk had a great idea. But she also had a problem. She knew absolutely nothing about designing a smartphone app, and her small high school didn't offer any computer science classes. So she did it the old-fashioned way. She headed to the library and taught herself. 
"Before then, making an app hadn't even crossed my mind," she said. "It seemed like this scary thing. But once I gave it a try, I really got into it." 
Her interest in computer science was born. And as a U.S. Army Reserve Officer Training Corps (ROTC) student now at Brown, Skwarchuk is considering merging that interest with her military training by pursuing studies and a career in cyber intelligence. Ultimately, her main goal for the future is one aligned with her work on the childhood hunger council — and with Brown's mission.
"I just really hope to be able to find a way to contribute to the Brown community," she said, "and that by being in the ROTC and the Army, I'll be able to give back to the country and society at large as well."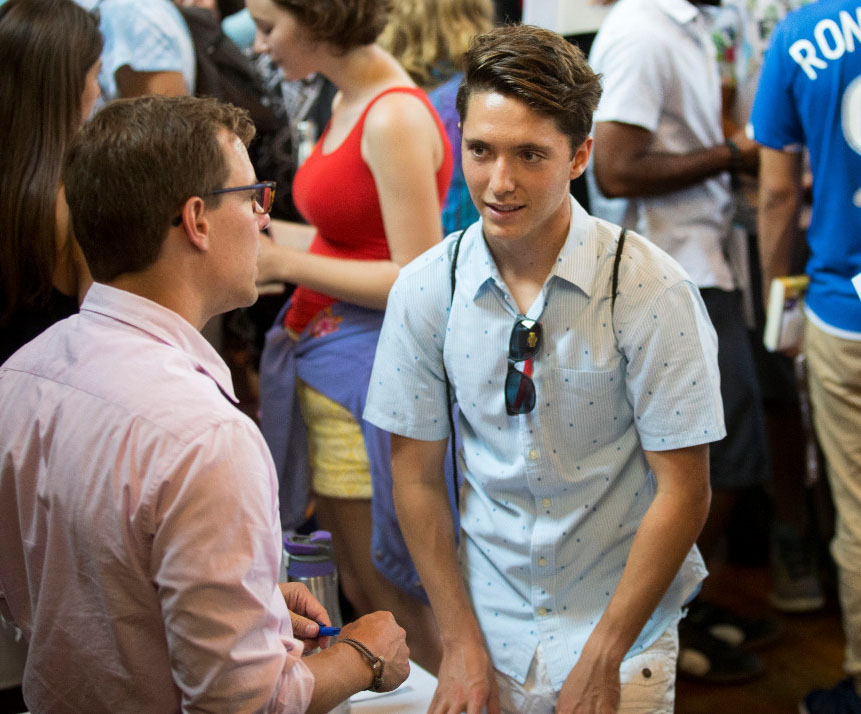 As a high school filmmaker, Nathaniel Goodman launched "Filmmaking for Good." His goal? To make films that would enhance the missions of local nonprofits by telling the stories of their good work.
Through his camera, he featured organizations like ReSurf, through which volunteers rehab surf boards and teach underprivileged kids to surf, and the Jewish Teen Foundation of San Diego, which instills professional and leadership skills though service learning.
Goodman's work eventually landed him a prestigious Diller Teen Tikkun Olam Award, which each year recognizes 15 Jewish teenagers from across the country for their dedication to social change.
The same impulse that compelled him to translate his creative skills into a way to help others is what initially attracted him to Brown.
"When I visited campus, I found that Brown has a very artistic and service-oriented culture that seeks to find unique and creative ways to serve others," he said. "I got this gut feeling when I arrived on campus that people here are really passionate about what they are doing."
Goodman doesn't yet know what role film will play in his future, but his interests run the gamut. Neuroscience, economics, philosophy, business, computer science, linguistics and physics are just a few of the areas he hopes to explore in the next four years. And that's ultimately why he chose Brown. 
"I am very interested in the Open Curriculum and the academic flexibility and personal discovery that comes with it," he said. "Everyone I've met here projects this contagious energy and embodies a spirit of self-direction and collaboration that really resonates with me. I can't wait to make many lifelong relationships with all of these people who are going to change the world."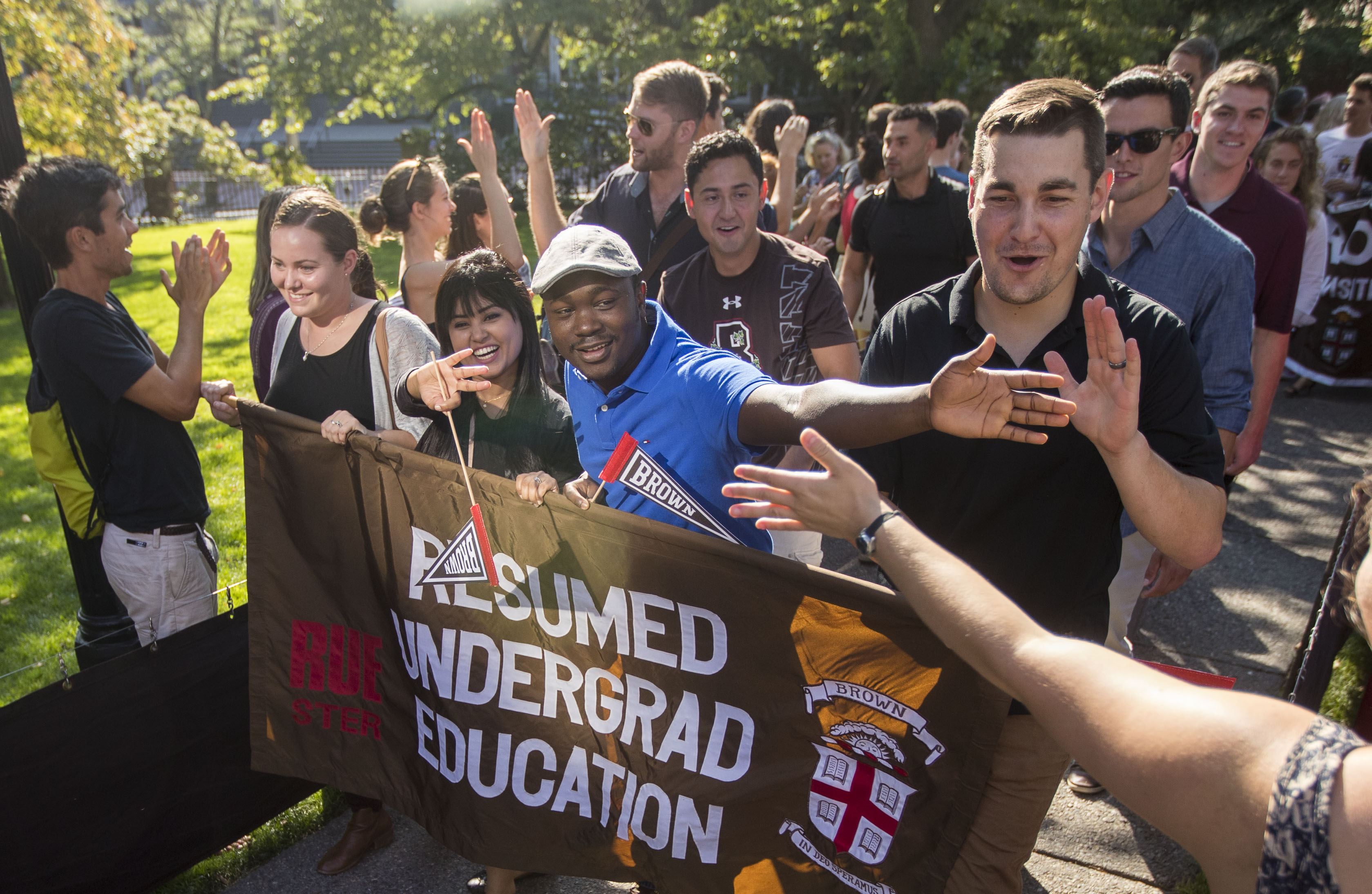 Growing up in Bangladesh without the means to afford college, Tanzina Chowdhury was forced to halt her academic pursuits after secondary school. She'd been a high-achieving student and managed to make ends meet by tutoring, until eventually she joined with other women she knew to launch an online business venture that connected rural artisans with urban buyers interested in their products.
The business made a modest profit, she says, but she left it behind when she moved from Bangladesh to Florida in 2014, enrolling that winter in Palm Beach State College to finally pursue her dream of a college education.
Chowdhury thrived academically at Palm Beach State, enrolled in the honors program and became a member of the Phi Theta Kappa honor society — ultimately becoming one of 55 Jack Kent Cooke scholars from across the nation. Each year, more than 3,000 students apply for this coveted scholarship, which provides community college students up to $40,000 per year to complete their bachelor's degree. 
Accepted into Brown's Resumed Undergraduate Education (RUE) program, Chowdhury plans to study computer science and entrepreneurship, interests that were born while running her venture in Bangladesh. But she also sees her time at Brown as a chance to do a lot of things she's never tried before.
"I am coming to Brown with a very open mind because I know it's a place where I can really explore," she said "I want to learn new things and expand my knowledge."
She embraced this goal even before classes started, spending a week hiking and camping in New Hampshire with the Brown Outdoor Leadership Training program on a trip that mixed outdoor experience with the arts.
"I've never been camping before, and it really tested my physical limits," she said. "I also got to do some sketching and watercolor — and even learned some ukulele. Learning how to play guitar is now on my bucket list. I really want to get outside my comfort zone while I'm here."
Chowdhury clearly possesses an adventurous spirit, and the primary reason she chose Brown was for the RUE program — and the support and community that it provides. 
"It is far easier to be at Brown as an older student because I have a community here," she said. "From the deans to my peer advisors, everyone has been so incredibly helpful. I feel like everyone is inspiring me to expand my abilities. They are not pushing me to get out of my comfort zone — they are lifting me up."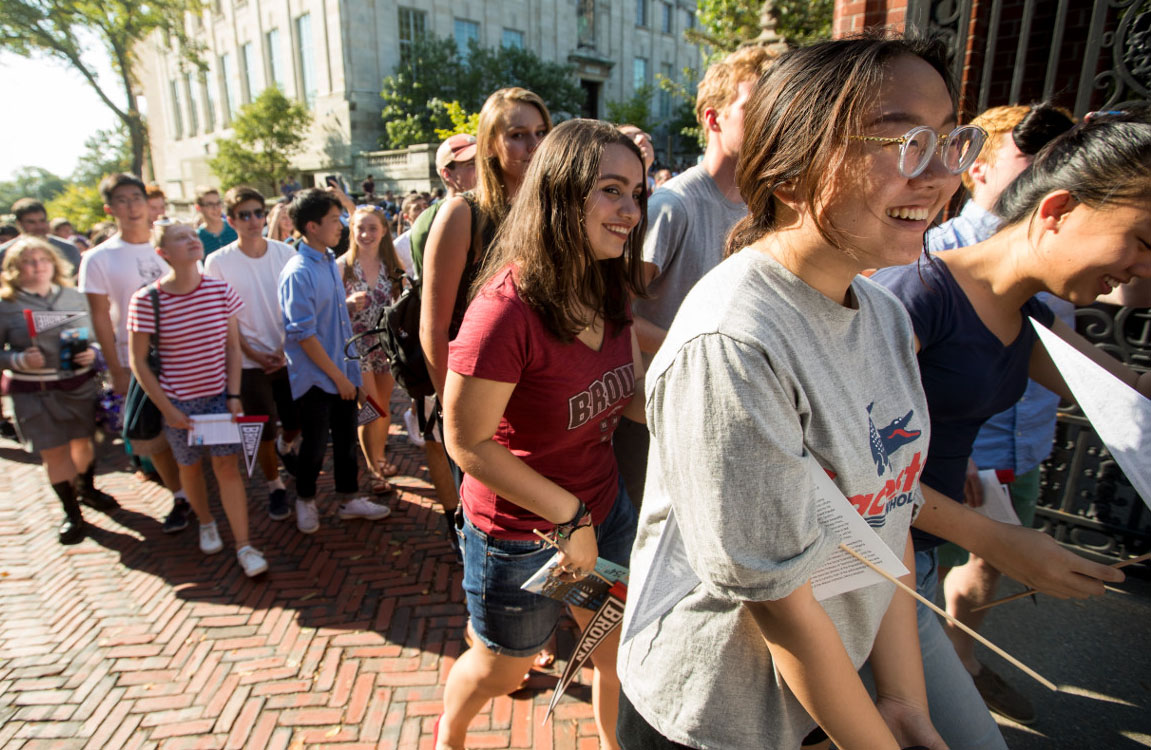 When Melanie Anaya enrolled in advanced placement (AP) science and math classes at her high school, the divide was clear — students of color weren't represented equitably in these spaces. A Mexican-American, Anaya says she knew this imbalance wasn't due to intellect or interest, but lack of exposure and encouragement. 
"I never thought I could get into an Ivy League school until I met my AP calculus teacher," she said. "Meeting someone at a young age who tells you that you can absolutely do these things is vital."
So Anaya and a friend attacked the problem at the root, creating a STEM program for first-graders in a local, predominately Latinx elementary school. Not only did the program present basic science concepts and engage students in fun, hands-on experiments, but it provided each child with a take-home glossary that translated the scientific terms they were learning into Spanish. Being able to share school experiences at home is important to kids from families where English is not the first language — it helps them stay motivated, Anaya says.
"When I was little, my mom was still learning English," Anaya said. "I would come home so excited about all the cool things I was learning in science, and I really wanted to tell my mom about it. But I was only learning the English words for things, so it was really hard to tell her what I'd learned."
She knew her STEM program had made an impact on the program's last day, when she asked the first-graders the same question she had offered up on the first.
"The first day we got there, we asked them what they wanted to be when they grow up," she said. "They mostly said things like FBI agent or police officer. But by the end, a bunch of them said physicist, researcher, doctor."
Now a new student in Brown's highly competitive Program in Liberal Medical Education, Anaya says Brown interested her as a place where she could pursue her academic interests in both social justice and science, a marriage of passions that she says will make her a better doctor as she seeks to help those most marginalized in society.
"I am just excited to be part of community that is so in love with learning and that really wants to make a difference," she said.
---
A total of 32,723 students applied for admission to Brown's undergraduate Class of 2021. The University admitted 2,801 students (8.6 percent), yielding a matriculating class of 1,643. (The addition of nine incoming Resuming Undergraduate Education students and 67 transfers makes for the total of 1,719 first-year students.) Here's a breakdown of the new class:
Gender
895 women (54 percent) and 748 men (46 percent)
Diversity
40 percent of the class are students of color
13 percent of students are first-generation college students 
Financial aid 
43 percent of the class will receive need-based scholarship or grant aid
54 percent of those students receiving financial aid have no loans in their financial aid awards
26 percent have no expected parental contribution from income
Academic interests
Among the most popular intended areas of concentration are engineering, computer science, biology, biochemistry and molecular biology; business, entrepreneurship and organizations; political science, economics, neuroscience and international relations.
Geography
Members of the class come from 49 U.S. states and 68 countries
16 percent of students were educated abroad
After the U.S., the top countries represented are China, India, Canada, South Korea and the United Kingdom